West Lake Shrimp Cake - great dine out option in Hanoi
For many international and local tourists, their visit is seen incomplete without trying Banh Tom Ho Tay.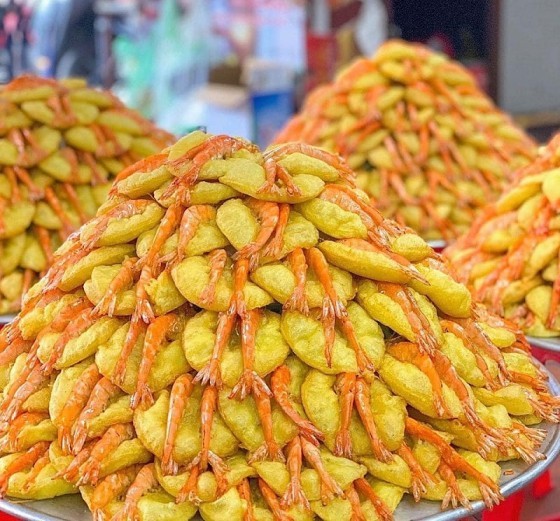 "Similar to some long-time passed-down crafts in Hanoi, the hobby of eating West Lake Shrimp Cake seems to be also inherited through generations," said Hanoi-based culinary expert Nguyen Phuong Hai.
Obviously, Kem Trang Tien or Trang Tien Ice Cream and Banh Tom Ho Tay or West Lake Shrimp Cake are dishes that have been ingrained in the subconscious of Hanoians. It was a familiar meal for weekend eating-out in the old days of the older generation. And it is still today as their children and grandchildren continue to excitedly enjoy the cake when having the opportunity to visit West Lake.
According to Hai, West Lake Shrimp Cake is not merely a type of food, but an 'iconic dish' of Hanoians. "With its great spiritual value, West Lake Shrimp Cake deserves to be honored, promoted, and preserved as a culinary heritage of Hanoi," he added.
It is fair to say that Banh Tom Ho Tay is one of the first things that come to mind for tourists coming to Hanoi. The familiar question that tourists are often asked is: "Have you ever eaten West Lake Shrimp Cake?" And, almost immediately, the cake will be one among the list of 'should-not-be-missed' dishes that locals recommend trying when you are in Hanoi.
The famed dish is named after Hanoi's West Lake, the largest and one of the most beautiful in the capital, and the home of a shrimp variety that makes up the basis for the dish. However, there is more to West Lake shrimp cake than shrimp, it is made from thinly-sliced potato or sweet potato, rice flour and a host of other ingredients.
The dish is the bright yellow of sunlight, a perfect accompaniment to its signature sauce made from garlic, vinegar, sugar, chili, fish sauce, salt, pepper, and small pieces of carrot and green papaya.
Just like the fine mix of sweet, sour, hot, and salty tastes that make up the sauce, Banh Tom Ho Tay is a winning combination of tastes and textures: crispy outer coating, fresh raw vegetables, and the shrimp itself placed in the middle like a culinary question mark.
"Locals usually eat Banh Tom Ho Tay as an appetizer or a snack, but for me, with a silver bottle of Truc Bach beer, it's a big dinner," Australian expat in Hanoi Nolan Grayson said.
These days, as demand for delicacy increases, the rice flour in the dish is increasingly replaced by wheat flour and the shrimp comes from other sources around Hanoi as well.
Many restaurants around West Lake now specialize in it, but perhaps the most famous is Restaurant Banh Tom Ho Tay (near the end of Thanh Nien Road, on the Truc Bach Lake's peninsular.)
The restaurant had its origins in a Banh Tom street-stall where customers used to gather to enjoy the specialty nearly 100 years ago. They would sit on wooden stools in the shade of the banyan tree while the stall's owner unloaded her mobile kitchen and ingredients from the two baskets slung over her shoulders.
Over time, the stall grew into a small shop, with long lines that forced the owner to set a limit of 10 pieces of banh tom per customer. The shop has now become a small restaurant, but the endless flow of customers coming and going remains unchanged.
Besides the restaurant's signature dish of Banh Tom, the Banh Tom Ho Tay Restaurant now offers a variety of Hanoi specialty as well as international fusion dishes that can satisfy the most discerning diners. Should you come early or made a booking in advance to have seats on a terrace with a gorgeous view over Truc Bach Lake, ordering your favorite dish along with West Lake Shrimp Cake, and you'll have the perfect meal for a summer's evening in Hanoi.
Source: hanoitimes

Com tam Sai Gon (Sai Gon-style steamed broken rice), Com ga Hoi An (Hoi An Chicken Rice) and Com hen Hue (Baby basket clams rice) are all wonderful rice dishes that diners should not miss.