What makes a tragedy even more tragic
VietNamNet Bridge – Is there something that makes karaoke bars particularly inflammable?The question arose in me as I reflected on last Tuesday, which must have been the longest, most painful night for many people.
VietNamNet Bridge – Is there something that makes karaoke bars particularly inflammable?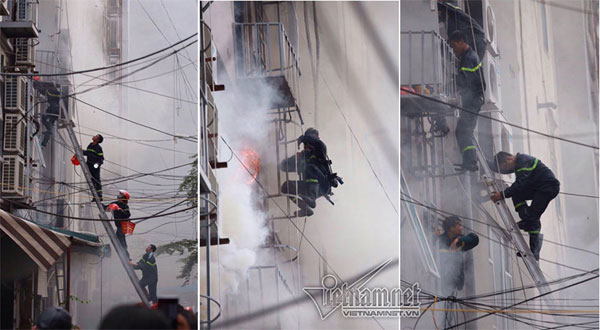 Photos: VNN

The question arose in me as I reflected on last Tuesday, which must have been the longest, most painful night for many people.
They had to wait through the night to get any information about loved ones believed to be among the victims of a karaoke bar blaze in Ha Noi's Cau Giay District.
People were screaming as thick black smoke and huge flames covered the buildings.
The fire occurred at around 1.30pm at the bar and spread to four neighbouring six to eight storeyed buildings. As of 22.30pm, some 13 bodies had been found and pulled out. The search for others continued throughout the night.
It took hundreds of firefighters nearly six hours to extinguish the fire. But once they were done, there was nothing left. The place looked like it had been hit by bombs. The fire destroyed several motorbikes parked in front of the buildings and around 200 metres away, a five-seater car went up in flames.
As tragic as this fire was, I think the greater tragedy is how it happened despite earlier warnings. The greater tragedy is that this loss of life could have been avoided.
Consider this: According to the Ministry of Public Security, 23 fires have occurred at karaoke bars nationwide, killing many people and destroying valuable property.
How are such terrifying accidents allowed to happen repeatedly?
Prime Minister Nguyen Xuan Phuc lost no time once the news about the fire broke out. He ordered the immediate closure of all karaoke bars and restaurants in the city that do not meet fire prevention and safety requirements.
Last year, the Government ordered stricter controls over operations of karaoke bars and restaurants after a fire at a karaoke bar in the northern province of Quang Ninh killed six people. Fire safety checks were carried out at these establishments.
All fire accidents are investigated, and the causes found, I presume. But isn't it time we looked at this from an epidemic perspective and take action accordingly?
Orders ignored
According to Cau Giay District authorities, the karaoke bar owner had neither a fire safety certificate nor a business operation license. The owner had been asked several times to close down, but it continued to operate, said Duong Cao Thanh, Chairman of the District People's Committee.
In fact, new reports say that the latest inspection and order to close was issued a week before the fire happened.
Something is obviously, seriously wrong if repeated orders to close down are ignored with impunity.
An inspection carried out by Ha Noi authorities in 2014 showed nearly 80 per cent of 1,000 karaoke bars, clubs and restaurants in the capital city failed to abide fully by fire safety regulations.
It is not just sad, but criminal that many businesses put profits ahead of the safety of their customers.
An architect who did not want to be named said he had been involved in setting up many karaoke bars. Most of them tried to spend as less money as possible on fire prevention measures and fire fighting equipment, he said.
Instead, he added, all a business has to do is spend a small sum of money as "lubrication fee" to run their operations smoothly.
As long as such a "win-win" situation exits, the current situation will continue. Inspections have found that nearly 1,000 karaoke bars in Ha Noi do not abide by fire safety regulations, but most of them are still running.
If we think about this a bit further, it is seriously worrying that hundreds of residential buildings are inspected after a fire and many found to lack fire safety equipment. What next? Those buildings continue being used, which means thousands of lives are at risk. The Ha Noi Department of Fire Prevention and Control in August released a list of 38 apartment buildings that are occupied, but do not meet fire safety regulations.
Another aspect of the problem highlighted by the Cau Giay District fire is people's ignorance of what to do when a fire breaks out.
The Ha Noi Party Committee Secretary, Hoang Trung Hai, said at a press conference yesterday that authorities believe that the victims did not have enough fire fighting skills.
"The karaoke bar has a fire exit at the back but I think the victims did not know how to reach it, and gathered in one room. They did not know how to handle the situation," he said.
Every citizen should be guided and taught necessary fire escape skills, particularly at entertainment venues and public places.
My five-year-old girl surprised me one day last month by demonstrating basic steps to take to stay safe in case a fire breaks out. She had been taught these at the private kindergarten she goes to. This should be compulsory in all schools and colleges.
Things cannot change overnight and there is no magic wand to set things right. But the steps we need to take are obvious: very strict enforcement of fire safety laws; increased public awareness; and fire-safety training for people of all ages.
Difficult? Maybe, but not really.
Impossible? Of course not.
Are saving lives a priority? No need to answer this one.
Will the needful be done? That's the big question.
VNS