When the elderly want to continue working
According to a study by the United Nations Population Fund, 80% of the population after retirement want to find jobs.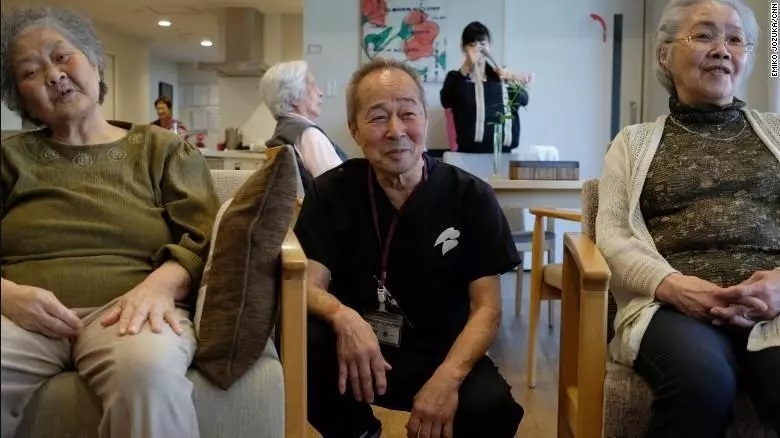 Mr. Tasaka, 71 years old, is a caregiver at the Cross Hearts nursing home, Yokohama, Japan. Photo: CNN

At the Cross Hearts nursing home in Yokohama, Japan, 71-year-old Keichi Tasaha could be mistaken for a client.

But no, he is an employee here. He is working his second job in life - an elderly care worker whose job was a tofu maker when he was young.

"I'm old too so I can understand what they're going through. I really feel like I'm interacting with the residents here, not taking care of them. I'm really grateful to get this job," he said.

Like Mr. Tasaha, at the age of 71, Mrs. Coniglio in California, USA felt sorry for herself and many other elderly people in the area when they had the qualifications, skills and energy but had to end their lives soon by sitting on the sofa all day.

She decided to open an employment service center for the elderly with the hope of changing society's view of the elderly.

Just a few days after the center opened, her office received a flood of applications. Some people needed to increase their income while others simply wanted to work.

According to psychologists, at retirement age, the elderly still have a desire to communicate, expressed in "wanting to work". If this need is not met, the health and life expectancy of the elderly can be affected, and at the same time it is a waste for the economy.

That is also why Mrs. Pham Thi Lan, from Nam Tu Liem district, Hanoi, applied to work as a kitchen staff for a preschool after retiring.

At the age of 57, she was still very sharp and agile, so after exactly 1 year of retirement, she sought to go back to work.

Lan said she is one of many older people in her apartment building who continue to work even though they are 60-70 years old. But older people like her often only get some manual jobs such as cooking, cleaning, babysitting, security…

"Although many older people can still do professional office jobs, there are not many places hiring us because there are a lot of young people out there," Lan said.

Older people like Lan often find jobs through acquaintances, as there are not many job service centers for this group of workers.

According to a study by the United Nations Population Fund, 80% of the population after retirement want to find jobs. According to studies from June to August 2020 in Ho Chi Minh City, Nghe An and Hai Duong, 40-45% of elderly people were engaged in economic activities.

But according to statistics, up to 7 out of 10 elderly workers in urban areas work in the informal sector.

According to Mr. Pham Van Ngoc, Standing Vice Chairman of the Representative Board of the Hanoi Elderly Association, and the quality of life has improved, people who reach retirement age are still in very good health. They want to continue working, both to have a happy spirit and to have more income to improve their lives.

However, there are not many opportunities for the elderly to find a job suited to their health because they do not know where to find a job, usually only through the introduction of acquaintances and friends.

Many elderly people have the ability and experience, and want to invest in production and business but do not have capital. They want to borrow capital from the Bank for Social Policies but cannot, because at present, this bank does not have a policy for the elderly to borrow money.

Ngoc suggested that the State should have specific policies on job creation for the elderly. "There should be an organization that stands out to seek jobs for the elderly. The Bank for Social Policies should have a mechanism for the Elderly Association to give credit to its members to create jobs, develop production and business."

Providing a solution to this problem, Le Quang Trung, former Deputy Director of the Employment Department of the Ministry of Labour, Invalids and Social Affairs, said that it is necessary to provide information on the labor market, and organize employment floors so that elderly workers can meet their employers directly.

Increasing the retirement age is also one of the key solutions that the Government implements to create conditions for the elderly to continue working. Decree 135/2020/ND-CP on retirement age, effective from January 1, 2021, stipulates that the retirement age of employees under normal working conditions is 60 years and 3 months for male employees and 55 years and 4 months for female employees.

After that, the age increases by 3 months every year for male workers until they are 62 in 2028, and by 4 months every year for female workers until it is 60 in 2035.

This is also the policy that the Government of Japan - the country with the oldest population in the world – plans to adopt in 2025. Specifically, Japan requires businesses to increase the mandatory retirement age to 65 years old. Doctors even recommend increasing this age to 75 years old.

According to a study by the Japanese labor agency, 82% of Japanese companies renew their contracts with employees when they reach retirement age. However, the policy of raising the retirement age is not yet mandatory, causing a situation: many companies hire senior personnel with lower salaries when they reach retirement age. And falling wages won't really encourage older workers to keep working.

Meanwhile, according to Seiko Adachi, executive director of the Cross Hearts nursing home, where Keichi Tasaha was employed at the age of 70, "the key to attracting older workers is to help them focus on their work, not as a part-time job, but as a second career that they can develop."

Nguyen Thao

The rate of elderly living with their children and grandchildren is decreasing, while the rate of people living alone or living with their husband or wife is gradually increasing.