Ho Chi Minh City to rise up
During a recent livestream with local residents, HCM City Chairman Phan Van Mai did not directly answer the question "When will the city end social distancing measures?". It was a necessary caution because it is related to the beliefs of people who have stayed at home during the three months of social distancing.
But he mentioned good signs: supermarkets and the supply chain will open from now until September 15; shippers are allowed to operate in red areas (pandemic-hit) and residents are allowed to go to the market to buy food once a week; in green areas (epidemic free), processed food shops are allowed to operate in the form of takeaway delivery.
It is hoped that the gradual ease of social distancing measures in the city will help improve people's quality of life.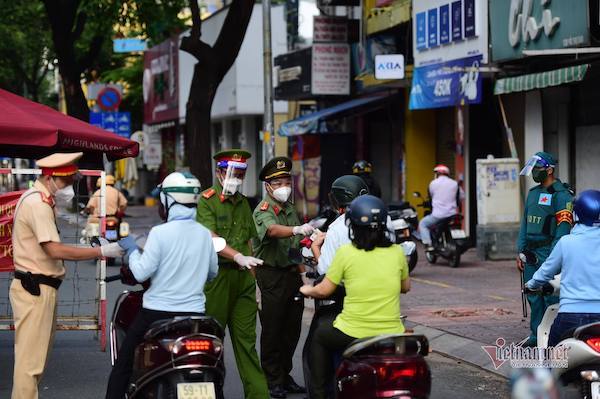 HCM City: People show their travel documents to police officers. Photo: Thanh Tung
The Ho Chi Minh City Business Association cited a study by the University of Economics and Law as saying that since the fourth wave of Covid-19 broke out in late April, the vast majority of 288,333 businesses with 3.2 million workers in the city had to stop operation. Only 717 out of a total of 1,527 enterprises in hi-tech zones, industrial zones and export processing zones maintained operation at different levels, with the participation of about 65,000 employees out of a total of 345,000 people.
Thus, the city's economic loss is serious, occurring in all sectors and regions of the economy. If the city's economy recovers slowly, the growth of the southern key economic region will decrease sharply, the unemployment rate will increase, and national budget revenue will be affected.
The risks were identified by the government after HCM City was assigned to control the epidemic before September 15.
Ho Chi Minh City, which contributes 23%-25% of Vietnam's GDP and 27% of state budget revenue, is in a serious situation but will probably recover soon. A support program for people and businesses needs to be designed and implemented early before it is too late.
Hanoi to go hand in hand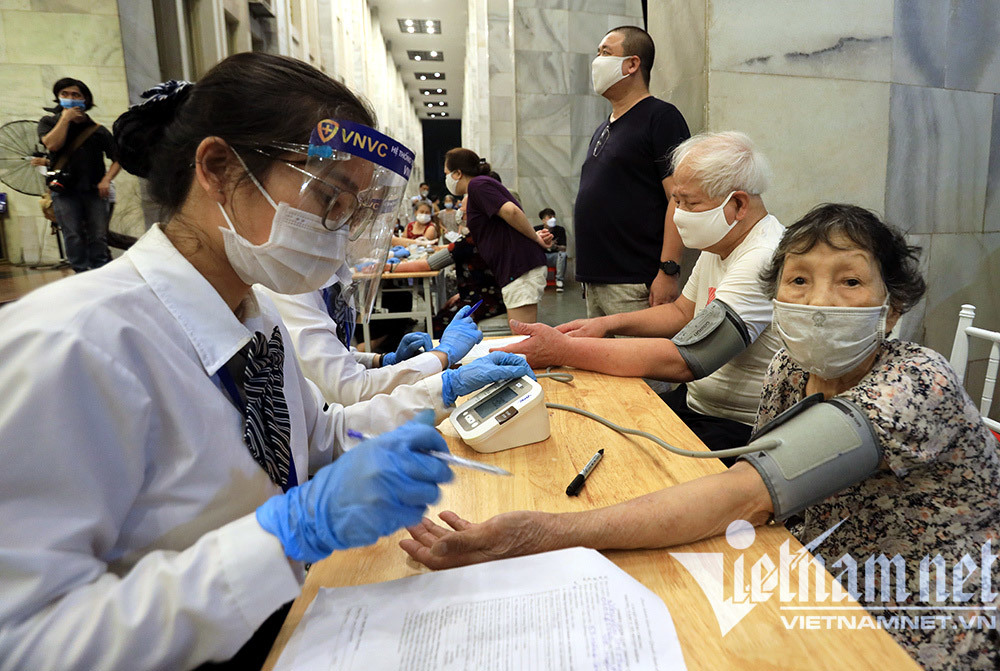 Giving vaccination for the elderly in Hanoi. Photo: Pham Hai
Hanoi, because of the lack of Covid-19 vaccines, has had to impose social distancing since July 24 under the Government's Directive 16. Hanoi's decision at that time was controversial. Social distancing and blockade, if extreme, would severely affect people's livelihood and production and business circulation while Hanoi had only a few cases of infections.
At the time the capital implemented social distancing, an epidemiologist released a chart showing that the number of cases in Hanoi since July 6 tended to repeat what had happened in Ho Chi Minh City since May 24. If the city did not immediately impose social distancing, Hanoi would have been in the same situation of HCM City.
However, Hanoi did not apply extreme policies and in fact industrial and manufacturing enterprises continue to operate. In the first eight months of this year, the city's index of industrial production increased by 6.3% year on year.
However, the impact of social distancing has been very clear. For example, the total retail sales of consumer goods and services in August was estimated to decrease by 32.2% compared to the previous month and by 51.2% over the same period of last year.
After nearly three times extending social distancing, Hanoi has controlled the epidemic well, proving the effectiveness of the early social distancing measures.
Hanoi is speeding up vaccinations. Within three days, the capital administered more than 1 million doses of vaccines with support from medical staff of 11 provinces. At this rate, Hanoi is expected to vaccinate 70 percent of the population of over 18 years old by September 15, or a few days later.
On September 6, Hanoi Mayor Chu Ngoc Anh issued Official Letter No. 20 with an impressive goal: "Immediately resuming" economic recovery and promoting economic development in green and yellow zones and then to the entire city from September 15.
By September 15, when vaccination coverage is enough, it is hoped that Hanoi will reopen its economy. Only when the two locomotives, Hanoi and HCM City, operate at the same time, can they help pull Vietnam's economic train.
Tu Giang

The Hanoi authorities are considering relaxing restrictions on selected services as the capital city seeks to revive the economy following the improvement of the coronavirus situation.

Businesses all want to resume economic activities but experts say the reopening of the economy must be done with a specific roadmap and that haste will lead to failure.