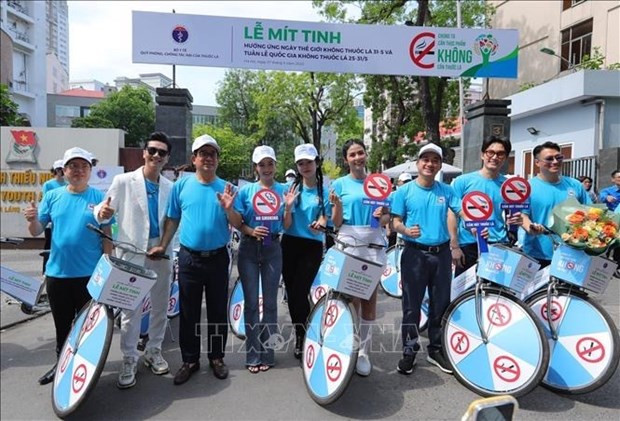 Participants in the May 27 ceremony engaged in cycling to convey the message of the World No Tobacco Day. (Photo: VNA)
She made the appeal at a ceremony held in Hanoi on May 27 in response to the World No Tobacco Day (May 31) and the National No Tobacco Week (May 25 - 31).
She pointed out that Vietnam loses at least 40,000 lives to tobacco each year, and there remains much to be done to reduce the number of premature deaths from tobacco use and achieve the target of bringing the smoking rate down by 30% by 2030.
The WHO official held that it is necessary to prioritise increasing tobacco tax and prices, which are still among the world's lowest. The low tax and prices have facilitated young people's access to and use of tobacco while making it more difficult for smokers to quit the practice.
It is also important to prevent and control the use of new-generation tobacco products, Pratt said, adding that these products are still sold and advertised in the ways causing misunderstanding among the vulnerable youth.
In his remarks, Deputy Minister of Health Tran Van Thuan cited WHO statistics as showing that tobacco use kills about 8 million people around the world each year, including some 1.2 million as the result of non-smokers exposed to second-hand smoke.
Over the past years, Vietnam has recorded encouraging results in tobacco harm prevention and control. The male smoking rate fell to 42.3% in 2020 from 45.3% in 2015. Particularly, the rate of exposure to secondhand smoke has dropped considerably in such places as workplaces, schools, public transport vehicles, and indoor areas.
The rate of tobacco use among people aged 15 - 24 declined to 13% in 2020 from 26% in 2015. It also decreased to 1.9% in 2022 from 2.5% in 2014 among those aged 13 - 15, he went on.
However, Thuan pointed out, Vietnam is still among the countries with a high number of smokers. Besides, such products as e-cigarettes, heated tobacco products, and shisa, which haven't been licensed in Vietnam, have emerged in recent years. The trading and advertising of these products are popular, especially on the internet.
Therefore, if strong and timely measures against tobacco harms or new-generation tobacco products are not continued, the smoking rate may bounce back, he warned.
This year's World No Tobacco Day is themed "We need food, not tobacco", appealing to countries to promote activities raising public awareness of tobacco harms to health, the economy, environment, and food and nutrition security; point out the relationship between tobacco use, planting and poverty; and urge quitting smoking to increase spending on food./. VNA