WHO: Vietnam manages COVID-19 outbreak well

The World Health Organisation (WHO) in Vietnam has highly praised the country's capacity in dealing with public health emergencies, including the new coronavirus disease (COVID-19).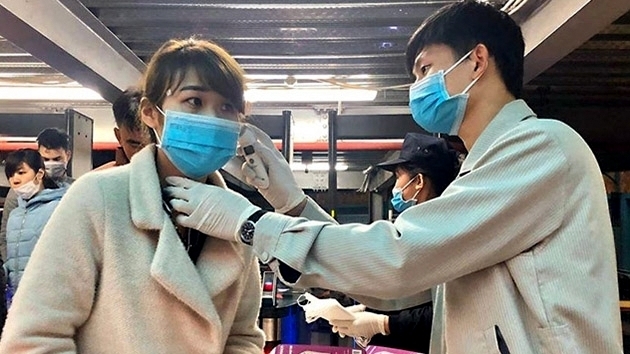 Vinh Phuc Province's workers have their body temperature measured in the prevention and control of COVID-19 epidemic. Vietnam's efforts to prevent the coronavirus spread have been praised by WHO. 


The latest information from the WHO in Vietnam's note "COVID-19: Here is what we know so far" acknowledged that Vietnam has so far been managing the COVID-19 outbreak "very well".
It praised the government for activating its response system at the early stage of the outbreak – intensifying surveillance, ensuring infection prevention and control and case management are in place in healthcare facilities, and enhancing laboratory testing, along with ongoing multi-sectoral communication and collaboration.
WHO also said that Vietnam's capacity to manage public health emergencies, including outbreaks of emerging infectious diseases, has significantly increased.
This is a result of many years of the country's investment in strengthening core capacities – including surveillance and risk assessment, laboratories, infection prevention and control and clinical management, risk communication, etc – as required by the International Health Regulations (2005), or IHR (2005), requirements.
"We call this country preparedness, and such preparedness has been tried and tested by real-time events in Viet Nam, and now by COVID-19," WHO said.
It also suggested for Vietnam to continue to be alert and prepared to control outbreaks. This include early detection, isolation and case management with appropriate infection prevention and control measures, enhanced surveillance, and transparent and timely information sharing with WHO in compliance with the IHR (2005).
Regarding vaccines for the deadly virus, WHO said that there are no available vaccines against COVID-19, but vaccine manufacturing is underway so that clinical trials can start in 3-4 months' time.
WHO will publish an initial prioritisation of the current investigational vaccines that could be part of trials, the note affirmed.
Vietnam has recorded 16 COVID-19 infections so far, with 11 of them in Vinh Phuc Province. Seven patients among the 16 cases have already recovered and were discharged from hospital.
According to the Vietnamese Ministry of Health's infectious disease surveillance system, up until 3 pm on February 15, the world has recorded 67,185 cases of COVID-19 infection, of which 66,496 cases and 1,523 deaths have been recorded in mainland China. Nhan Dan

As many as 30 medical equipment manufacturers were fined nearly 65 million VND (2,800 USD) for violations in trading medical supplies serving the fight against the novel coronoavirus disease (COVID-19) on February 15.

A Chinese tourist has died in France from the new coronavirus - the first fatality outside Asia.