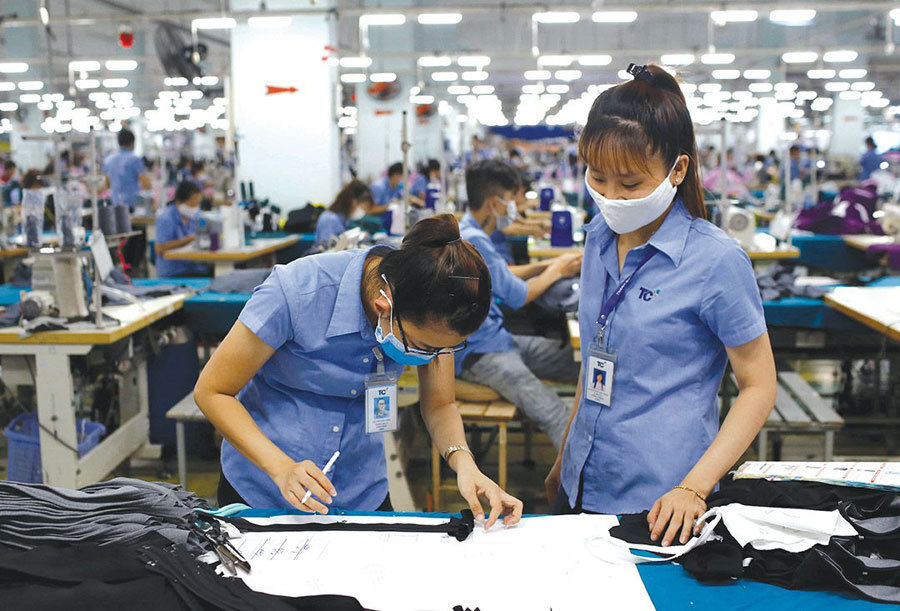 This means that Vietnam has 24 more years to reach that goal. And it will be very difficult to turn this into reality if Vietnam still cannot become a 'developing country with modern industry and higher average income' by 2030.
Core technology
Dang Vu Chu, former Minister of Industry, said Vietnam cannot become a country with modern industry if it doesn't speed up the development of core technology.
Chu, 81, was Minister of Light Industry and then Minister of Industry for 12 years.
He was a special politician who was a a member of three cabinets under three PMs (Do Muoi, Vo Van Kiet and Phan Van Khai) and has a lot of experience from different development periods. He has been keeping a close watch over the country's industrial development though he retired 20 years ago.
Chu affirmed that in order to have a modern industry, Vietnam needs to develop core technologies very early.
Vietnam laminates steel, but cannot manufacture steel from ingot steel; it manufactures automobiles, but cannot design engines; it makes electronics, but just does assembling and doesn't have microchip manufacturing technology. And Vietnam is one of the few countries with rare earth natural resources.
He said the time when Vietnam felt satisfief with doing outsourcing for foreign enterprises to generate jobs is over. The country can't develop modern technology with assembling only.
Chu said he is happy as Hoa Phat Group can earn big money thanks to the steel price increase of 40 percent. The steel manufacturer can manufacture steel from ingot steel, and there is no need to import ingot steel as it had previously.
He said that it is a core technology, and that this is the most radical thing for the country to develop a modern industry. However, Vietnam needs more such complexes to create healthy competition.
"Private enterprises seem to do better than state-owned ones, if comparing Hoa Phat with Tisco, one of the 12 mega loss-making projects," Chu said.
The Party and the State need to pay special attention and create favorable conditions for the private sector to develop. He praised the fact that the Party has released an important resolution dignifying the role of the private sector. It has been serving as the driving force of the national economy.
He pointed out that in order to develop the fledging automobile industry to catch up with some countries, the State should help the supporting industry with necessary policies. This is also the key problem of many other fields.
Tailoring shop for the world
Chu is concerned about the textile and garment industry, which never left his thoughts during his working years.
Coming from the textile and garment industry, he affirmed that the core technology of the industry needs to begin from the weaving industry, spinning, and fashion design at a level to make Vietnam known to the entire world.
Only by doing this will Vietnam be able to have its own input materials and its strong brand in the world. If not, it will forever just do outsourcing for other countries.
Chu said the textile and garment industry is developing very rapidly with 2.5 million workers. However, Vietnam's fabric brand remains weak. It is difficult to export fabric to choosy markets such as the US and Europe at times just because Vietnam uses imported accessories.
Chu mentioned the story of Philip Kotler, the father of modern marketing, who came to Vietnam some days ago. The politician suggested that Vietnam should think of becoming a 'kitchen of the world' and consider this one of the choices to build a national brand, because Vietnam has great advantages in farm produce and food processing.
"The idea should be studied and researched by the country's agricultural sector. As for the textile and garment industry, perhaps Vietnam should think of becoming a tailoring shop for the world," Chu said.
Vietnamese input materials
Why not become a tailoring shop for the world as Vietnam's textile and garment exports are at a high level?
To succeed, according to Chu, it is necessary to build a core technology for Vietnam's textile and garment industry, i.e building weaving, fiber and yarn factories with Vietnamese characteristics.
If Vietnam cannot make its own input materials and control this, it will forever be passive in organizing production.
Textile and garment sector has export turnover of $10 billion a year (Vietnam wants to export $39 billion worth of textiles and garments this year, the same as last year, according to Vinatex). It is one of six industries with this export turnover level.
Vietnamese have only 24 years to become a developed country with high income.
Though the goals are believed to be within reach, they will be unattainable if Vietnam doesn't set proper plans and make every effort. 
Quoc Phong

The government has set up an FDI task force to support multinationals and foreign businesses grasping investment opportunities in Vietnam.

As the Covid-19 pandemic persists, Vietnam's economy will still face many difficulties, but the country has the potential to increase productivity and develop at a higher rate than many other countries.