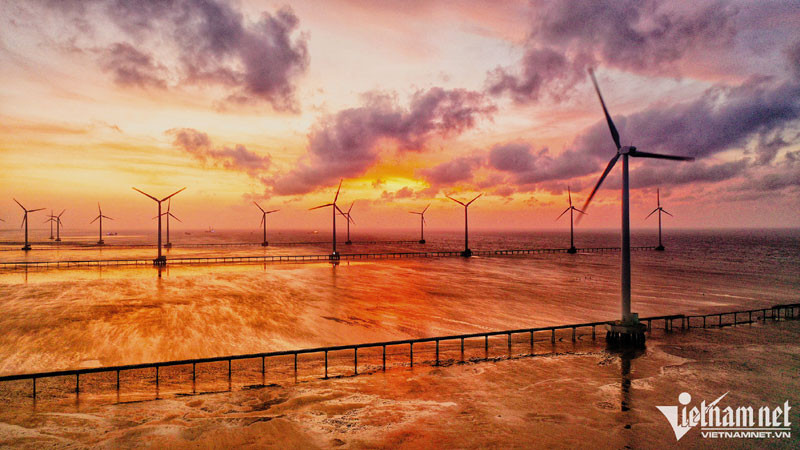 Mr. Dao Phan Long, Chairman of the Vietnam Association of Mechanical Industry (VAMI), said that many large wind power projects are being or will be implemented in Vietnam. This will be a huge market in the next five years for mechanical enterprises.
For a wind power project, mechanical products can total up to several hundred thousand tons. Particularly for the base system, an offshore wind power project needs at least 35-40 columns, weighing thousands of tons for each column. However, the opportunities for domestic enterprises are still dim as most of them are small, have low competitiveness and lack modern technology.
Supplying equipment to wind power projects is just one example. In other fields, most mechanical enterprises are in the same situation.
Wind power projects are expected to be the major equipment market for the mechanical industry in the next five years. Photo: Hoang Ha.
According to VAMI, Vietnam has more than 25,000 mechanical enterprises, accounting for nearly 30% of the total number of processing and manufacturing enterprises. However, domestic mechanical enterprises always lack orders. Many large projects in construction, transportation, irrigation, and oil and gas fields mainly use imported mechanical products.
A recent survey by the Vietnam Federation of Trade and Industry shows that the ability to supply support industry products from Vietnamese enterprises is low.
For mechanical engineering, the rate is below 35%. Most of the localized components accepted by supply chains are supplied by foreign-invested firms.
According to the Ministry of Planning and Investment, the processing and manufacturing industry still leads the way in attracting foreign investment, accounting for over 50% of the total registered investment capital.
This can be seen as an opportunity to develop domestic supporting industries, including mechanical enterprises. However, it is difficult for them to have connections with foreign-invested firms.
To develop the domestic mechanical industry, the State needs to issue specific policies. Photo: Hoang Ha
Waiting for policies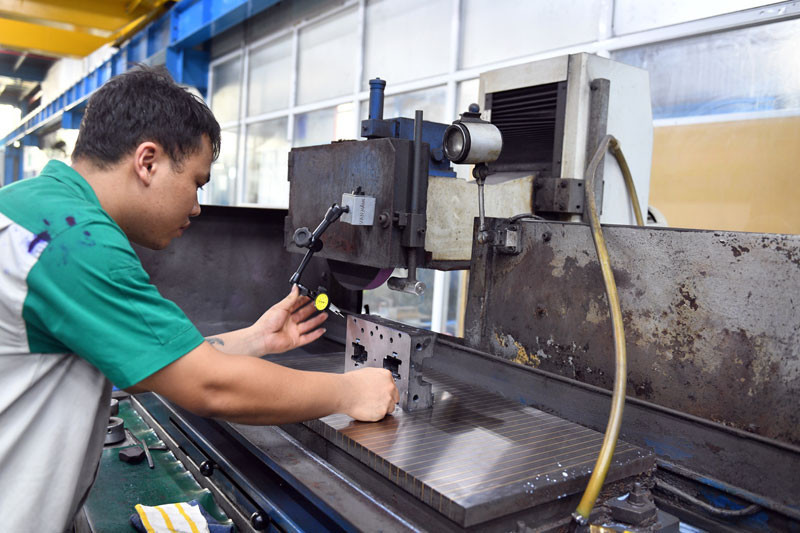 Mr. Do Phuoc Tong, Chairman of Duy Khanh Mechanical Company in HCM City, said that, after seeing opportunities in the mechanical field, he decided to invest in a new factory in 2016. At that time there were no competitors, but now there are three foreign-invested firms in this field.
The Government approved a development strategy for the mechanical industry in 2012, which was updated in 2018 but the specific policies have not been compiled yet.
According to VAMI, the State needs to have policies and use technical barriers to reasonably protect the domestic market. It should set rules on public-invested projects placing orders to Vietnamese mechanical enterprises, based on the volume and value of projects.
Mr. Pham Tuan Anh, Deputy Director of the Department of Industry (Ministry of Industry and Trade), said that what local mechanical enterprises want the most is not tax incentives and money, but market opportunities.
Tran Thuy