VietNamNet Bridge – Director Nguyen Duy Linh's documentary Mot Ngay Binh Thuong (An Ordinary Day) has won the Golden Lotus Bud 2014 award.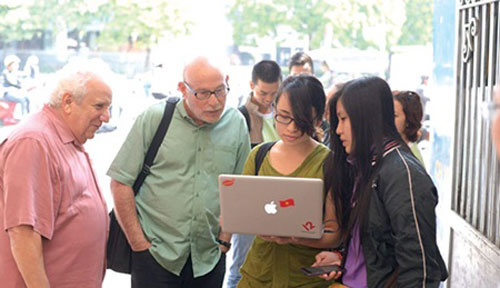 Budding directors: Golden Lotus Bud awards jury member Mark Jonathan Harris (second, left) works with young filmmakers in the We Are Filmmakers project. — Photo courtesy of TPD
The film, which tells the story of a high school student in Ha Noi who suffers from a rare disease, but overcomes fear and tries to live with a positive outlook, moved the audience and the jury, particularly because Linh said that it was the story of his close friend. Linh and his friend jointly received the prize.
The Golden Lotus Bud 2014 award organising committee received a record number of entries this year, with more than 100 short feature films and documentaries produced within the last year being submitted.
Five short films and 10 documentaries were selected for the final round. The award ceremony took place on Sunday evening, with the six best entries being screened.
The feature film Sac Mau Diu Em (The Gentle Colour), directed by Nguyen Trung Kien, also won a jury prize. This is the second Golden Lotus Bud award that Kien has won.
Two prizes, decided by audience votes, went to Hat Cam Va Con Meo Vang Khong Tuoi (Orange Seeds and An Ageless Yellow Cat), directed by Nguyen Le Hoang Viet, and Bao Gio Ve? (When Will You Come Home?) directed by Pham Le Dung.
Viet's feature film was highly appreciated for its artistic quality. Viet said that he wants to show the audience beautiful scenes and a mixture of emotions, memories and dreams.
"My film doesn't have a clear plot so it opens up other stories," he said.
The theme of the fifth Golden Lotus Bud awards was Where the Wave Starts. It focused on simple and moving stories of ordinary lives, brought to life through the cameras of young filmmakers.
Nguyen Thanh Huyen My tells how her mother takes care of family meals, in her documentary entitled Bua Com Cua Me (My Mother's Meals).
"I was moved to see my mother's diary of family meals in which she has written the names of the courses, ingredients to be bought and their prices," My said.
"We may ignore it or think it to be a trifle," she added, "I think such simple things help create a family's cosy atmosphere and happiness."
Director Nguyen Thi Kim Hai, jury member of the awards, said that she found some breakthrough movies being made by young filmmakers this year.
"The entries in both categories of short films and documentaries have shown improvement in the writing of scripts and shooting of scenes," she said. "With perceptive eyes, they show interesting things happening in ordinary lives.
"Besides familiar subjects such as stories of families, school and friends, the filmmakers also focus on the situations of disadvantaged people, homeless elders, homosexual couples and mentally ill patients."
Cameraman Ly Thai Dung agreed. He said this year's entries impressed him deeply as the filmmakers expressed their sympathy and understanding with the feelings, thinking and situations of the people in the films.
"I recognise the young filmmakers' positive attitude regarding social problems," he said. "They show that they are not insensitive."
The jury also included three-time Oscar winner and documentary filmmaker Mark Jonathan Harris, journalist Ta Bich Loan, actress Hong Anh, actor Thai Hoa and director Arnaud Soulier.
The awards are part of the project We Are Filmmakers launched in 2009, by the Centre for Assistance and Development of Movie Talents (TPD), Viet Nam Cinema Association. The long-term programme aims to support young filmmakers.
The project aims to make cinema more popular in Viet Nam, and to aid young filmmakers in creating original works. This project has contributed to the establishment of a film-making community in the country.
VNS/VNN