With new 'business model', billionaire Pham Nhat Vuong could earn $1.5 billion
Billionaire Pham Nhat Vuong has launched a new system that is expected to help Vinhomes bring in about $1.5 billion in 2021.
Vinhomes Joint Stock Company (VHM) has released documents of the 2021 annual general meeting of shareholders, which set a goal to earn after-tax profit 45% higher (to VND35 trillion - $1.5 billion) year on year, and revenue of VND90 trillion.
The revenue of Vinhomes continues to come from mega-urban areas Vinhomes Ocean Park, Vinhomes Smart City, Vinhomes Grand Park and a number of new projects.
Vinhomes is building a new business model called O2O (Online-to-Offline) to bring its products to more customers through a variety of interactive channels.
This company will speed up the implementation of the first industrial real estate projects in the northern port city of Hai Phong. It started participating in this high-potential segment in 2020.
By late 2020, Vinhomes had a total undistributed profit of more than VND 56.2 trillion. The company will pay dividends at the rate of 45% in the third and fourth quarters, of which 15% will be in cash and 30% in shares.
In the first quarter, Vinhomes achieved a pre-tax profit of more than VND7,000 billion. This was also the time when Vinhomes officially applied the O2O model and launched an e-commerce platform specializing in leasing Vinhomes real estate products.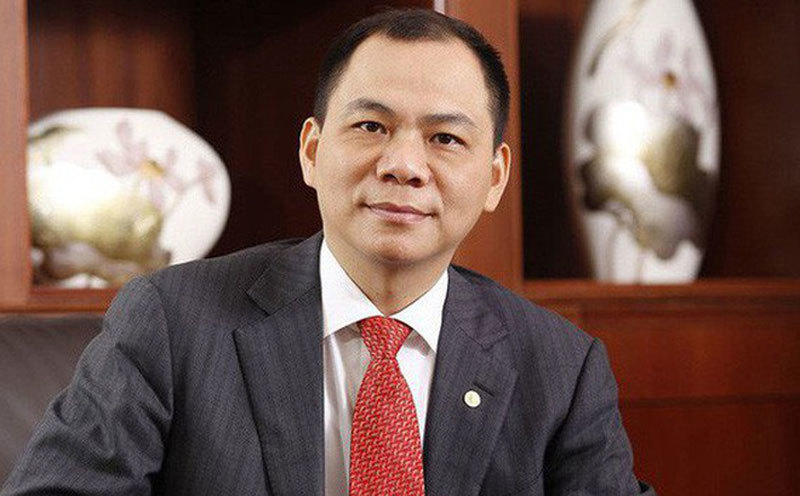 Vingroup's Chairman Pham Nhat Vuong.
According to Vingroup, it will issue $500 million of international bonds with a five-year term with the option to receive Vinhomes (VHM) shares priced at VND123,000 per share.
VHM stock is currently priced at VND97,000, a modest increase of about 30% over the past year.
Vinhomes is a real estate management enterprise - the core activity of Vingroup. The industrial park real estate segment is said to be a new push for Vinhomes.
Recently, many large corporations in Vietnam have focused on industrial real estate to welcome the new wave of foreign investment such as Hoa Phat, Viglacera, Gilimex, and others, in addition to other firms that have been active in this field for a long time such as KBC, ITA, Sonadezi, Nam Tan Uyen...
In the first two months of the year, Kinh Bac Urban Development Corporation (KBC) of Mr. Dang Thanh Tam attracted more than $1.2 billion (accounting for 50% of the country's total) to its industrial parks such as Quang Chau (Bac Giang province), Trang Due (Hai Phong) … and it is expected that profit in 2021 will increase 6-7 times compared to the previous year as foreign capital is still pouring in. This is the highest profit ever expected by Dang Thanh Tam's group.
According to Reuters, Foxconn will invest an additional $700 million in Vietnam in 2021. One of Foxconn's key projects is the $270 million Fukang Technology complex in Bac Giang province invested in by Foxconn Singapore PTE. Ltd. The factory is expected to produce about 8 million computers a year, including iPads and MacBooks, after Apple Inc asked suppliers to move their production lines out of China.
In 2020, Vietnam attracted $28.53 billion of foreign investment, a reduction of 25% year on year while capital disbursement reached $19.98 billion, 2% down. Asia was the largest investor in Vietnam in 2020, led by Singapore, South Korea, China, Hong Kong and Taiwan.
V. Ha

Masan Group billionaire Nguyen Dang Quang is considering a billion-dollar deal in an area that is Vietnam's strength but has been controlled by large foreign corporations for the past decade.

The Covid-19 pandemic has caused global trade bottlenecks and disruptions, but livestock exports are still growing strongly. With export turnover of $1.23 billion in 2020, livestock is the new export strength of Vietnam.