Wood industry orders plummet, though turnover has reached $10 billion
Vietnam's exports of wood and wooden products brought turnover of $10 billion in the first seven months of the year. However, the industry has unexpectedly fallen into an unprecedented situation as orders have fallen sharply.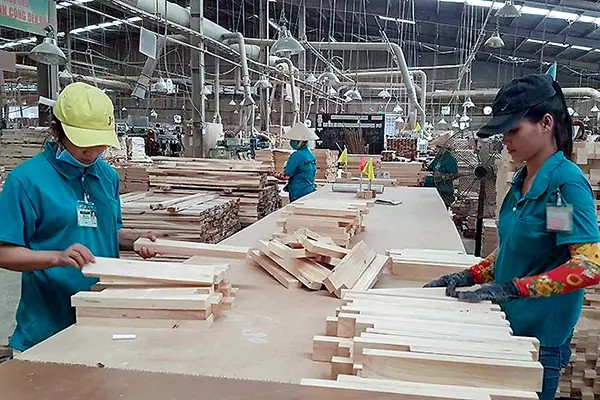 A report by the Ministry of Agriculture and Rural Development (MARD) shows that wood and wooden product exports in July totaled $1.4 billion, which meant a 5.5 percent drop compared with June 2022 and 1.6 percent drop compared with the same period last year. July was the first month with a minus growth rate this year.
The General Department of Forestry said that Vietnam's wood and wooden products are exported to 110 countries and territories. Of these, the US, Japan, China, the EU and South Korea are the five major markets.
However, since the beginning of the year, Vietnam has only seen a sharp rise in exports to Japan, China and South Korea. Exports to the EU increased slightly by 0.8 percent compared with the same period last year.
Meanwhile, the US, which consumes 60 percent of Vietnam's exports, saw a minus growth rate. The market brought turnover of $5.84 billion, a 4.9 percent compared with the same period last year.
As such, wood and wooden exports brought $9.7 billion to Vietnam in the first seven months of the year, a slight increase of 1.2 percent compared with the same period last year.
Analysts say that the growth of the industry is slowing down. In the last 20 years, exports of wood and wooden products have always been at high levels.
Export turnover, for example, rose from $219 million in 2000 to $11.3 billion in 2019. In 2020-2021, despite the Covid-19 outbreak, which stalled production activities, wood and wooden product exports still brought $13 and $15.8 billion, respectively, a growth rate that no other industry in the country witnessed.
Wood and wooden products are the only group of agricultural products which have had export turnover of over $10 billion a year and have the highest trade surplus. However, the picture of the industry has become bleak.
Orders falling
A quick survey of 51 wood processing the export companies conducted by associations and Forest Trends showed unsatisfactory results.
Regarding the US market, 32 out of 45 businesses said their export turnover decreased in Q2 by 39.6 percent on average compared with the first months of the year.
The same is also occurring with the EU market. Twenty-four out of 38 businesses have confirmed a revenue decrease in Q2 with an average drop of 42 percent.
As for other markets, the number of businesses confirming a decrease in export turnover is overwhelming. The drop ranged from 22.15 to 41 percent.
Meanwhile, To Xuan Phuc from Forest Trends cited another survey that showed that 71 percent of polled businesses affirmed that orders and export turnover will decrease sharply from now to the end of the year.
Up to 44 percent of businesses predicted their revenue would fall by 40 percent this year.
The sharp fall in number of orders and unsatisfactory business results of woodwork manufacturers is unprecedented. Even in 2020 and 2021, orders still poured into Vietnam. The number of orders was so high that enterprises had to increase production and recruit new workers.
Enterprises, however, now lack orders and face problems seeking capital, paying workers and spending for input materials.
To cope, according to Phuc, enterprises have downsized production scale, shifted to other products, and sought new markets.
Chair of the Vietnam Association of Timber and Forestry Products (Vifores) Do Xuan Lap said the Russia-Ukraine conflict has raised timber prices, causing difficulties for woodwork manufacturers.
Vietnam's major export markets, the US, Europe and the UK, are experiencing high inflation rates and demand has decreased dramatically. This has had a direct impact on enterprises in the woodwork industry.
"The woodwork export market in the last months of the year will be gloomy," Lap said.
He asked commercial banks to help woodwork enterprises overcome difficulties by extending debt payments, reducing interest rates and offering preferential loans. He also asked the Ministry of Finance (MOF) to reduce some kinds of taxes and fees to support enterprises.
As for input materials, Lap said Vietnamese enterprises need to become self-sufficient in input material supply to reduce reliance on wood imports, which amount to 5-6 million cubic meters annually.
Tam An