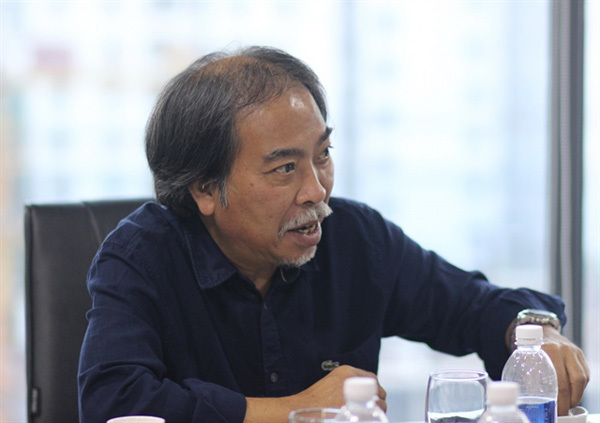 Writer Nguyen Quang Thieu is newly-elected president of Vietnam Writers' Association. Photo realtimes.vn
He is a prolific author with 10 poem collections, 23 short stories, and many translations, essays and screenplays. Many of his poems and short stories have been translated into English, Russian and French.
Thể Thao Văn Hóa (Culture & Sports) reporter Hien Luong spoke with the new president about his work at the association.
How did you feel when you became the new chairman of the association?
Maybe a year ago I didn't think about it and six months ago I was not sure about the election.
Of course, I was very surprised. Simply, I'm a poet who can paint and play traditional instruments but never thought about becoming the head of an association which is very complicated. 
But now, I have been elected president with the respect and trust of members and I have no other choice, I have to take responsibility and try my best.
The congress was successful with clear guidelines and decisions. It was a generational transition and I could not wish for anything more.
Notably, for the first time after many terms, we have elected enough members for the executive committee including 11 people. This is meant to inspire writers and readers as well.
What is the biggest challenge for the new president and what do you want to do first?
I think journalism or publishing which belongs to the association is a permanent task. The biggest challenge is awakening the potential, possibilities and inspiration for writers and readers.
That will encourage writers to work. If we lose inspiration, writers can not write. As a result, reading culture will not develop. 
Writers, works and readers are key components for the development of literature. The first thing I want to do is to focus on this relationship. 
The association was run by a six-member committee in the past. Now, the committee has 11 members. How will that change things?
We have more people working together. But how to work all in one is really difficult. Teamwork is always a challenge. I believe the association members put their trust in the elected members. 
Some say writers are romantic and easygoing but they will be critical to choose the people representing them.
All the members of the committee are outstanding. We trust each other in work and will stick together for a long time. 
How will you find financial resources for the association's operation?
I have relationships with many businesses. They are willing to help and support with the aim to develop literature and revive the culture. The Party and the State have provided grants to associations. I don't think it can be done better. We are very grateful for that.
But we need sponsors to invest in literature translation, promote children's literature and international exchanges. 
We think a lot about young writers who will be future of literature. We will try to convince and call businessmen to pour money into literature development. 
What is your plan to develop children's literature?
We will focus on the Children's Literature Board asking authorities to set up a fund for children's literature. We really want to awake both children and veteran writers to write for little readers. 
We have a lot of children's books but almost all of them are translated. These books are good but I think a child must grow up and become an upright person in their mother culture.
I'm considering launching awards for children's literature and first-hand literature work. 
Do you think management will eat into your time for writing?
That is always an issue for everybody. However, I still work for myself. I'm preparing for a solo painting exhibition. I also plan to write a second short story for my nephew and niece and to print two collections of poems. Additionally, I will write a script for a motion picture about Co Loa Citadel. 
I know how to work in different roles. But now it is more difficult because of important missions at the association. VNS 

While there are multiple books for children to choose from, only a few of them are written by young, local authors.

Mai Ly spends her weekends reading books on gastronomy written by Di Li. It's a long time since when she's been so passionate about reading.