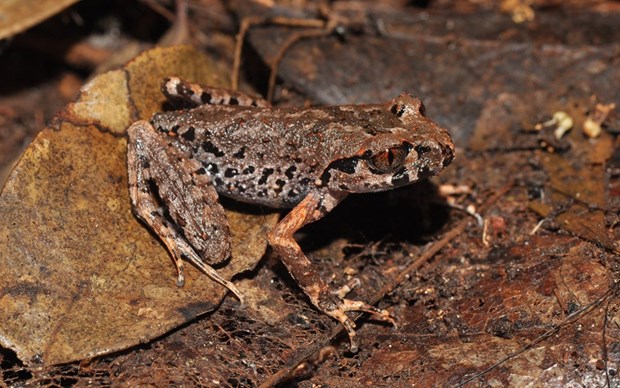 Big-head frog is one of the 91 new species discovered in Vietnam in 2020. (Photo: WWF)
The report collected hundreds of studies by scientists from universities, preservation organisations and research institutes globally. 
It also unveiled that 155 plant, 16 fish, 17 amphibian, 35 reptile and one mammal species were identified in the Greater Mekong Sub-region (GMS), bringing the total new ones to 3,007 since 1997.
Four other countries in the GMS, namely Laos, Cambodia, Thailand and Myanmar, recorded 133 new species, many of them are facing the risk of extinction due to habitat loss, deforestation, illegal hunting and trade.
Another new report by the WWF also warned that primates in the region have declined seriously in recent decades due to human activities such as illegal logging, land use conversion and grazing. Hunting and trapping are also exerting huge pressure on primate population, putting them at risk of extinction./. 
Source: VNA

About 25 different primate species out of 44 found in Vietnam call the Greater Mekong home, but these unique species are increasingly threatened by habitat loss and fragmentation, climate change, hunting and illegal trade.

Starting out as a voluntary group since 2011 to safeguard some 20 flocks of Hatinh langurs (Trachypithecus hatinhensis), a team of 14 farmers in Tuyen Hoa District of Quang Binh Province is working hard to protect the endangered species.