Hoang talked about what inspired him to pursue calligraphy and about the difficulties he faced, as well as his plans for the future.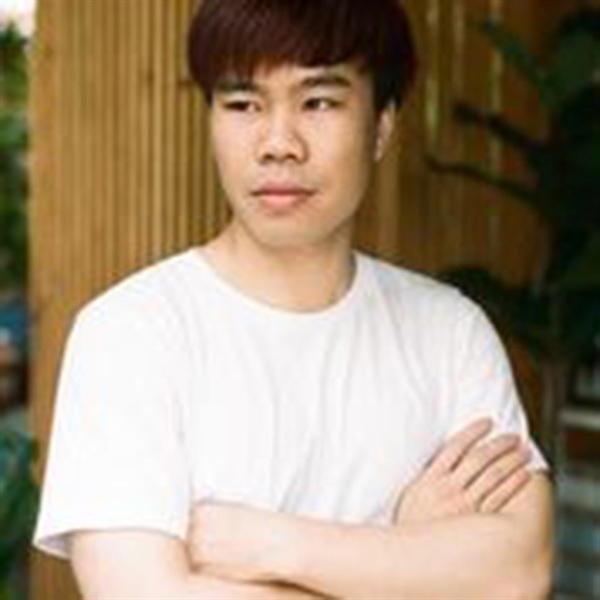 Dao Huy Hoang. -- VNS Photo
Would you please introduce yourself? 
I'm Dao Huy Hoang, a fulltime calligrapher based in Hanoi. I've been doing calligraphy for almost 10 years. I'm also a pen-maker. As an old saying goes, "A penman makes his own pens". I'm also an Urushi (Japanese lacquer painting) craftsman.
What inspired you to follow calligraphy? Why calligraphy and not others?
I always loved handwriting. When I was a little boy, my grandfather showed me his notebooks and my great-grandfather's letters, and taught me a lot about handwriting, Chinese calligraphy and bookbinding. I grew up with a lot of crafts around, especially handwritten notes. I wanted to learn graphic design when I got to college, which was definitely different from my major (International Economics), but working with computers was never easy for me. I didn't know that I could make beautiful letters by hand until I saw a post shared on my Facebook page that was about calligraphy. Then I did some research after school and started learning myself with the closest tools to calligraphy I could get. 
I really admire my brother, who is a famous artist and illustrator. But I never got a chance to learn art properly. Calligraphy is somehow like a bridge between art and science. It connects my way of thinking to my eye of seeing beautiful things around. I was always happy whenever I picked up a pen; calligraphy came so naturally to me. I was said to be a "chosen" one. I really think it is true. Over the years, calligraphy has turned out to be much more artistic than I thought. I have learned painting with pigments, gilding gold leaf, and preparing parchments and vellum for sophisticated artworks, and have expanded my study to other art techniques.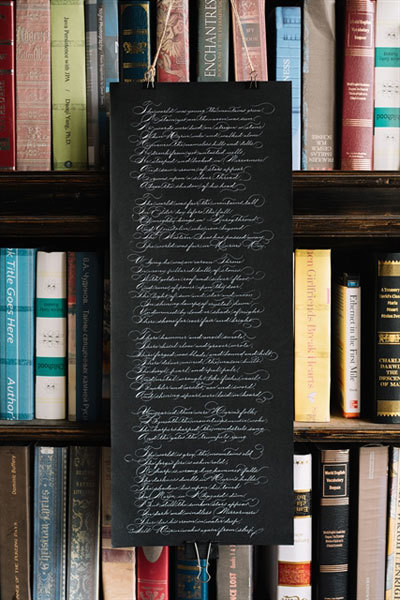 A calligraphy work by Dao Huy Hoang. — VNS photo
Please tell us something about calligraphy and its development in Vietnam? What difficulties did you face, as there are few people here who are knowledgeable about it?
Western calligraphy is not as popular as Chinese and Vietnamese calligraphy in Vietnam. I understand that because it reflects our origins; we have had Asian characters for thousands of years. The romanised Vietnamese alphabet, or chữ quốc ngữ, has been officially used for over 100 years. Calligraphy in general is blooming nowadays thanks to the internet and social media. Of course, this includes Western calligraphy.
My very first calligraphy workshop was back in early 2013. Ms Margaret Shepherd came all the way from Boston to Hanoi, during her research in Southeast Asian letters, and she spent months travelling across countries to learn the local art and teach calligraphy. She taught us Roman letters, the first Latin alphabet of humankind, in 10 days. I skipped almost every class in college that week to learn calligraphy with her. That was a remarkable milestone for me. Something said in my mind: "Hoang, finally you have learned true calligraphy from a calligrapher." I really appreciated that, so after the workshop I decided to become a calligrapher, just like my teacher.
Many people don't even know that there is a job called "calligraphy". It is difficult to make a living with just calligraphy in Vietnam. I used to offer writing services and teaching workshops, but they were never enough as the remuneration was very low. My orientation is to be a visual artist who works with various kinds of art, and calligraphy is one of them, and now pen-making, wood-turning, and lacquer painting. 
I graduated from university and got a degree in international economics. I am proud to apply what I learned in school to my business. In my third year, my parents urged me to apply for an internship in a technology company or work in my uncle's company. I filled out the application, but I left in just a week. I knew that I could not stay any longer. I wrote my letter of resignation in calligraphy!
Can you tell us about your achievements?
I had my first solo exhibition in 2019, and have had several group exhibitions in Hanoi and conferences in the US. My work has been featured in some international magazines like PenWorld and Type Magazine. I have been very lucky to create artworks for well-known clients like Crane Co., Speedball, Charlie & Keith, Hermes, and Dior.
I received scholarships to attend International Calligraphy Conferences in the US and Canada for three years from 2016-2018. That was such a great opportunity to meet professional calligraphers from around the world. Since then, I have attended conferences and symposiums in Japan, Australia and North America. I have travelled to 12 countries, mostly in North America, Asia and Australia, to give talks and workshops to local guilds and art studios.
I am proud that I have learned so much during my travels, and have had beautiful cultural experiences and have been enlightened from such knowledge. I never imagined that I could learn Japanese lacquer painting in New York, wood-turning in Seoul, furniture-making in Indianapolis, joinery in Kyoto, origami in Kuala Lumpur, or even bookbinding in Sydney. I once gave up applying for study-abroad opportunities in college, but now I travel more than ever, thanks to calligraphy, surprisingly.
Do you have ideas about introducing the art to other Vietnamese? 
I am conducting more workshops to introduce calligraphy to handwriting lovers in Vietnam. I hosted the first calligraphy art show in Hanoi and HCM City. Hopefully, it will be an annual event in the future, besides the group exhibition for my students. With everything going virtual these days, I think it will be a great opportunity to make calligraphy more popular.
I always want to collaborate with local artists and calligraphers to do art projects. My idea is to show that letters can be an art form, an artistic language that transmits the meaningful inner voice of the maker, beyond the stroke-by-stroke way of writing that we have done for thousands of years.
Would you please tell us about your plans for the future?
My 10th year anniversary is coming in 2021-2022. I hope to successfully have another solo exhibition to celebrate this life milestone. It will not only be a show but also a performance and visual installation that connects different aspects of my career in the last 10 years, since first becoming a calligraphy hobbyist to working internationally as a professional artist. Ten years doesn't sound that long, but it's not that short for a young calligrapher. I am very excited to look back at my changes over the years, and I can't wait until my 20th, 30th or maybe 50th anniversary.
In the future, I want to host some international calligraphy events not just for Vietnamese but for friends around the world who can travel to Vietnam, learn calligraphy and explore the local culture.
Vietnam has so many crafts related to calligraphy, like paper and textile-making, colour dyeing, gilding with lacquer, and others. I really hope to introduce these to letter lovers around the world. VNS
Thu Ngan

A variety of calligraphy artists in HCM City have begun displaying their beautiful writings as Pham Ngoc Thach street has been transformed into a 'Street of Calligraphers' with many of the works bearing wishes of prosperity and happiness.

Calligraphy couplets were an indispensable part of the Vietnamese Lunar New Year in the past.