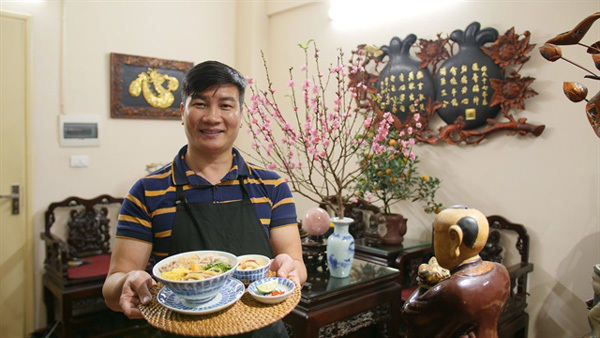 Young chef Nguyen Phuong Hai is pictured with Vietnamnese bún thang (noodle soup with threads of chicken, pork rolls, mushrooms and dried turnip). Photo courtesy of Nguyen Phuong Hai

The free class attracted a lot of people of all ages  who were eager to make their very first banh chung.
The traditional cake is important during Tet (Lunar New Year) and in Vietnamese people's culture, but in the midst of a modern and busy life, many families do not take the time to make banh chung at home and instead choose to buy them to save time.
With his lessons, the 43 year-old chef wants to encourage his students to preserve this beautiful tradition.
Hai is widely known across Vietnam for his cooking skills and knowledge of traditional cuisine in Hanoi.
He was a teacher at Hoa Sua School and a culinary expert at several well-known restaurants in the capital.
Over the last ten years, he has featured on national and international television cooking shows, including a piece aired on CNN. During one of his shows he shared how to make cha ca (grilled fish), bun cha (grilled pork) and nem (fried spring rolls) on Germany's DW channel, and on others he has demonstrated techniques from the country's three regions on South Korea's KBS.
Seeing the flavour of many Vietnamese traditional dishes being modified, Hai has tried hard to preserve them.
"Nowadays, when local people cook, they use different and less ingredients, so the flavour of the dishes change. They are different from the ones I enjoyed during my childhood. It's been a long time since I ate bun cha outside. Now I only eat bun cha cooked by my mother, as I can find again its original flavour," he said.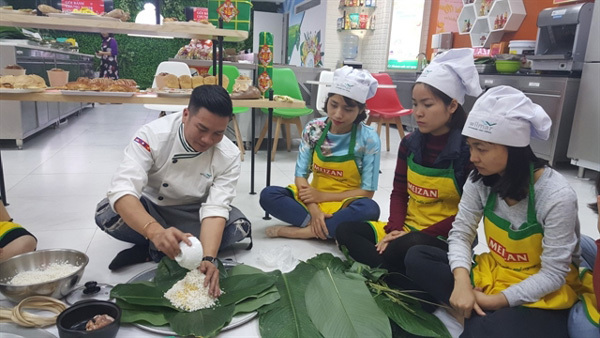 Chef Hai holds a free class to teach people how to make banh chung (square sticky rice cake) at Meizan Cooking and Baking Demo Centre in Hanoi. VNS Photo Vuong Bach Lien

Long family tradition
Whenever he talks about his affinity for food, Hai often starts with a story about his grandmother. "My family has lived in Hanoi for eight generations. My grandmother was among the first students at the prestigious Dong Khanh School, which was once the only secondary school for girls in the north of the country. She was born in Hanoi, so she was an excellent cook."
He lived with her for most of his childhood. He learned from her meticulous culinary skills to cook, from simple daily meals to sophisticated wedding and business parties. He also learned how to make European and Asian dishes. He started to study to become a professional chef at the age of 18.
Besides learning from his grandmother and mother, he also learnt from other culinary experts including Vịnh, the owner of the Gia Trinh cake shop on Ly Nam De Street, and Pham Thi Vy and Xuan Trinh, the co-founders of Hoa Sua School, who devoted their lives to the preservation of Hanoi's gastronomy.
Thanks to his schooling, he started to restore several traditional dishes, inviting his family members to taste first. He has several cooking secrets for many dishes which had nearly disappeared such as chả gà nướng lá dâu (roasted chicken thighs with strawberry sauce), nem mực nướng xốt tương ô mai (grilled jellyfish and dried-fruit sauce), and chạo bò (grilled beef).
Some years ago, he successfully published a cookbook presenting his 36 recipes for traditional dishes from Hanoi.
Youtube vlog
A month ago, to promote his delicious traditional Hanoi dishes, he launched a vlog on Youtube named Bếp Nhà Cháu (Cuisine of My Family) to teach people how to make traditional Hanoian dishes.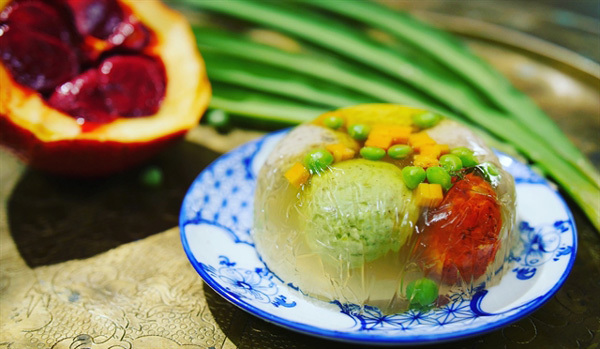 Moc Van Am (Pork ball in jelly), a traditional dish cooked by Hai. Photo courtesy of Nguyen Phuong Hai

The vlog now has nearly 20 000 followers and not only from Vietnam but also from the US, France and Japan. Many of his viewers have thanked him for the videos, saying he has reminded them of their beautiful childhoods in Vietnam.
But Hai wants to do more. In March, he will take part in the Cơm Có Thịt (Only Rice is not Enough) charity event by holding new classes to teach people how to make traditional dishes at a cooking centre in Hanoi, and all the earnings will be donated to children in mountainous regions to improve their diets. VNS
By Vuong Bach Lien

Nestled on Bat Dan Street in Hanoi, The T-Art is celebrating its second birthday with a special event and a multitude of new upscale dishes added to the menu. The theme of the celebration is 'Làng Chài', or 'Fishing Village'.

Among the dozens of Indian restaurants in Hanoi, Rasm Modern Indian Cuisine Restaurant, which has been open for three months now, offers a fresh style of Indian cooking.

During the scorching heat of the summer, Hanoians seek out a bowl of cháo đậu phụ cà muối to cool down.