Young man cares for homeless animals
Addressing homeless animals as 'papa' and using English for commands, Quoc Bao receives a lot of affection from his pets.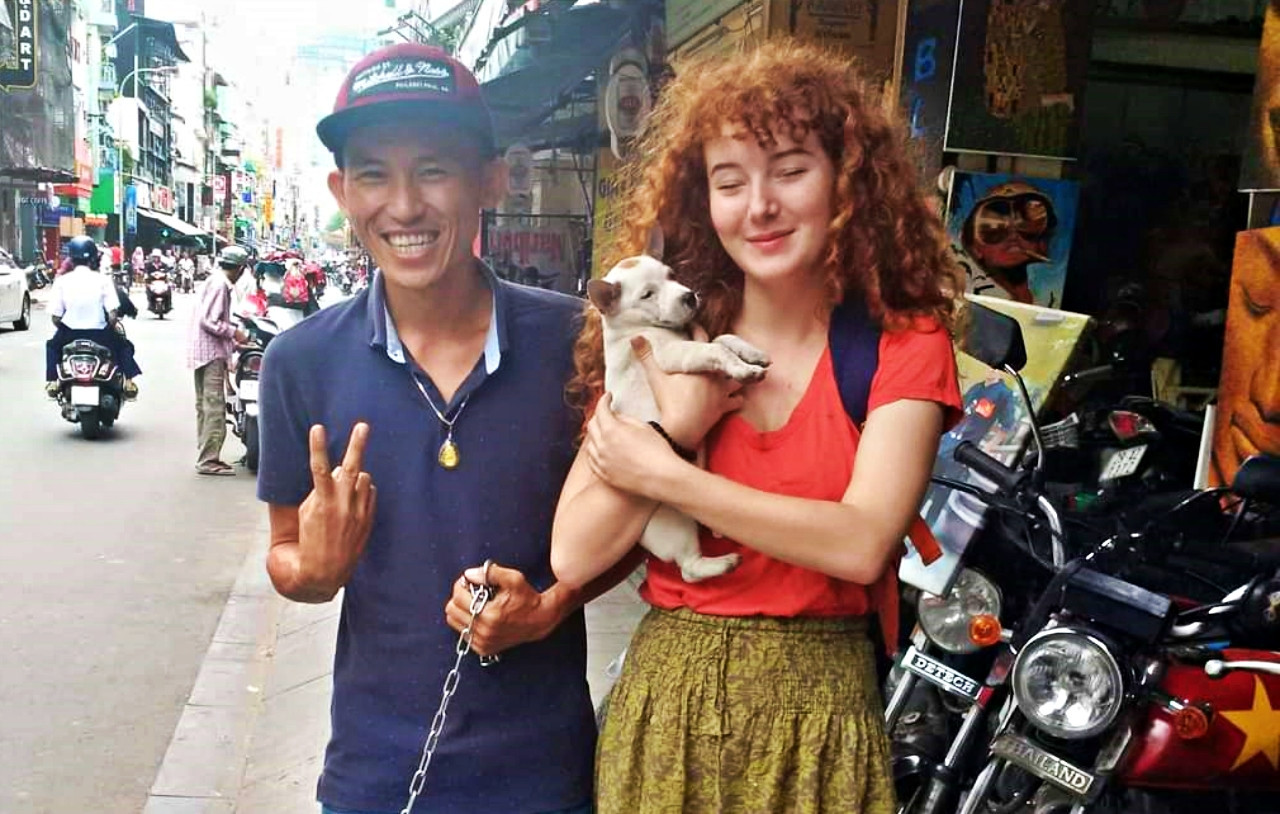 In the morning, after feeding his dogs and cats, Bao, 34, in district 10, HCM City, takes his motorbike out the door. Seeing two dogs behind, Bao points to the motorbike and says 'Jump up'.
Hearing the instruction, the two dogs jump into the motorbike. Bao carries them to his motorbike leasing shop in district 1.
Bao has been raising many dogs and cats since 2019. All of them were homeless animals that he picked up and cared for.
Bao says on the way from work to home he sees uncared for dogs and cats on streets, and feels very sorry for them.
Bao brings the animals home, feeds and bathes them, and gives them medicine. Bao decided to rent a larger house to accommodate all of them.
"Sometime I raised four dogs, seven cats and one pig. The animals I pick up are all treated equally. I love them and consider them like my children. I call them kids and I say 'dad' for them," Bao said.
"I bathe and cook for them every day. At first, I did not have experience taking care of them and I had to ask for advice from veterinary doctors. All of them are vaccinated," he added.
During the two years of the pandemic, Bao could not earn money and had to suspend business. However, he did not give up raising the animals. He bought beef and chicken and cooked for the pets.
Bao has to feed the pig potatoes and rice three meals a day. On average, he has to spend VND200,000 a day to feed the dogs and cats, and VND150,000 to buy three kilograms of potatoes and 1 kilogram of rice for the pig.
Being cared for by the young owner, the animals are able to recover and enjoy life with love from Bao.
In addition to feeding, the animals also receive English lessons from Bao.
"I like learning foreign languages and I love English," Bao said. "When working, I usually have to use English to communicate with my clients. I decided to teach English to my animals."
At first, Bao let them listen to English music. Every time he feeds or plays with them, Bao takes time to talk to them in English with simple words such as 'Hello', 'Sit down', 'Stand up' and 'Come here'.
After the animals understand the words, he begins saying more complicated sentences 'Do you want to play? Do you want to go to the park?'.
All his animals understand him and do what he tells them to do.
Bao also gives a lot of love to his pets. He loves them so much that he sheds tears when he cannot save a dog.
"When I picked one dog up, I knew that it had a disease. I tried to treat medically with every possible means, but I failed," he recalled.
When the dog died, he was so sad that he could not sleep.
"Then I burned it. When I received its ashes, I suddenly burst into tears. Exactly 100 days later, I took its ashes and scattered them in the river," he said.
Asked about the 100kg pig, Bao said he has been raising the pig since the day it was small.
"One day, I passed through Cat Lai Port and saw it when it was put for sale. I felt sorry for it. It is very special. It only eats potatoes and rice, but it is very clever".
"It lives with the dogs and cats peacefully. It loves and understands me. It always expresses its feeling by kissing me," he said. "When I asked it, it would come close to me and give me a kiss on my cheek".
Ha Nguyen