Young man from Hanoi returns to his hometown to grow oranges, make billions of VND
"The first day I went up the hill to pick up the soil, when I finished, I looked back and found that my field was the most slanted. At that time, I just wanted to find a hole in the ground to hide from embarrassment," Cao Khue said.
At the age of 25, Nguyen Cao Khue (born 1996, Son Tay district, Hanoi) is the owner of an orange and pomelo farm in Hoa Binh. The 32.9-hectare farm was leased back by Khue for 15 years to grow fruit trees. 
Depending on the time and nature of the work, there are about 8-20 employees working on the farm. In addition, Khue also opened an office in Hanoi with five employees to handle orders for oranges and pomelo. Their revenue in 2019-2020 was more than VND2 billion. 
The first setbacks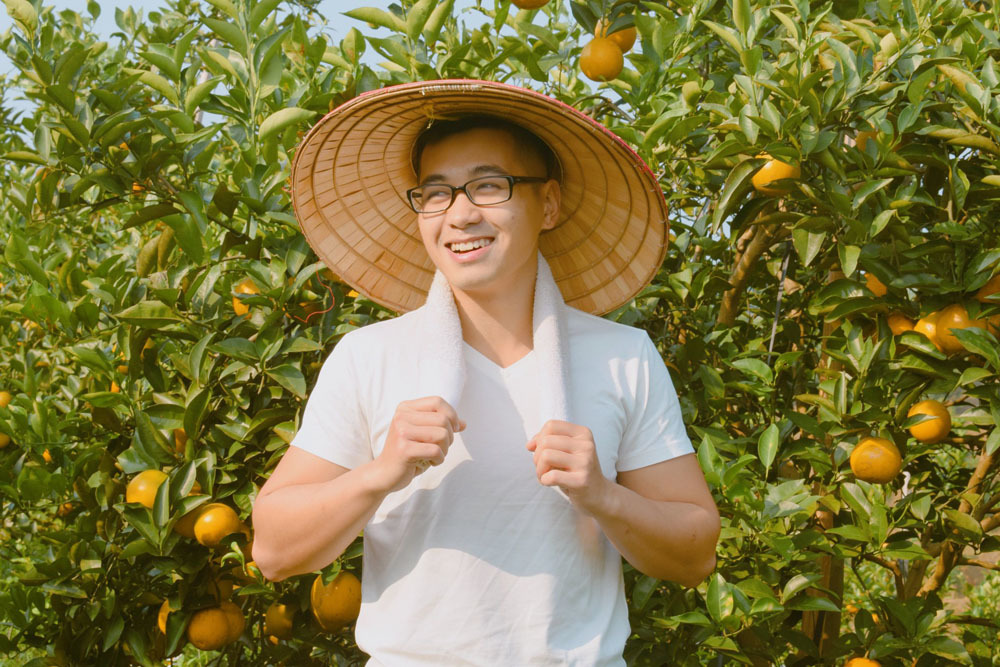 Nguyen Cao Khue
Khue started a business when he was a sophomore at Hanoi Foreign Trade University. The first time he started, Khue failed with the model of selling bread.
"After that, people talked a lot about dirty food. Customers had money but did not know where to buy clean food. Wanting to create such clean products, in the summer of 2015, my father and I rented some land in Hoa Binh to grow organic fruits and vegetables," Khue said. But once again, his efforts did not bear fruit.
According to Khue, between 2012 and 2015, many people flocked to Cao Phong, Hoa Binh to rent land to plant oranges and pomelo.
"There are many Hanoi giants coming up here to grow oranges following the trend. But most of them spend money to hire other people to do the work.
"But a shared property is no one's property, and money spent will not be effective. A few years later, the trees were weak, the productivity was not good, the soil was depleted, hardened", Khue said.
Khue and father also made the same mistake. At that time, they only went to the farm on weekends, and the rest was "contracted" to employees to develop orange orchards.
"I am the owner of the garden but do not understand nutrients, etc. If I entrusted everything to others, failure is easy. Within three years, my father and I lost about 10 billion VND with costs of seedlings, agricultural materials, investment in roads, machinery…".
But he was determined to re-start. In August 2017, Khue graduated from university. At this point, his father gave up the right to take over the entire farm.
To the farm owner billions of revenues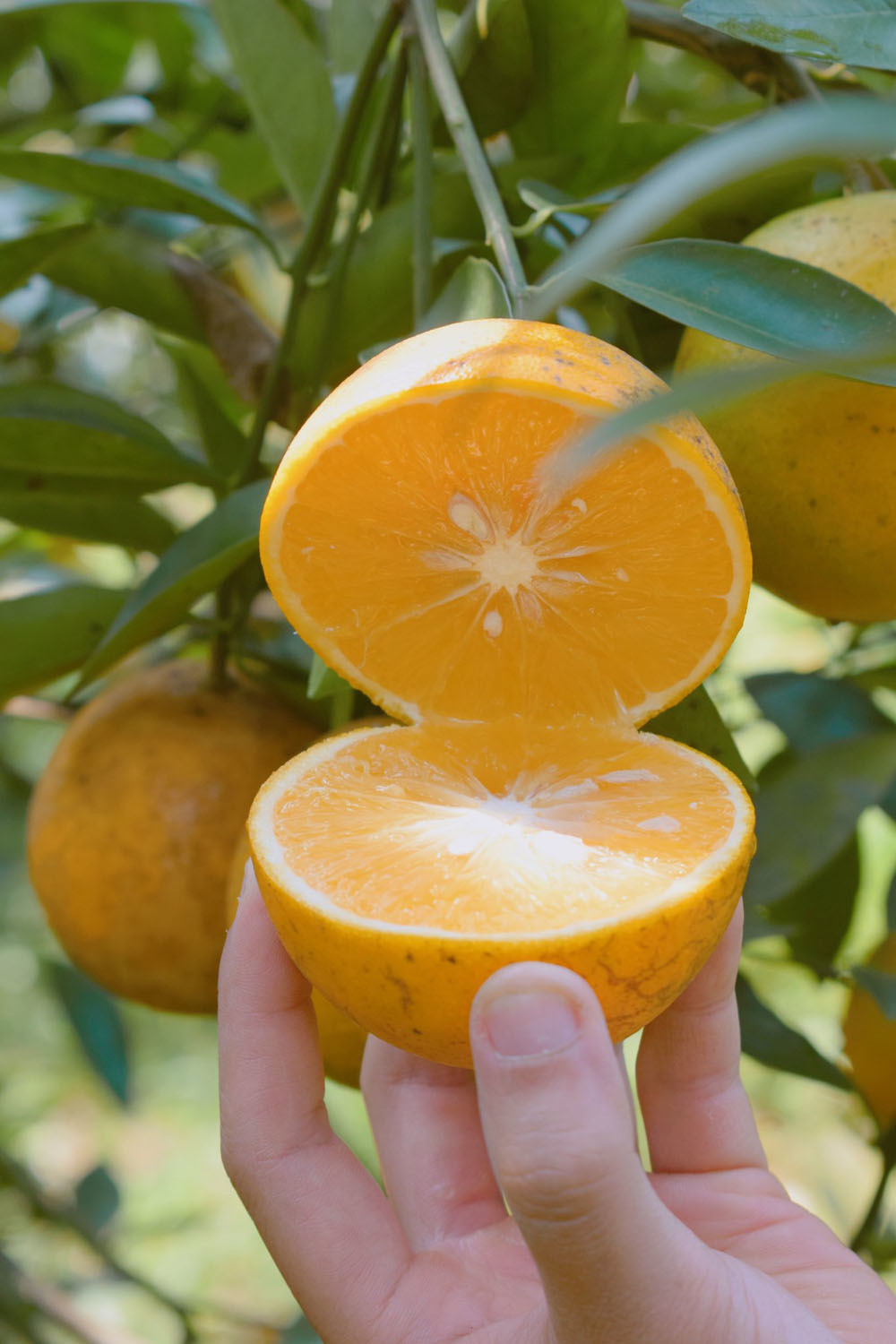 Orange from the farm of Cao Khue.
The first thing Khue did was to learn all the knowledge and skills to take care of orange trees. He looked for foreign documents from leading countries in organic agriculture such as the Netherland, America. Studying alone in his car, he wandered around Hung Yen, Hoa Binh, Bac Giang in search of trees.
Anywhere there were good orange and grapefruit gardens, Khue wanted to come and learn. "Each place, I amassed a little experience, compared with the material in the book. Gradually it took one year and I had the necessary knowledge about trees."
After that, the Hanoi man tried to develop a complete production process for the tree. Instead of using artificial fertilizers, Khue planted grass and composted organic fertilizer.
"This is a natural form of agriculture, we take advantage of grass, and compost into manure to provide nutrients for plants. As a result, the plant's resistance is higher and the lifespan of the plant is also longer."
Instead of hiring people as before, this time the gentleman of the city went to work with the farmers.
"With the farmer, we cannot talk about theory. They only respect when we can do better than them. Only then can people respect and listen to me," said Khue.
"The first day I went up, people were planting grass and then composting it to make compost. We had to hoe soil, create beds on the hill. When it was finished, out of 10 beds, nine were straight, and one crooked. I just wanted to find a crack on the ground and get under it so I wouldn't be ashamed because I was notorious for being the owner, but made the worst," recalled Khue.
When there were products, Cao Khue continued to build a sales team, building marketing, brands. He finally started to receive good feedback on his products.
"A French client tasted our oranges and said that this orange flavor is similar to the old oranges in France he used to eat. He also said that in France they had a habit of drinking orange juice in the morning.
"Since coming to Vietnam, he had not found such delicious oranges, so he lost that habit. After trying it, he said the taste was great and he felt right at home. Now, he has become a regular customer of us," he said.
One orange crop lasts four months, the rest eight months. The trees are very weak before bearing fruit. After harvesting, the gardener has to resuscitate the tree. If so, the next season will produce a good yield.
"Many people only care about productivity. The plants are weak, and they apply chemical fertilizers again, but doing so is abusing the health of the plants. An unhealthy, happy tree will not produce delicious fruit," Khue said.
Currently, Khue is also holding more tours for guests to experience the garden. "Customers who come directly to the garden hear stories about orange trees. They will better understand the product and the enthusiasm of the planter," he said.
Khue shared his feelings when "leaving the street to the garden":
"How could I like it when I'm dressed in plain clothes, a top school student suddenly exiled to the forest up the mountain. I always had to work in the state of 'head on the ground, with feet kicking the ground', and stay with people who do not speak Vietnamese."
However, that was only the story of the first three years. Currently, Khue said he is being passionate about the job and that "for a long time, I did not have time for myself".
Ngoc Trang