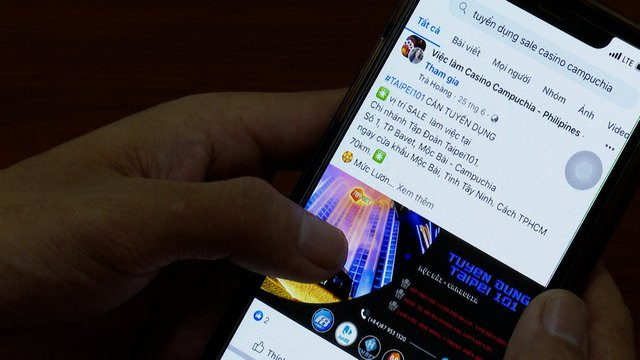 Scammers recruit employees through posts on social networks. Photo suckhoedoisog.vn
If it sounds too good to be true, then it probably is.
That's the warning from authorities after a spate of online recruitment scams targeting young people offering 'high incomes and easy jobs'.
The false promises took in Nguyễn Văn Tuấn.
He was lured by a post he saw on Facebook, which read: "Looking for jobs at AEON MALL Long Bien and surrounding areas".
Tuấn, from Hà Nội's Hai Bà Trưng District, applied and was offered a part-time job as a sales staff on a company's software.
His job is to reply to customers' messages, give consultation on the products and persuade the customers to make a final decision to buy products.
He was promised a 20 per cent bonus for each sale he closed.
"All contact between the recruiter and me was made via Zalo," Tuấn told Vietnam News Agency.
"The man sent me a link to install the sales app and instructed me to register with a bank.
"He asked me to top up my account. My task was to close at least five orders per day. If I did not complete five orders a day, I would not be able to withdraw money, which means that I would lose all the money in my account."
At first, Tuấn only needed orders worth tens of thousands of đồng a day, and fronted the money himself, as he would receive 20 per cent commission for each sale.
After completing the first five orders, with a total amount of VNĐ150,000, Tuấn withdrew both capital and profit, which was VNĐ190,000.
Seeing that making money is easy, Tuấn continued to top up his account to VNĐ1.2 million to close the sixth, seventh, and eighth orders.
The more orders he closed, the more money he had to add to his account.
By the ninth order, he had spent VNĐ20 million.
Beginning to suspect that he was being scammed, Tuấn sent a message to the recruiter to ask to withdraw his money, but he was not allowed to.
"They asked me to complete 12 orders to withdraw the money," Tuấn said. "Then, the amount of money I put into my account was over VNĐ41.3 million."
It turned out that Tuấn registered his account on the app, so the company has the right to control his bank account.
"They said the amount was large and had to be transferred via bank," Tuấn said. "They asked me to provide personal information for disbursement. After I sent them a copy of the citizen's identity card as required, they asked me to pay personal income tax of VNĐ14.4 million to refund the money."
"I knew then I was being scammed, so I made a report to the public security agency," Tuấn said.
According to police, scammers sent messages and called those who want to work virtually with appealing offers of easy jobs and high incomes.
Most jobs are simple and do not require special professional skills or equipment. They are promised to bring high incomes immediately after the tasks are completed.
Scammers start with simple tasks like increasing engagement for a certain social channel through intermediary applications or websites. After the first task, the employee will receive a small commission for creating trust.
Scammers will give high-value task packages equivalent to a higher commission received. Employees will be forced to buy high-mission packages or refer participants to be able to withdraw money.
After employees buy great value packages or realise they have been scammed, apps and websites will constantly report errors or stop working. Scammers then disappear.
Major Bùi Quang Tùng, Deputy Captain of Team 10, Criminal Police Division, Hà Nội police, said that the city's police investigation agency received a lot of scamming reports recently.
He warned the public to be aware of posts on social networks recruiting online collaborators for companies.
He said that employees must verify information about the company and employers they are interacting with, advising the public to be extremely cautious when making money transfers to accounts provided by partners, especially those who give out a lot of information about many different bank accounts.
Vũ Quang Thanh, deputy director of the Hà Nội Employment Service Centre, said scammers take advantage of the high job demand for workers, especially young workforce such as students.
Online job recruitment channels are diverse, and job seekers do not fully understand the sophisticated activities of scammers. He said that many young people do not learn carefully, are lured by high profits, and are easily scammed.
He said job seekers need to learn carefully about the company, unit or business they plan to apply for and the position, rights, responsibilities, and obligations.
They should also learn the legal entity of the enterprise, the field of operation, benefits, and how to sign the contract, he said.
He said official employment agencies and job exchanges are ready to provide full consultation services on the jobs to help employees avoid risks during the job searching process. — VNS