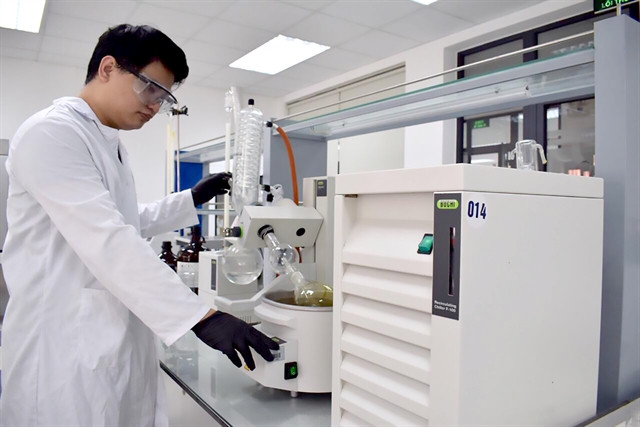 He currently leads the Phenikaa Institute for Advanced Study's new drug research group and is a lecturer at the Phenikaa University's Faculty of Pharmacy.
The annual Việt Nam Outstanding Young Faces Award is given to individuals under 35 years old who have shown excellent performance in their study and work in fields including scientific research, sports, arts, production, community work, and national defence.
Dr Tùng had a passion for pharmaceutical chemistry from a young age and followed through by studying pharmacy at the Hà Nội University of Pharmacy. He continued his education with a master's degree from Seoul National University in South Korea and a doctorate from the University of Copenhagen in Denmark.
Dr Tùng's current research group is working on the development of a natural antibacterial peptide for external use to treat bacterial infections and heal scars. The product is being tested to replace antibiotics.
He is also working on the invention of new HIV drugs that aim to completely treat the disease in the future.
Dr Tùng has one international patent and has published 30 scientific works in medical technology in international journals. He has been recognised for his work with numerous awards, including the Golden Globe Award for Science and Technology in 2021 and the Outstanding Young Teacher of Hà Nội in 2022.
In 2021, Dr Tùng became the first young scientist in Việt Nam to be elected as an official member of Sigma Xi, the oldest and most prestigious scientific association in the world, based in the US.
Dr Tùng aims to make practical contributions to Vietnamese and international science, serving the cause of healthcare for people.
Tùng realises that the pharmaceutical chemistry industry in Việt Nam has not yet developed, and very few young scientists or research groups specialise in the field.
He wants to follow his dear teacher – Professor Nguyễn Hải Nam, principal of the Hà Nội University of Pharmacy – to participate in pharmaceutical chemistry research and take the role of a teacher to guide Vietnamese students, contributing to human resources training.
Associate professor Nguyễn Phú Khánh, deputy principal of Phenikaa University, had great confidence in the research of Tùng's team.
The university always created favourable conditions to support and develop the products for practice.
It also encouraged students to join the research group to be inspired by Tùng – a young enthusiastic scientist who always tried to overcome challenges to achieve success, he said.
Associate Professor Dương Thị Ly Hương, deputy head of the Pharmacy Faculty at Phenikaa University, said Tùng was an enthusiastic scientist.
Despite receiving many offers from foreign companies and research institutes, Tùng still returned to Việt Nam with the desire to do something useful for the country. This thought is respected in a young and talented person, she said.
In the future, Tùng wishes to expand his research group to become a strong and pioneering group in drug synthesis in Việt Nam and be known in the world.
He hopes that more young people in the country and abroad will participate in developing Việt Nam's science and technology.
"Together, we will have world-level projects so that international scientists and global pharmaceutical companies to come to Việt Nam to buy technology," said Tùng. "At that time, we will be able to put the name Việt Nam on the map of countries that actively produce important medicinal materials."
The Việt Nam Outstanding Young Faces Award will be handed out at a ceremony on March 26. — VNS