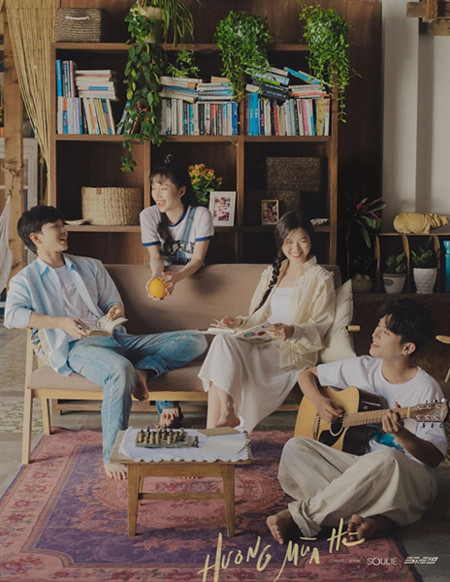 The show, called Hương Mùa Hè (Summer Scent), produced by Soulie Production, features performances of singers Sunni Ha Linh, Hoang Dung, Orange and GREY D.
During the show, the artists cover popular Vietnamese songs from the 1990s and 2000s, and today's hits. All songs highlight love, youth and family.
They also sing their own songs in the show.
"Joining Hương Mùa Hè has been a happy time with new friends," Orange said. "To me, it's a journey of self-discovery," said the 25-year-old singer, who began her professional career in HCM City in 2014, after performing in a TV reality show produced by HCM City Television.
In 2017, Orange and her own band, Quýt & Nho (Orange & Grape), won first prize in a singing contest organised by Vinh Long Television Station.
A year later, she became a phenomenon in the industry after releasing her music video, Người Lạ Ơi (Stranger), which attracted more than 50 million views in just 13 days after its release on YouTube.
The song helped Orange bring home several top prizes presented by leading television stations and online music channels and websites, and the Mnet Asian Music Awards' Best New Asian Artist in Korea.
In the first episode of Hương Mùa Hè released on Sunday night, Orange sang Tóc Ngắn (Pixie Hair), a very famous song performed by pop star My Linh in 1998.
The video also featured the songs Vào Hạ (Summer) and Khi Cô Đơn Em Nhớ Ai (Who You Miss When You Feel Alone), which were very familiar to people who were born in the 1980s and 1990s.
With background at a beautiful beach, the video brings audiences peaceful and refresh feelings. It has attracted nearly 105,000 viewers 19 hours after its premiere.
Nguyen Hoang Nguyen, who works in Thu Duc City, said, "when I listen to Vào Hạ, I feel all my concerns and tiredness flying away."
"The singers' pretty voices combined with familiar songs and places send me back to my youth with beautiful memories," she said.
Hương Mùa Hè 's new videos will premiere at 8pm every Sunday on YouTube.
Source: Vietnam News