Hung, 27, grew up in Nga Son, famous for sedge and craft villages. When he was very young, he made small products from sedge to earn more money for the family. After finishing high school, he went to a community junior college.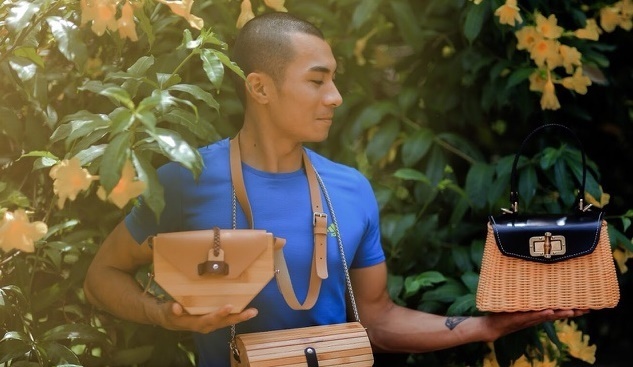 Hung and his handbags made of bamboo and rattan
During college, Hung had many jobs to earn a living, from waiter to taxi motorbike driver. He also delivered ad leaflets and washed cars. Later, he got his first stable job at a hotel, for four years. The income helped him cover tuition.
After finishing junior college, he got a job as an electrician at a high-end resort in Nha Trang, which brought monthly income of VND10 million.
Luckily, he met a lot of foreign travelers at work and learned many things. One day, during a cable car ride, he saw two South Korean girls wearing eye-catching sedge-made bags.
Hung then thought about the products in Nga Son, his homeland. People only earned modest money from making sedge mats and carpets, but he believed that they would earn more if sedge was used to make fashionable products.
In late 2017, Hung resigned from his post and returned to his homeland with empty hands.
"I nurtured a great ambition of getting rich right in my homeland," he said, starting up from zero.
Hung had small savings, but the money was spent on a family affair. So he had to borrow VND10 million from his sister.
"My parents did not support my decision quitting a good job which could bring a stable income," he said.
As for Hung's parents, who always had to work hard but earned little money, VND10 million was a big amount.

Simple materials such as rattan, bamboo and sedge at the hands of Tran Van Hung can be turned into beautiful, sophisticated handbags, favored in Vietnam and the world market.
Hung went to Hue City and visited many production workshops to learn how to make products from rattan and bamboo. He practiced at a workshop of a couple of craftsmen.
Six months later, Hung returned to his home village and set up a small workshop. He designed products, makes 3D drawing and mixed colors. In addition to main materials such as sedge, rattan and bamboo, Hung also used leather and accessories such as mussel shells, gravel and sand to create original handbags.
As the number of orders increased rapidly, he contacted some workshops in the region, going outsourcing of leather bags, caps, and leather straps.
"In my products, 70 percent is made of sedge, rattan and bamboo, while 30 percent is of leather and metal," he said.
"However, in the future, I want my products to be made of plants, and be friendly to the environment," he said.
Asked about difficulties, Hung said local craftsmen only want to make simple products, because they are used to doing so. Many of them refused to cooperate with Hung when he said he wanted high-end products, which require more work.
It took him a lot of time to persuade them to change their mind. He said high-end products have great potential and promise higher income for workers. He taught them sophisticated skills.
Hung's products are now better known to people, two years after they began hitting the market.
The production costs of his products are between VND800,000 and VND3 million. His workshop has created a number of jobs for locals who can earn VND4 million a month.
He sells handbags domestically and now exports products as well.
"I make products to orders by foreigners and then send finished products by air," he explained.
In 2018, when Vietnam witnessed an online shopping boom, Hung decided to display his products on Amazon.
Encouraged by the initial success, Hung brought products to Esty and Ebay as well.
He is planning to join forces with domestic fashion brands to boost sales in Vietnam and overseas. In the near future, he will develop products for ordinary consumers, so that everyone can own his special handbags.
"Low-cost products don't mean low quality. The materials will be the same, but there will be less work, or the design wo'ill be more simple," he explained. "Rattan-made products are more durable, around 30-50 years, than the products from sedge,"
At present, his workshop can make 300 handbags a month. 
Ha Le

 The EU-Vietnam FTA (EVFTA) is expected to bring more opportunities to Vietnam's enterprises to export products to the EU. However, it will be not easy for handicraft producers to obtain bigger market share there.
A collection of 54 wood sculptures, lacquer, oil and canvas, silk and watercolour paintings are on display at Da Nang City's Fine Arts Museum in celebration of Vietnam's Fine Arts Day.