Young woman becomes first YouTuber of Dao ethnic minority hamlet
As a farmer who could not speak Vietnamese and didn't know information technology, Tang Lien succeeded becoming a famous YouTuber with three channels, attracting foreign and Vietnamese subscribers.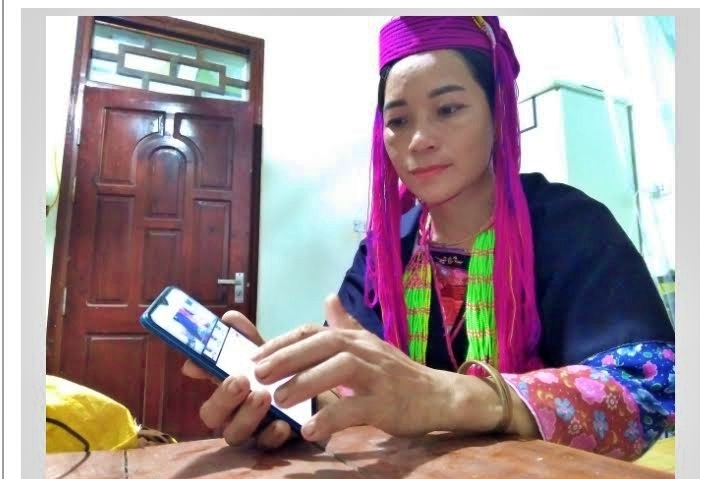 YouTuber Tang Lien
It was in early July. The rain in the mountainous area soothed heat from the scorching sun. Tang Lien, born in 1984, in Na Tu hamlet, Ha Lau commune of Tien Yen district in Quang Ninh province, was busy writing down the idea for her next clip to be posted on YouTube.
She thought of a clip that would help local people better understand about Covid-19 and the way to prevent and fight the pandemic.
Tang Lien began developing her YouTube channel two years ago. At first, she just intended to share the images about her daily life at home and in the hamlet. But later, her channel became a favorite in Dao language providing information about the culture of the Dao Thanh Lien ethnic minority.
YouTuber Tang Lien has three YouTube channels – Lien Quang Ninh 1, Lien Tien Yen 2 and Lien Ha Lau 3, with more than 6,000 subscribers.
Tang Lien was born and grew up in a poor hamlet, where many children remain illiterate and IT is something unfamiliar.
Since childhood, she has loved the distinctive features of her national costume. She wears the costume not only at festivals, but also at other times, when doing heavy work (going to the forest to collect firewood, farming or herding buffalo) to prove her love for the place where she was born.
After getting married, Lien still kept the habit of participating in cultural events, where she can meet photographers and learn about cameras and camcorders.
Lien wantd to preserve the culture for posterity and introduce the culture to many people. So she spent VND3 million to buy a smartphone and learned how to use social networks.
Lien Quang Ninh 1, her first channel, has been welcomed by many people. Some clips even attracted 13,000 views within two months. Her clips show a cultural "treasure" about the daily life of the Dao Thanh Y people, from the customs, traditions, community activities, songs, festivals, to costumes. In clips, she uses Dao language, with subtitles in Vietnamese language.

Dang Thi Hoa, an aunt of Tang Lien, cooperates with her niece, composing songs in Dao language, thus enriching the cultural treasure of Dao people.
"I really enjoy participating in the activities of Lien, who gives me more energy to live and love our national culture," Hoa said.
Her YouTube channel has begun bringing money, about VND3-4 million a month, something that no one else in the hamlet has done. 
Lenh Thang

Pham Quang Linh, 24, from the central province of Nghe An, has "painted" a beautiful story in Africa.

Nang Xo Vi, the first Brau ethnic minority female teacher elected to the NA, said she is grateful to the people of Dak Me hamlet, who contributed packages of seasoning powder and shampoo as well as emotional support so that Vi could go to school.