Born in 1975, Prof. Dr. Le Minh Thang became Vietnam's youngest female associate professor in 2009 at the age of 34. She was awarded the title honorary Professor in 2019.
In 1997, Le Minh Thang graduated from the Department of Organic - Petrochemicals at the top of her faculty and ranked 2nd among over 3,000 graduates of Hanoi University of Science and Technology, then graduated with a master's degree in 1999. In 2005, after successfully defending her doctoral thesis in Belgium, she continued to work as a lecturer at Hanoi University of Science and Technology.
Her main research area is catalysis for exhaust gas treatment in fuel combustion and organic synthesis for the goal of environmental protection. Some of her achievements include catalysts installed on Vespa motorcycles, filter cartridges used for respirators, and aromatic diffuser to reduce the odor of exhaust gases released from waste rubber pyrolysis.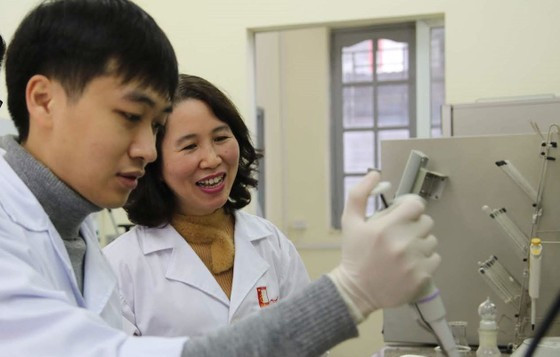 Prof. Dr. Le Minh Thang guiding lab students at Hanoi University of Science and Technology
Over the course of 25 years, she has chaired 10 scientific research projects, including 3 international cooperation projects and 7 ministerial-level projects. She also published 127 scientific articles, 37 of which were issued on ISI, and was granted 2 patents by the National Office of Intellectual Property, among many other achievements.
In 2021, Professor Le Minh Thang was one of three Vietnamese female scientists to win the Excellence Award - Asia Innovation Award of the Hitachi Global Fund with the project "Catalyst from metal oxides and technology to treat emissions and wastewater", its solution being able to reduce pollutant emissions by more than 90 percent.
Prof. Dr. Le Minh Thang also actively pushes graduate scholarships for science students to help fuel their passion and study progress.
More than anyone, Professor Le Minh Thang understands the hardships of being a female scientist, being motivated to complete her research application for the Kovalevskaia Awards 2022 to pioneer the works of female scientists.
Source: SGGP