Phuoc Tich ancient village, about 35 km north of Hue City, is located on the bank of the O Lau River, which separates Thua Thien-Hue and Quang Tri province.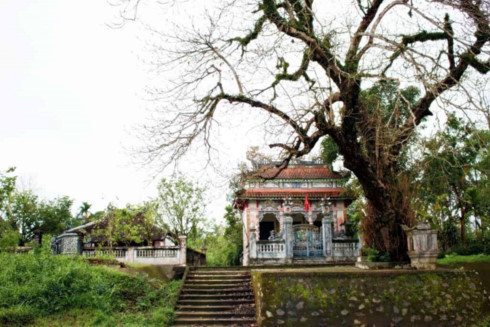 Banian tree at the entrance of Phuoc Tich village. 
The 500-year-old village, which has been ranked as a national relic, is fast becoming a must-see destination for domestic and foreign tourists alike.
Historically, Phuoc Tich was founded in 1470 under the reign of King Le Thanh Tong, surrounded entirely by the legendary O Lau River.
The pure river water makes it essentially an island. There are 12 river wharfs around the village each representing the 12 animal designations.
Over the past 5 centuries of its existence, through wars and the destruction of nature, Phuoc Tich village still preserves the pristine beauty of a traditional Vietnamese village.
Visitors can experience the peaceful life of the friendly villagers and be charmed by the Ruong houses, which are built with artfully carved wooden pillars and supports.
Near the entrance of the village is an ancient gold apple tree (Diospyros Decandra) between 700 and 800 years of age, close to a temple.
Nguyen Hong Thang, Director of Phuoc Tich Village's Relic Management Board, said, "Two thirds of Phuoc Tich village is surrounded by a river, all the houses there look toward the water. The locals believe this is the best direction because it will bring prosperity to the owner of the house."
Going further into the village, tourists often find ancient houses and large yards shaded by old trees.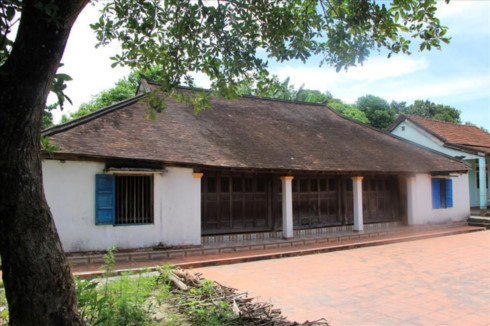 Ruong houses of hundreds of years old in Phuoc Tich village.

Thang added, "Phuoc Tich is more than 500 years old and famous for its traditional pottery craft, which provides villagers with a stable income. Currently Phuoc Tich has 20 Ruong houses still used as local residences and more than 10 others as houses of worship of family clans. Most of the houses are made of jackfruit wood and influenced by Thua Thien Hue's folk architecture."
The Ruong houses, mainly made of jackfruit wood, are adorned with exquisite and lively carvings, most of which remain undamaged despite having gone through wars over centuries.
The interiors usually include a horizontal lacquered board, a plank bed, and an altar. All are intricately carved.
The houses have become the museums of each family clan. Their architecture is in accordance with feng-shui principles, with a partition in front to prevent harmful winds and evil spirits from entering inside. At the foot of the partition is also a feng-shui-based water tank.
Villager Ho Van Te says a Ruong house reflects the harmony between humans and nature, adding, "The houses are typically located on a large piece of land and surrounded by many trees. They are made of jackfruit wood taken from the forest and naturally resistant to termites, thus having a high economic value and durability."
Phuoc Tich was the second ancient village in Vietnam, after Duong Lam, designated as a national relic site in 2009. VOV5

Around 50 kilometres from the centre of Hanoi, Duong Lam ancient village in the outskirt town of Son Tay is a popular tourist attraction for visitors to the capital city.  

The central coastal city of Da Nang will carry out a project to develop community tourism at Tho Quang and Man Thai beaches in Son Tra District in combination with tourism in fishing villages.  
Chang Son commune, Thach That district, in Hanoi, is a countryside location with unique traditional cultural identities in Xu Doai (also called Son Tay province in the old days).