Nam Dinh, a rice-growing province in northern Vietnam, has more than 70 craft villages. Co Chat silk village in Truc Ninh district is one of the best known.
Join us on a tour of the village to explore one of the most famous places raising silkworms, unraveling silkworm cocoons, and weaving silk thread in Vietnam. 
For hundreds of years Co Chat villagers have been trying to preserve their traditional craft of weaving silk as a means of subsistence. The locals are proud to have contributed to Vietnam's high quality silk products.
According to the village elders, the business of weaving silk thread in Co Chat has existed for a long time. During the French domination, Co Chat silk thread was so well known that in the early 20th century the French built a factory to unravel silkworm cocoons to exploit the great potential of the mulberry growing and silkworm raising area along the Ninh Co River.
Since then, the silk thread making craft in Co Chat has developed substantially. Before 1954, merchants from other regions in Vietnam came to the village to buy silk thread. Co Chat silk remains a specialty of Nam Dinh province.
Today's village elders still make silk thread using traditional methods while the younger generation uses modern machines and modern workshops to increase productivity.
Made manually or by machine, Co Chat silk thread is very delicate, soft and durable and has natural bright colors.
Making silk thread takes about 30 days, from silkworms eating mulberries to rolling the silk thread around a tube.
The best months for sericulture are February, March, August, September, and October due to good weather conditions.
These days, you will see glossy yellow or white silk buns hung all over Co Chat village everywhere on bamboo sticks to dry in the sun.
The village's main road leads us to the Co Chat pagoda and temple, which were built in the 18th and 19th century. This is where the silk weaving craft began.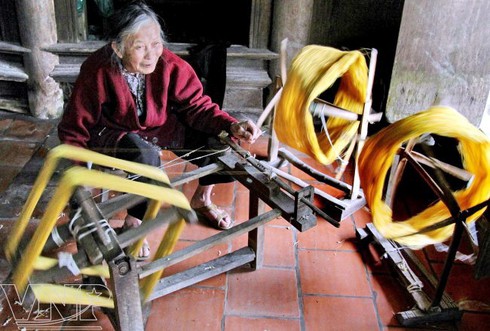 Co Chat villagers still use traditional methods to produce silk thread. (Photo: vnanet.vn)
Above the sound of the machines in the silk production workshops, villager Nguyen Thi Dan proudly said "Our craft has existed for a very long time but has recently expanded to other areas. I have been in the business since I was 12 years old. Now I'm 80 years old. The secret to spinning silk fibers smoothly is to unwind them carefully."
Once Co Chat people only used silk to weave fishing nets. Eventually, it became a breadwinning craft.
Nguyen Van Duong, a Co Chat native, says you must be meticulous starting with raising the silkworms, adding: "Raising silkworms is a difficult work because silkworms only live about 20 days. It requires extreme carefulness. The broad flat drying baskets must be clean. You must feed the silkworms moderately, otherwise the silk quality will suffer."
Duong's family has 720 square meters of land for mulberry cultivation. He insists on doing his own farming. He says he always chooses the best leaves for the silkworms or the silk quality will be affected.   
"Each bed of mulberries is 1.2 square meters and will be tended until the trees grow old enough to get leaves to feed silkworms. When mulberry trees have been up for 3 to 4 months, you can have the first harvest," Duong noted.
An old Vietnamese saying describes the hardship of people involved in the job: "A pig farmer can sit down to eat, but a silkworm farmer must stand up to eat". Farmers must keep careful watch over the silkworms. After 2 or 3 days, each silkworm will have spun about a kilometer of filament.
"You must bring the silkworms outdoors at 6 a.m. so they can make their cocoons and bring them back indoors in the afternoon.  At that time, we must use electric bulbs to warm them. We must match the light and temperature of the open air. As soon as the silkworms make cocoons, they start releasing silk," Duong told VOV.
After harvesting the glossy yellow cocoons, the worms are put into boiling waterbefore extracting the individual long fibers to be fed onto the spinning reel.
Silk reeling is the longest and most tiring stage. It must be done by veteran workers, otherwise the silk threads will not be smooth or equally-sized, and the woven cloth will not be of high quality. This is what makes handmade silk different from machine-made silk.
Co Chat silk is considered more beautiful and better quality than silk from other places. According to Pham Minh Tam, a local artisan, if the cocoon is harvested too late, a silk moth will emerge from the cocoon, breaking the silk thread. 
"There are two types of cocoons. The good ones are white and very clean. A good cocoon will be hard and dry. A bad cocoon will be broken and soft," said Tam.
It is said that "One flat basket of silkworms is equal to five flat baskets of cocoons; one flat basket of cocoons will turn out nine baskets of silk threads". The saying tells us the hardship of the workers in silk production workshops.
Bui Thi Men says the silkworms are put into boiling water before the silk fibers are unwound from them, adding: "It's a strenuous job, requiring workers to sit down in the heat and also be dexterous. You must pay close attention to the silk threads otherwise they will be uneven."
Co Chat villager Nguyen Thi Nga reveals an interesting detail of the craft: "Even if you take a bath every day, people from other regions can detect the smell. For example, when going to Co Le, we are easily recognized as Co Chat villagers. It seems that the smell adheres to our body and hair."
The craft of making silk thread provides jobs for a large number of workers in the region, with an average income of about 130 USD a month. Some families in the village earn almost 860 USD a month. The village's silk thread is sold domestically, and exported to Laos, Thailand, and Cambodia for about 37 USD a kilo. VOV
Ha Thai lacquer village in Duyen Thai commune in Hanoi's outlying Thuong Tin district has more than 200 years of experience in making lacquer products. Until the early 20th century the village was called Cu Trang or Dong Thai.

The ancient Catholic village of Kien Lao in Nam Dinh Province is well known for its bronze casting. Nowadays, it also produces machinery for construction projects across the country.