Po Thi, the Jarai custom of building a larger charnel house for a deceased person before seeing them off to the world of Gods, takes place between January and April each year.
The sheriffs of Gron village forest 
Artisans call for preservation of Jarai epics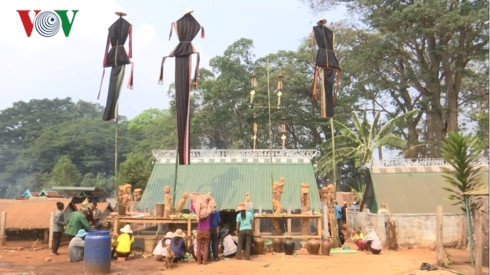 Preparations for the Po Thi ceremony
The ceremony is one of the most important traditions of the Jarai group in Vietnam's Central Highlands.
Five years after her husband's funeral, Ro Cham Nam of Kep 1 village in Gia Lai province performed a Po Thi ceremony, also known as a tomb abandoning ceremony. Preparations for the ritual began a month in advance.
The villagers gather before dawn under a sandbox tree. The ceremony begins with a gong performance. The big gongs are played by older villagers and the small gongs by younger villagers.
"I'm a bit sad because after this Po Thi ceremony, which is considered a permanent farewell, I will no longer bring rice to his tomb as a daily offering to him. But I'm happy that my husband's soul now can travel to the Land of Gods," Ro Cham Nam said.
The old charnel house is dismantled and replaced with a larger and more permanent structure. The wooden houses are where locals put the bodies of their deceased loved ones along with their personal effects and work tools.
They believe that in the afterlife the dead will need these items just as they did when they were alive. Notable are the statues carved from new wood that form a protective fence around the final resting place.
It is a tradition that all villagers take part in any Po Thi ceremony, which always includes gong performances and "xoang" dancing.
Jars of rice wine are constantly refilled throughout the ceremony, which often lasts for days. Ro Cham Do of Pleikep Ping village, said the Pothi ceremony has been preserved for many generations as the soul of the Jarai's culture.
"The Po Thi ceremony, which includes gong performances, xoang dances, and statues, is a part of the Jarai's spiritual life. It's our duty to preserve and promote this tradition," said Ro Cham Do.
Dr. Nguyen Thi Kim Van, former Director of the Gia Lai Provincial Museum, said it's important to publicize the Po Thi in order to preserve it.
"Concerted efforts from multiple agencies and organizations are required to keep such ceremonies alive. Our job is to encourage the local people to preserve these customs but not waste too much money on them," said Dr. Van.
The Po Thi liberation ceremony is not just the farewell of the living to the dead. It's also a unique cultural feature of the Jarai people of Vietnam's Central Highlands.
VOV5