Bac Ha market in Lao Cai province is one of the most popular ethnic market sessions in the northwest region. 
Many people from other localities come here to buy "docked tail" dogs, one of four pure Vietnamese dog breeds.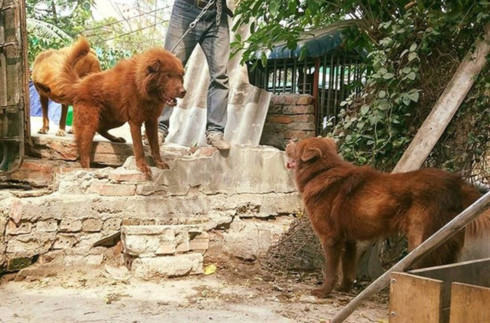 Mong docked tail dogs with a red coat
Bac Ha market opens every Sunday morning in the center of Bac Ha town, about 60 km from Lao Cai city. Serendib magazine of Sri Lanka selected it as one of the 10 most interesting markets in Southeast Asia.
The market has maintained the character of ethnic groups in Vietnam's northwest region. In the old days, Bac Ha was a trade hub on the Silk Road from China's Yunnan province to Central Asia. Local people, mostly Mong, brought their best products to sell at the market.
Visitors are impressed by the diversity of products, the colorful clothes of the ethnic women, and the lively atmosphere.
Bac Ha market has 4 sections selling cattle, household utensils and farm tools, brocade weaving products and jewelry, and food. They reserve a large space to sell thousands of buffalos, cows, horses, and pigs.
Women and tourists are attracted to the garment and textile area where they can choose from a variety of brocade clothes, accessories, and bamboo papooses.
For men the Sunday market is a place to meet friends and relax by drinking wine and eating horse soup, a Mong specialty. Local people sell whatever they have at the market including fresh vegetables, orchid flowers, and medicinal herbs.
A lot of people come to Bac Ha market to buy docked tail dogs, a pure dog breed of the Mong. The dog area at the end of the market is always crowded.
Mong docked tail dogs are raised in the mountains of Ha Giang province. They are very loyal, smart, fast, and brave. A good Mong docked tail dog can fetch thousands of USD. The Mong believe that to buy a good dog is to buy good luck.
A Mong man, Giang Seo Senh, said, "It's lucky to buy a good dog who listens to its owner. A dog is a friend. We buy a dog to bring good luck to our home."
Mong dogs are born with short tails of about 8 to 15 cm or as short as a rabbit's tail.
Tha Van Thanh from Thanh Hoa province said, "I know that the Mong have a valuable dog breed. I want to buy one. There are many beautiful dogs in the market. Most cost about 15 to 20 USD. I like them very much and I already brought two."
Dog raisers say the most precious and rare dog breed is the one with a red coat. Some good Mong dogs have been sold for 9,000 USD.
Pham Anh Tuan, a man from Hai Phong, has much experience in raising Mong dogs.
He said, "The Bac Ha dog is one of four Vietnamese breeds. A red-coat dog with wolf-red eyes can be sold for as much as 1300 USD."
Bac Ha market is crowded every Sunday with people eager to explore an authentic ethnic market and maybe buy one of Vietnam's indigenous dog breeds. VOV5

At weekends in the coastal city of Vung Tau, besides swimming in the sea, enjoying entertainment and amusement activities and visiting beautiful areas, visitors can watch dog racing, a fun and unique

The potential danger from unleashed and unmuzzled dogs wandering around public areas in Hanoi has become a concern to many people.