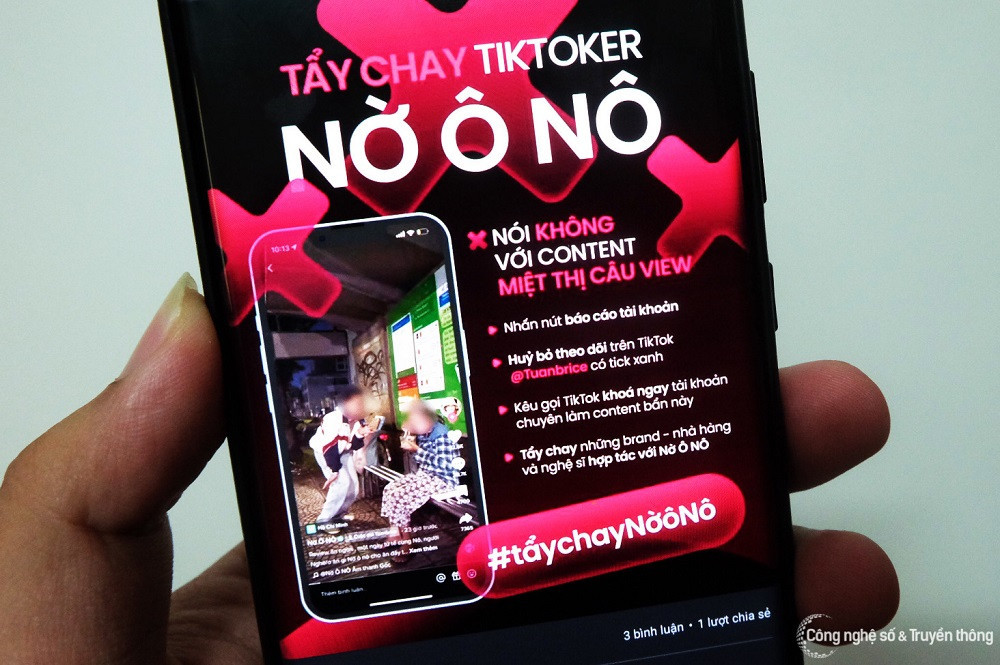 The Authority of Broadcasting and Electronic Information (ABEI) late last week held a seminar with MCN (multi-channel networks), media firms and key opinion leaders (KOLs).
During the 3-hour working session, the agency conveyed firm messages about management over content on cross-border social networks such as Facebook, TikTok and YouTube.
ABEI's head Le Quang Tu Do said one week ago, the watchdog agency took an inspection tour to TikTok. After that, Facebook and YouTube representatives asked the state agency about messages. Many TikTokers have asked if the government will prohibit TikTok, Facebook and YouTube, and wondered about the fate of Facebookers, YouTubers and TikTokers.
The answer will depend on the cooperation level among three parties, including cross-border social network platforms; KOLs; MCN and media firms. If they are uncooperative, appropriate agencies will view social networks as a dangerous environment with negative impact on the environment, and will apply measures to restrict the operation of the platforms.
TikToker 'No O No', who posted shocking clips using elderly people, to draw more views, has been handled. On April 30, 2022, a famous singer posted a music video with the image of a person jumping off the rooftop to commit suicide. ABEI and the Department of Performing Arts under the Ministry of Culture, Sports and Tourism immediately handled it. The video, done with the cost of VND30 billion, was pulled from YouTube and the artist was forced to pay a fine.
Two years ago, YouTuber Tho Nguyen, who posted superstitious clips about kumathong, a doll to "ask for good study" and other clips with problematic content, was forced to stop her channel.
"Our message is that cyberspace is real life and people in cyberspace have to take responsibility for their activities there. If cross-border platforms are uncooperative, they won't be allowed to operate in Vietnam. If TikTok doesn't cooperate with the government and MIC, it will be banned in Vietnam," Do said.
Meanwhile, if TikTok becomes cooperative and strictly observes all regulations of the laws, it will be facilitated to operate.
The important point is the awareness and attitude of cross-border platforms. For a long time, many cross-border platforms thought they were multinationals and they followed global community standards of their own, not the laws of host countries. However, the platform 'had to pay a heavy price for this' as confirmed by Do.
Regarding punishments, state agencies will impose separate fines on separate violations, rather than total sums. For example, if the same violation is repeated 10 times, 10 fines will be imposed instead of once.
In some cases, Vietnamese celebrities have made false advertisements and they were fined VND50 million. But they thought the fine was nothing compared with the profits they could expect from advertisement activities, and they would rather pay the fines than stop the ads.
However, Do warned that in addition to fines, MIC has other ways of sanctioning; for example, artists won't have opportunities to access the public.
According to the Deputy Minister of MIC, Vietnam is one of a few countries in the world holding a record in violating ethics and laws with the purpose of making money or other purposes in cyberspace.
For example, users produce infringed content and use other people's content to re-up on their YouTube channels; or buy depraved Japanese films and split them into small clips, post on YouTube channels and sell to US audiences. Also, they livestream football matches for which television stations hold a copyright and advertise gambling on livestreams.
"In the world, for every 100 coins coming from fraudulent income on YouTube, 55 are created by Vietnamese, which account for half of the total income created by frauds," Lam said.
Apple has removed 8,000 Vietnam's apps, including 2,800 fraudulent ones, and many of them were content apps.
ABEI said it is working with five large TV manufacturers in Vietnam, requesting them not to install the apps violating the laws. If YouTube doesn't block fake and toxic content, YouTube button on the TV remote will be neutralized.

Van Anh