Zoom in the initial mural sketches on Hanoi old railway arch spans
The mural project with the topic of "Hanoi old memories" on Phung Hung Street is on the way to complete.
The mural project with the topic of "Hanoi old memories" on Phung Hung Street is on the way to complete.
The railway arch spans on Phung Hung Street have become colorful canvas, due to an art project by Hoan Kiem People's Committee collaborating with UN-Habitat and the Korea Foundation.
The project "Mural on Phung Hung Street" belongs to the programme to introduce art into urban areas. This mural project was approved by Hanoi People's Committee in August.
Nguyen Quang, UN-Habitat Programme Manager in Vietnam, said improving the urban environment was recognised as one of the key strategies to improve the local economy.
"Since 2016, we have co-operated and supported the authorities of Hanoi and Hoan Kiem District to preserve heritage, and improved the cityscape and public spaces so that Phung Hung Street will become a living heritage for Hanoians," he said.
According to Pham Tuan Long, deputy chairman of Hoan Kiem District, the project will begin in October and finish next month. There are 131 sealed arch spans on Phung Hung Street, four of which have been opened for traffic again. The project to redecorate the bridge span will be divided into three phases.
The art works show a changing Hanoi while preserving traditional elements. The artists also hope to tighten the friendship between the two countries and promote Hanoi on the occasion of 40th anniversary of Vietnam as member of United Nations and 25th anniversary of Vietnam-South Korea formal diplomatic ties.
The artwork convey message of a thousand-year-old Hanoi facing with vast changes, however still preserve culture essence and traditional traits.
By Nov 7, some first sketchs of these murals are completed by Korean painters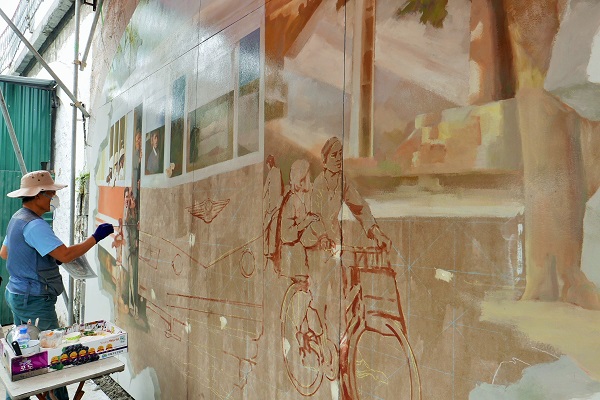 By Nov 7, Korean painters did some first sketches of the mural road
The mural depict Hanoi traffic in the past with inner-city railway and bicycle as the main vehicles
There are about 19 murals painted by 8 Korean painters and other 10 Vietnamese painters.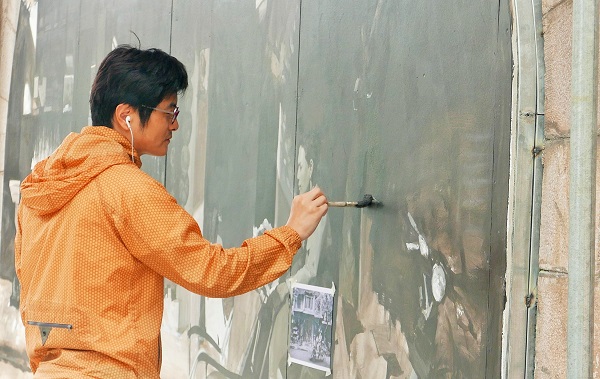 One Korean painter with his artwork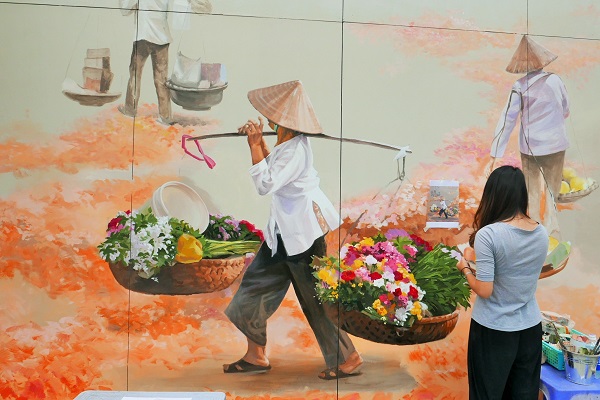 As expected, the whole mural road will be completed by the end of November.
These murals are repainted after photos of Hanoi taken by famous Vietnamese photographers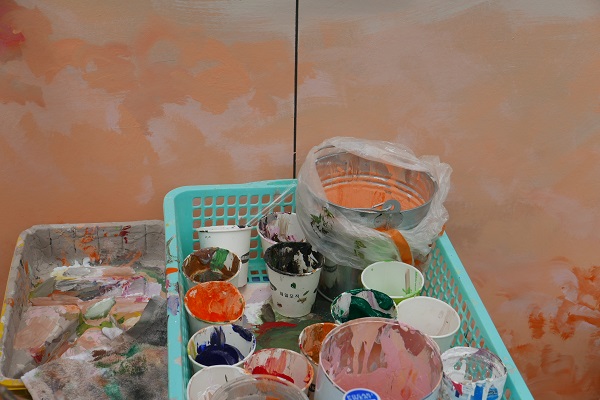 The original photo of this mural belongs to Nguyen Huu Bao - a Vietnamese photographer famous for his artworks about Hanoi
The vivid road is on the way to complete promptly
Hanoitimes