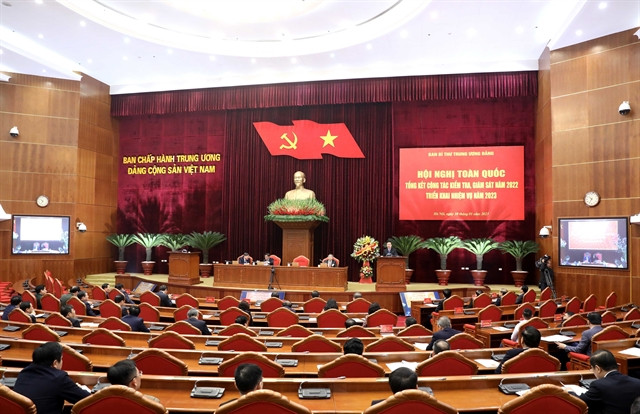 The secretariat of the Party Central Committee on Tuesday held a national conference reviewing inspection and supervision work in the past year and set out the missions for 2023.
According to a report presented by the permanent deputy chairman of the Central Inspection Commission Trần Văn Rón, the inspection commissions at all levels have launched investigations into 3,533 Party organisations and 10,475 Party members who showed signs of violations.
The results from these cases showed that there are 2,333 organisations and 8,003 members of the Party committed wrongdoings, among which 244 organisations and 3,595 people have been disciplined.
Among those, the Party Central Committee has removed four people from the Party membership, the Politburo has issued discipline on 11 Party organisations, while 10 organisations and 43 members of the Party received penalties from the secretariat.
There are 10 current and former members of the Party Central Committee disciplined.
Most of the violations concern the principle of democratic centralism and working regulations; human management, land use and management, finance and assets; conducting scientific research, investment projects; procurement of medical equipment and supplies against COVID-19 and citizen repatriation during the pandemic.
On the missions in 2023, Rón said that inspection work would focus on the regulations of protecting whistleblowers, fighting against corruption, controlling assets and income of people under the management of the Politburo and the Party secretariat, the processes of inspection of the Politburo and the secretariat and of addressing case reports of the Party central organisations and members, as well as the 10-year summary of the regulations on queries within the Party.
Rón added that the inspection sector would also look into Party organisations and members with signs of violations in corruption cases, such as those of the Advanced International JSC (AIC), Vạn Thịnh Phát Group and FLC Group.
Speaking at the conference, permanent member of the Party Central Committee's Secretariat Võ Văn Thưởng gave high regards to the achievements in inspection work in 2022.
He stressed that all levels of the Party delegations, organisations and the inspection commission needed to be fully aware of supervision in leading, building and consolidating the Party.
They also needed to strengthen their leadership and instruction for effective, feasible and practical supervision programmes, in accordance with the principle of "extensive supervision, focused inspection and strict discipline, with no restriction or exception."
The Central Inspection Commission was also required to effectively execute tasks assigned by the Central Steering Committee on Anti-corruption.
Thưởng also asked the commission to coordinate with inspection, audit, investigation, prosecution and judicial agencies in inspecting and fighting corruption, while also improving the capacity of the sector's human resources.
At the conference, Võ Văn Thưởng also presented the Order of Hồ Chí Minh to Ngô Văn Dụ, former Politburo member, secretary of the Party Central Committee and head of the Central Inspection Commission. — VNS