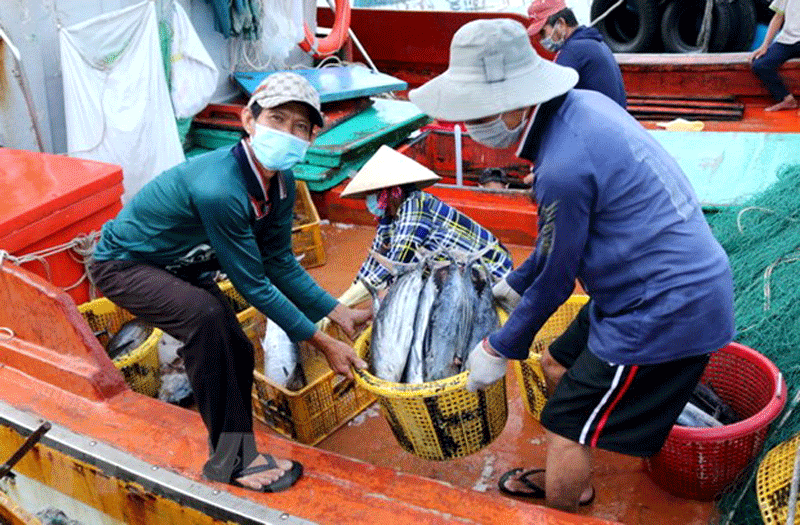 On October 23, 2017, the EC issued a yellow card to Vietnam's seafood products because they could not satisfy IUU regulations. Vietnam, like the other 20 countries, now has to have all of its seafood exports examined rather than examined at random.
When issuing yellow cards in 2017, the EU also gave nine recommendations. After two practical examinations in Vietnam in May 2018 and November 2019, the EC continued giving four groups of recommendations, including the legal framework; monitoring, examination of fishing boats, fleet management; output certification and seafood traceability; and law enforcement.
Soon after the yellow card was issued, the entire political system was mobilized to settle the problem. The Prime Minister requested ministries, branches and localities to take action in handling violations, complete the installation of VMS (vessel monitoring systems), mark fishing boats, strictly control fishing boats going in and out of fishing ports, and supervise seafood output loading/unloading through ports and certify the origin of seafood as required.
Localities have strengthened inspection and imposed sanctions on boats with no registration, no exploitation license and no registration, and violations are heavily sanctioned, especially ones exploited illegally.
In October 2022, the EC's inspection team for the third time came to Vietnam to examine the implementation of examinations in Vietnam.
Praising Vietnam's efforts in deploying drastic measures to fight against IUU, the inspection team said the implementation of the regulations was still weak at the grassroots level.
The fleet is still large compared with the resources, while vessel registration has not been completed. The loss of connections between fishing boats with VMS has occurred regularly.
According to MARD, after the third inspection, the EC will release a report, slated for early next year. The next inspection is scheduled to take place in April 2023, which means that Vietnam only has six months to settle the problems.
Because of IUU, Vietnam's seafood exports to the EU have decreased since 2017. In 2019, exports to the EU fell by 12 percent compared with 2017 ($183.5 million). In 2020, exports dropped by 5.7 percent compared with 2019. Since 2019, the EU has fallen from the 2nd to the 4th biggest seafood market for Vietnam.