From October 20–28, an inspection team from the EC flew to Vietnam to investigate 28 areas with indications of IUU fishing.
According to information provided by the Vietnamese government, the EC delegation has recognised the transparency of information and capacity building for fisheries management staff in coastal localities, as well as the addition of policy frameworks to combat IUU fishing, but application at the local level remains inadequate.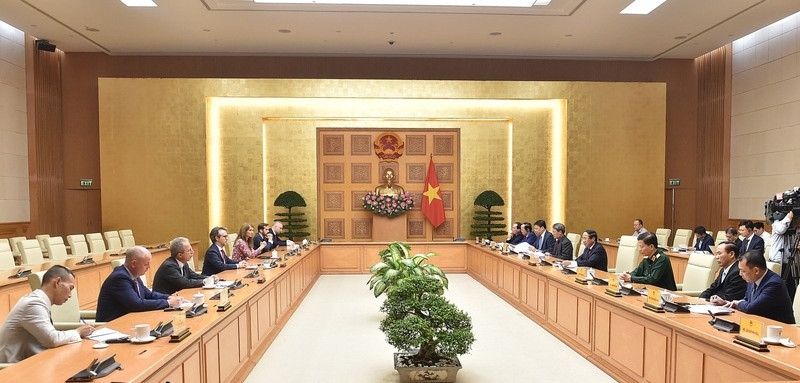 On October 28, the EC's inspection team collaborated with the Vietnamese government to combat IUU fishing
The EC delegation advises that Vietnam develop an effective monitoring framework with rigorous legislative requirements, guaranteeing uniform and synchronous execution from central to local levels; enhancing punishments; providing a sufficient deterrent; and severely punishing violators.
In addition, the EC delegation said that Vietnam should establish a comprehensive strategy to manage its aquatic resources, closely regulate the entry of aquatic materials for export processing, and eliminate the practice of fishermen illegally entering international waterways.
Vietnam must develop a comprehensive strategy to manage its aquatic resources, carefully regulate the entry of aquatic materials for export processing, and eliminate the practice of fishermen entering other waterways.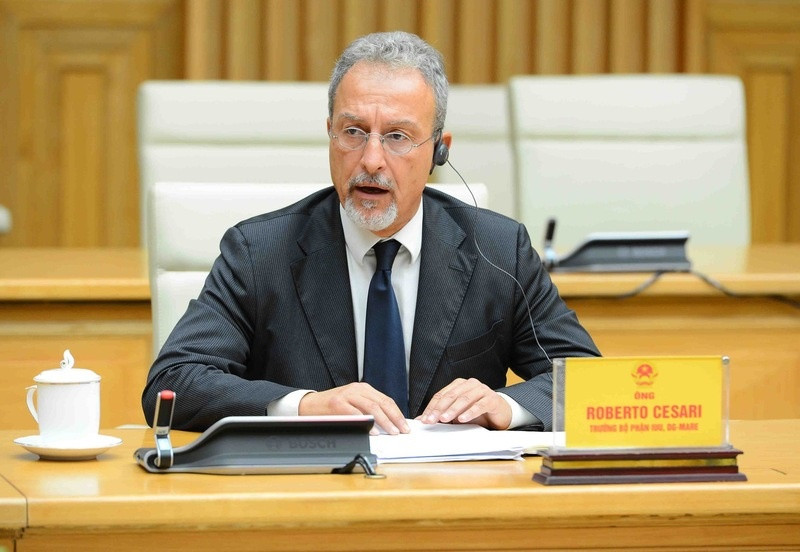 Roberto Cesari said that tackling IUU fishing is a growing concern for the EU. Photo: VGP
Roberto Cesari, head EC inspector on IUU, told Deputy Prime Minister Le Van Thanh in Hanoi on October 28, "Mitigating IUU fishing is a primary concern in the bloc's and each member nation's partnership with partner countries."
The DPM said that most of the EC inspection team's suggestions were consistent with the policy of responsible fishing management and contributed to sustainable fishing development. The policy in Vietnam is to encourage fishermen to register for ecologically responsible fishing activities to safeguard sustainable aquatic resources, he added.
However, Vietnam's fisheries are tropical and multi-species, and the growth of fisheries in the East Sea is influenced by several variables, and Vietnam's resources are limited. Consequently, preventing IUU fishing is a job that requires much planning and sufficient time.
"Vietnam is striving to implement the European Commission's proposals, combat IUU fishing, and establish a sustainable, accountable, and responsible fishing sector," said DPM Thanh.
Vietnam is currently undertaking marine conservation actions such as stocking, repairing, and regenerating aquatic resources as well as setting limits for fishing permits, and has short-term and long-term strategies for each stage to minimise fishing intensity in harmony with aquatic resources.
In implementing the EC's recommendations, DPM Thanh proposed that EC and EU member nations maintain close cooperation and offer prompt technical support, considering the unique characteristics of Vietnam's fisheries. "It is suggested that the EC recognise Vietnam's efforts against IUU fishing and the favourable outcomes it has accomplished and withdraw Vietnam's yellow card warning as soon as possible," he added.
Source: VIR