2019: Pham Nhat Vuong is richest Vietnamese billionaire

Pham Nhat Vuong, president of Vingroup, and Nguyen Thi Phuong Thao, CEO of Vietjet Air and vice president of Hdbank, top the 2019 list of Vietnamese stock billionaires.
1/ Pham Nhat Vuong.

Age 51

Share: VIC

Assets VND214.496 trillion (+ 21 percent)

Vingroup set up VinFast factory and launched the first VinFast cars into the market.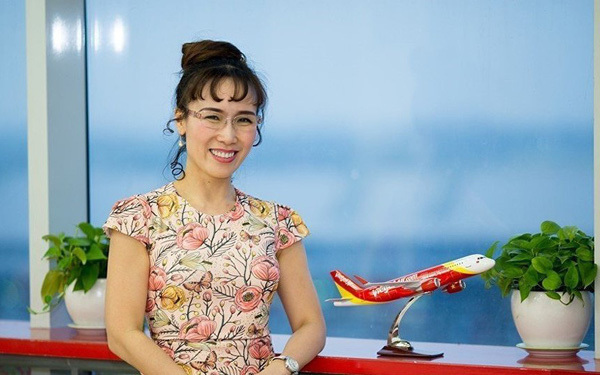 Nguyen Thi Phuong Thao


In late 2019, Vingroup announced the transfer of VinCommerce, a subsidiary, to Masan Group, stopped Adayroi.com and dissolved VinPro, a home appliance distribution chain. This is a part of Vingroup's strategy to gather strength on industry and technology.

According to Forbes, Vuong continues to be the richest Vietnamese man, the 248th richest in the world with the assets of $7.6 billion.

2/ Nguyen Thi Phuong Thao

Age 49

Shares: VJC, HDB

Assets VND30.554 trillion (+ 21 percent)

Vietjet's share price increased by 20 percent last year, which helped Thao's stock assets increase by more than 20 percent.

Forbes reported that Thao's assets are worth $2.7 billion. Thao is the Vietnamese richest woman and the 941st richest billionaire in the world.

3/ Trinh Van Quyet

Age 44

Shares: FLC, ROS

Assets VND20.48 trillion (+ 31.4 percent)

The president of FLC Group got 3-grade promotion to the third position of the list of richest billionaires, if counting Bamboo Airways' and FLCHomes' shares worth VND14 trillion which are going to list on the bourse.

4/ Pham Thu Huong

Age 50

Shares: VIC

Assets VND17.371 trillion (+ 21 percent)

Huong is the wife of Pham Nhat Vuong. Her stock asset value change in accordance with the fluctuation of Vingroup's shares. With the assets increasing by VND3 trillion, Huong jumped from the seventh to the fourth position in the list of richest billionaires.

5/ Tran Dinh Long

Age 58

Share HPG

Assets VND16.45 trillion (- 1 percent)

Long's name is no longer found in Forbes' list and his assets decreased slightly last year, but he is still in the list of Vietnamese stock billionaires.

Long's Hoa Phat Group in 2019 implemented 90-95 percent of the construction works at Dung Quat Complex and put the hot rolled steel production line into operation.

6/ Ho Hung Anh

Age 49

Shares MSN, TCB

Assets VND14.898 trillion (- 26 percent)

7/ Nguyen Dang Quang

Age 56

Shares MSN, TCB

Assets VND14.47 trillion (- 27 percent)

Quang, together with Anh, was added to Forbes' list of billionaires in 2019. However, both of them saw the stock asset value decreasing compared with 2018 because of the sharp fall of Masan shares price.

According to Forbes, Quang had $1 billion as of the end of 2019, while Anh $1.4 billion.
The ninth position belongs to Bui Thanh Nhon, 61, VND11.405 trillion and the 10th position belongs to Ho Xuan Nang, 55, VND8.647 trillion. 
Mai Lan

Two of the five richest people in Vietnam had a poor start to the new year as they saw their net asset worth decrease.

The market needs more cooperation among Vietnamese retailers amid the massive influx of foreign retailers, experts say.