VietNamNet Bridge – Real estate inventory has decreased more than 26 percent compared with the first quarter 2013 quarter, mainly in the segment of small and medium sized apartments, said Minister of Construction Trinh Dinh Dung.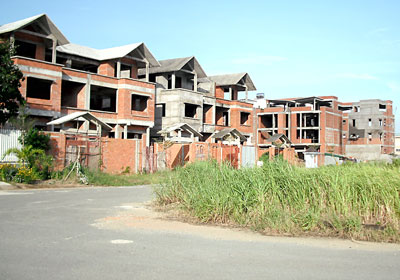 At a conference of the Minister of Construction on Tuesday, January 7, Minister Dung said the real estate market is making positive changes, especially in the last months of 2013.
The commodity structure of real estate has been gradually adjusted closely to the needs of the market to increase the supply of small and low-priced houses. The country currently has 57 projects registered to transform from commercial houses to social houses (small and cheap), totaling nearly 35,000 apartments with a total investment of over VND20.5 trillion and 62 projects registered to adjust from 32,000 to 40,500 apartments.
In the last months of 2013, the number of successful transactions in the market increased, especially for the segment of small apartments with reasonable prices. The housing prices have fallen a lot compared to the 2008-2010 period.
"The prices of most of housing projects have been reduced by 10-30 percent, returning to the prices in 2006," Minister Dung affirmed.
He said real estate inventory is decreasing. As of December 15, 2013, the total value of inventory was estimated at nearly VND95 trillion, down 26.5 percent compared to the first quarter 2013, mainly in the segment of small and medium sized apartments.
In particular, there are more than 20,000 unsalable apartments worth VND29.23 trillion. This figure amounted to nearly VND35 trillion for housing land. Low-rise housing inventory is about VND24 trillion, with more than 13,500 houses. The value of unsalable apartments and low-rise houses in Hanoi is estimated at VND12.9 trillion and VND17.4 trillion in HCM City.
He confirmed that apartments of less than 70m2, priced below VND15 million/m2 in big cities are sold very well.
Currently there are about 4,000 housing projects and new urban areas in Vietnam, with a total investment of nearly VND4.5 trillion with 3,200 underway projects.
Na Son