5,000 people to perform xoe dance

As many as 5,000 people will perform xoe, a traditional dance of Thai ethnicity people, to set a Guinness World Record, at the opening ceremony of Muong Lo Culture and Tourism Festival on September 20 in the northern mountainous province of Yen Bai.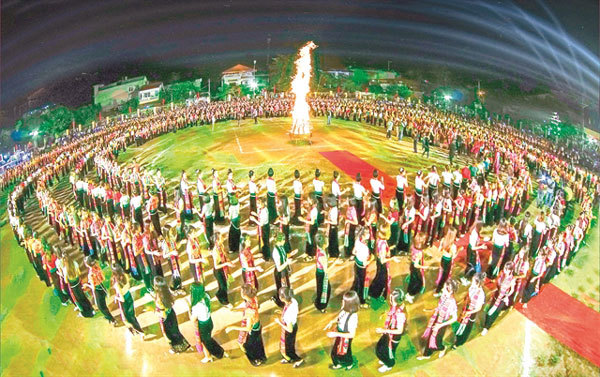 Local people perform xoe dance, which is significant to Thái people, at the Mường Lò Festival last year. Photo courtesy of Le Hai Yen
A representative of the Guinness World Records will attend the festival to recognise this performance, Le Hai Yen, director of the ceremony, said during a press conference yesterday in Hanoi.
The festival is held annually to introduce beautiful landscapes, culture and promote tourism in the province.
This year the highlight of the five-day festival is the xoe dance, during which people hold hands and perform six traditional acts including welcoming, clapping hands, performing in a group of four, moving back and forth, waving scarves and offering wine.
They will shape a circle symbolising solidarity, a pattern on brocade, terraced fields and orchid flowers, all highlights of the northern region.
"During the festival in 2013, we set a Vietnamese record with a xoe dance performed by 2,013 people," Yen said.
"This year we try to make something bigger as authorities in the northern mountainous provinces are working on a dossier for recognising xoe dance as a UNESCO intangible cultural heritage of humanity. During the process of preparing for the festival, we have received much support from the local authorities and people, so we decided to set a new record."
When Yen contacted Guinness World Records, her ambition was encouraged as the organisation also wants to honour traditional values and cultural heritage.
"However, they sent me many criteria and regulations, for example 5,000 participants have to perform the dance at the same time and venue, in the same kind of costumes. Their representatives will attend and count carefully with electronic devices," Yen said
She said it's a big challenge, but the people's support motivated her.
"This will be the first time a folk dance of Vietnam is recognised by Guinness World Records. All of the people are proud and eager for it. It's not difficult to find 5,000 people because all locals know how to dance and volunteer to join."
"Xoe is a unique type of traditional dance of ethnic Thai communities in the northern region of Vietnam," said folk artisan Lo Van Bien, who has preserved much cultural heritage of the Thai and has composed songs for the Mường Lò Festival.
"It depicts the daily lives of Thai people and shows their wish for a peaceful and prosperous life. It has a strong attachment that and plays a significant role in our lives. There is no border between classes, ages and genders. When music starts, all people dance together hand in hand."
Duong Van Tien, deputy head of the provincial People's Committee, agreed.
"For the people, xoe dance is very popular, it's performed in all festive activities. People have developed, protected and handed down through generations over hundreds of years.
"Setting a record xoe dance is very meaningful because it may be a factor for UNESCO to consider recognising it as world intangible heritage," Tien said.
He said he expected the festival will attract 750,000 visitors.
VNS