The Ministry of Finance has completed tax tables on preferential import tariffs to prepare for Vietnam's commitments in the free trade agreement (FTA) between Vietnam and the Eurasian Economic Union (EAEU).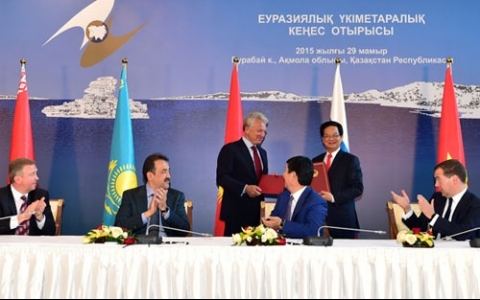 When the FTA comes into effect in the second quarter, 4,959 import tariffs, which represent 52.4 per cent of the total, will be removed immediately.
Tax tables are being created for different stages and initially Vietnam will prepare tables for the 2016-2018 period.
In 2018, 144 tariff lines will be completed eliminated, increasing the number of zero-tax lines 5,103, or 54 per cent of the total.
Seventeen tariffs will be subject to quotas on two types of goods: eggs and unprocessed tobacco.
The tax rate on eggs will be 15 per cent in 2016, 7.5 per cent in 2017, and 0 per cent in 2018, while the tax on unprocessed tobacco will be 7 per cent in 2016 (excluding tobacco with Code No. 2401.30.10, which is taxed at 5 per cent), and 5 per cent in 2017 and 2018.
Quotas on these goods can be included or excluded from the quota Vietnam committed to in the WTO.
The Ministry of Industry and Trade will issue particular guidance on quotas for the EAEU.
The Vietnam - EAEU FTA was signed on May 29, 2015 and accepted by the State President in Decision No.1805/QD-CTN.
It is expected to come into effect by the second quarter of this year after it is ratified by EAEU members (Russia, Belarus, Kazakhstan, Armenia, and Kyrgyzstan).
VN Economic Times