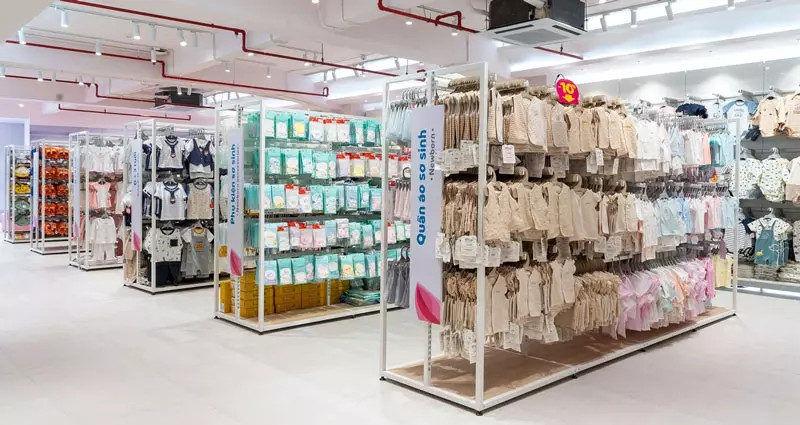 "This is my first delivery, so I have no experience. I don't know what to buy and I am afraid that I don't have enough things to use," said Nguyen Hoa of Hanoi.
She decided to go to a store for mothers and kids and seek advice from saleswomen.
Many mothers in Hanoi and HCM City as well other cities are shopping at these stores.
"If you buy products at these specialized big stores, you will be able to save time as you don't have to go to many shops to find the things you want. Everything is available," said Do Thi Yen from Cau Giay district in Hanoi.
According to Yen, the prices at are higher than at other shops, but the products have high quality.
Con Cung, Bibomart, Kids Plaza, Tre Tho and Tuti are the best known brands.
The new shopping tendency of Vietnamese mothers and the large market worth billions of dollars have prompted foreign investors to come to Vietnam.
In early 2022, international press reported that Quadria Capital, headquartered in Indonesia, a private investment fund, invested $90 million in Con Cung with the aim of helping the retail chain open 2,000 more shops by 2025.
Prior to that, two institutions related to Saigon Securities Incorporated (SSI), namely SSI Asset Management (SSIAM) and Daiwa-SSIAM Vietnam Growth Fund II L.P, also invested in Con Cung.
SSI helped Con Cung Investment JSC, the owner of Con Cung chain, to issue bonds to serve its expansion.
Vietnamese institutions can see the great potential of the market. The Gioi Di Dong (Mobile World) in late 2021 jumped on the bandwagon with AVA Kids chain which had 290 shops as of the end of April. The investor estimated that it had 50 shops in May and will expand over the next years.
A report says there are over 1,000 shops for mothers and kids in Vietnam. The Gioi Di Dong has expressed its ambition to lead the market with 1,000 shops with revenue of VND1-1.5 billion for each shop.
According to Quadria Capital, this market has seen a surprisingly high growth rate of 30-40 percent per annum.
V. Ha