Final results of the election for the 14th National Assembly and People's Councils have been announced. The May 22 election was assessed as democratic and lawful.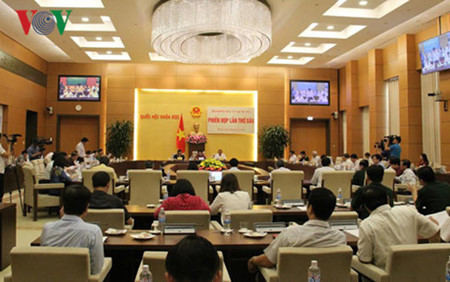 Prior to the press conference to announce the election results, National Assembly Chairwoman Nguyen Thi Kim Ngan told the 6th meeting of the National Election Council that good results have been achieved.

Voters' responsibility combined with stable politics
According to a report by the National Election Council, voter turnout was 99.35%. Provinces where all voters cast their ballots are ThuaThien-Hue, Yen Bai, Quang Nam, BinhThuan, Lai ChauTraVinh, Kon Tum, Ben Tre and HauGiang.
Susanto, an Indonesian who has lived in Vietnam for many years, said "The voter turnout in Vietnam is very high, usually more than 95%. Obviously, it's normal here, but compared to other countries the rate is much higher, demonstrating the people's political awareness on exercising their duties and rights".
High voter turnout is achieved thanks to stable politics and voters' high sense of responsibility.
Nguyen QuocThuoc, a former 3-term National Assembly deputy, said the election was successful despite complicated security developments "Although bad elements incited the people to cause unrest, we conducted the election successfully. So we have learned a lesson: if an event interests the people and is clarified by the Party and State, no hostile force can sabotage it. The decisive factor remains the people".
Prerequisite to finalize a state governed by law
According to the National Election Council, 496 candidates were elected to the National Assembly, nearly 4,000 candidates to the provincial People's Councils, 25,000 to the ward People's Councils and 290,000 to the commune People's Councils.
Le Minh Thong, Deputy Head of the National Election Council's Office, said the results reflect a big step towards democracy. First of all, the voters' will is respected. Their choice shows our democracy is growing.
The election results match the need for a legislature that is diverse in gender, ethnicity and age and educational qualifications. This will lay a foundation for an effective National Assembly in line with the 2013 Constitution and national construction, defense, and integration goals.
VOV