Nha Trang never loses its appeal to tourists with its immense beaches and beautiful islands.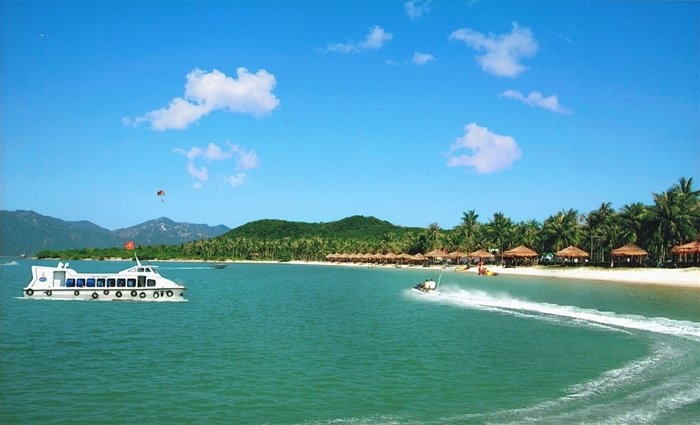 However, this time when we visited the coastal city we chose to have a one-day eco-tour to Nha Phu Lagoon.

The lagoon is located in Ninh Hoa District which is 15km north of Nha Trang City and it is where Long Phu Tourist Company major in organizing tours to the lagoon to visit three islands named Hon Thi, Suoi Hoa Lan and Hon Lao (also known as Dao Khi or monkey island)

A bus will pick up tourists at 8 a.m. in the morning to depart for Nha Phu. After an hour tourists will arrive at a wharf for a 20-minute boat ride to Hon Thi where they can feed ostriches and take pictures with spotted deer.

Tourists can leisurely discover gardens and farms on the island for around 20 minutes before coming to the second destination of Suoi Hoa Lan after a 30-minute boat ride. But travelers hoping for another Vinpearl Land will instead have to indulge in nature with a manmade lake sloping around rows of shady trees and bridges crossing the hills some of the main attractions.

There tourists can take photos as they ride on an elephant's or ostrich's back. Those who love trees and flowers can see Que toi (my homeland) village to admire luxuriant vegetable, fruit and flower gardens. Highlights of the tourist site are Hoa Lan stream and Phong Lan cave which have only been established recently.

These places are good for relaxation by the lake and taking pictures. There's a tranquil beach on the island to swim, sunbathe and join in a powered parachute priced at VND250,000 for five minutes or jetski for ten minutes for the same price. There is also skydiving and a chariot ride around the island.

Tourists can also treat themselves to a feast of BBQ seafood at reasonable prices. Next, there is an animal circus featuring performances by bears, dogs, goats and elephants. Final destination Hon Lao is where Russian experts raised monkeys for scientific experiments in the past but now monkeys are used for tourism development.

You can see monkeys doing tricks with dogs or put bets on the dog race.

After visiting the eco tourist sites, tourists will head back to the mainland at around 4:30 p.m. Prices for adults and children are VND380,000 and VND250,000 respectively.
VIR