Malnutrition affects 1 in 3 people around the world. In Vietnam, the Ministry of Health's report in 2021 showed that one in five children under five and around one in seven children from 5-19 years old suffered from malnutrition. It is also reported that micronutrient deficiencies among children under five is of high concern, with more than half having zinc deficiency and 19.6% having anemia.
Malnutrition is a complex issue that not only impacts individuals' health, but also economies. It is estimated to cost the global economy upwards of US$3 trillion per year. However, every US$1 invested in nutrition interventions generates as much as US$138 in improved health and increased productivity.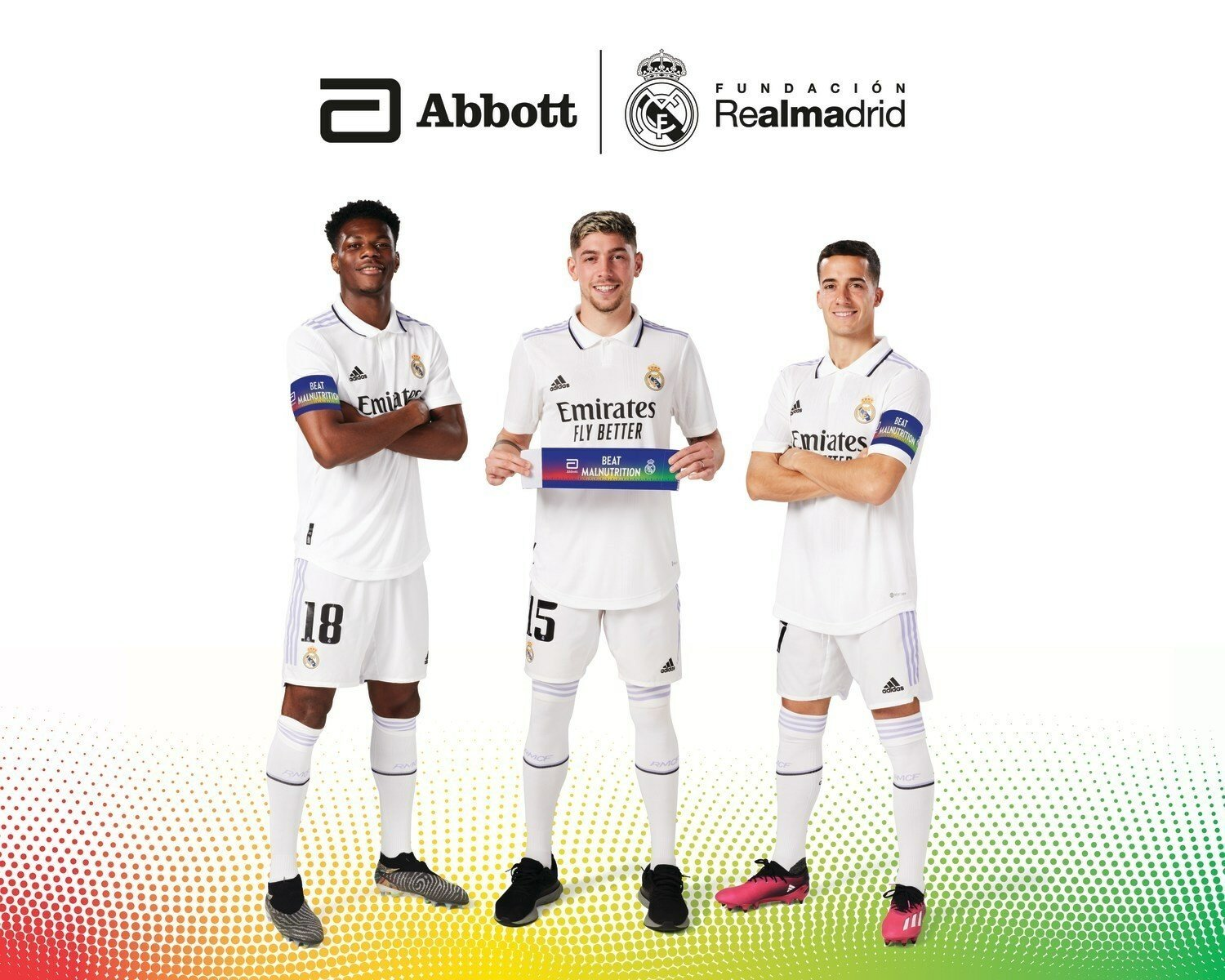 There is no one solution to eliminate childhood malnutrition. However, working to integrate policy actions and interventions – across organizations and governments – can help move the needle forward with positive impacts to children's health, their communities and also regional economies.
Partnership to tackle malnutrition
Earlier this year, five United Nations (UN) agencies labeled malnutrition a threat to children's long-term health and development and called for urgent action against the issue.
In Vietnam, the country has defined its Action Plan for National Nutrition Strategy 2025 with priorities in addressing nutrition challenges including malnutrition (stunting and wasting); overweight and obesity; and micronutrient deficiencies.
Recently, Abbott, Real Madrid and the Real Madrid Foundation announced the launch of the 'Beat Malnutrition' campaign during Real Madrid's final match weekend of the 2022/2023 LaLiga season.
The new campaign empowers communities to help children reach their full potential through nutrition education and malnutrition screening and furthers Abbott's partnership with Real Madrid and the Real Madrid Foundation to reduce global childhood malnutrition.
As the Health Sciences and Nutrition Partner of the Real Madrid Football Club and Global Partner of the Real Madrid Foundation, Abbott and the club are working together to tackle malnutrition through programs at Real Madrid Foundation Social Sports Schools focused on education and malnutrition screening.
"Malnutrition is not always identified early, so it's critical to make people aware and give them tools to help find it through regular screening and monitoring of children," said Ann Smith, co-lead of the Abbott Center for Malnutrition Solutions.
"In partnership with Real Madrid and through the 'Beat Malnutrition' campaign, we're teaching kids about healthy living and training communities to find malnutrition in kids so they can be referred for additional support and resources," she said.
During Real Madrid's final match weekend of the 2022/2023 LaLiga season (June 3-4), Abbott and Real Madrid highlighted the issue of malnutrition on a global stage to promote nutrition education and encourage more children to be screened as a first step in beating malnutrition.
Prior to kick off the match, the Real Madrid players and fans wore the custom designed 'Beat Malnutrition' armbands inspired by the Mid-Upper Arm Circumference (MUAC) z-score tape, an innovative and easy-to-use tool that screens for malnutrition in children.
Additionally, Abbott will donate more than 10,000 MUAC z-score tapes to communities across the globe in need of the critical tool.
Abbott and the Real Madrid Foundation also hosted the first-ever 'Run to Beat Malnutrition' 5K and 10K races in Madrid and virtually through the Abbott World Marathon Majors Global Run Club on Saturday, June 3 to raise global awareness for the cause, with all proceeds going to fund malnutrition education and screening at global Real Madrid Foundation Social Sports Schools. For every runner who participates in the virtual race, Abbott donated $5 to the Real Madrid Foundation to help fight malnutrition.
Abbott also launched the website BeatMalnutrition.com featuring key resources on childhood malnutrition and information about the 'Beat Malnutrition' campaign.
Under the Abbott Center for Malnutrition Solutions – a collaboration between the company and external partners focused on reducing malnutrition globally – Abbott works with the Real Madrid Foundation Social Sports Schools to support at-risk children around the world reach their goal of a healthier life.
Activities between the groups include implementing a health and nutrition curriculum called Future Well Kids, created by the Abbott Fund and Discovery Education, and teaching them about the relationship between diet and chronic illnesses, such as diabetes and cardiovascular disease.
The program has created a positive influence in several countries around the world, a testament to Abbott's long-serving sustainable mission to help shape the global healthcare's future in particular and improve community health in general.
In Vietnam, the program is regarded as an urgent scheme that would be implemented soon for secondary school pupils, following reports suggesting that Vietnamese people detected with diabetes are younger, with more cases found among children of 9-13 years old and also young people aged between 20 and 30.
The collaboration also includes training Real Madrid Foundation coaches to use the MUAC z-score tape to help families learn their child's nutritional status, empowering parents, teachers and coaches to identify children at risk and help connect them to healthcare professionals and resources to get appropriate support.
The Abbott Center for Malnutrition Solutions and Real Madrid partnership support Abbott's goal of transforming care for malnutrition and improving the lives of more than 3 billion people per year by the decade's end.
In Vietnam, Abbott partners with Americares and Giao Diem Humanity Foundation to enhance nutrition for children, primarily in the central provinces of Quang Tri and Thua Thien-Hue, where child malnutrition rates are among the highest in the country.
Abbott has partnered with Vietnam Women's Union for over a decade to promote the benefits of breast milk and breastfeeding, and to expand healthcare and nutrition education across the country. The program raises public awareness about healthcare to ensure that Vietnamese people know how to promote healthy pregnancies and breastfeeding, improve the well-being of women and children, and establish family health.
To date, Abbott and the Abbott Foundation have invested nearly VND280 billion ($12 million) in Vietnam to help address critical health issues, with a focus on advancing, preventing, and treating chronic diseases, training medical professionals, and raising public awareness about healthcare.
PV