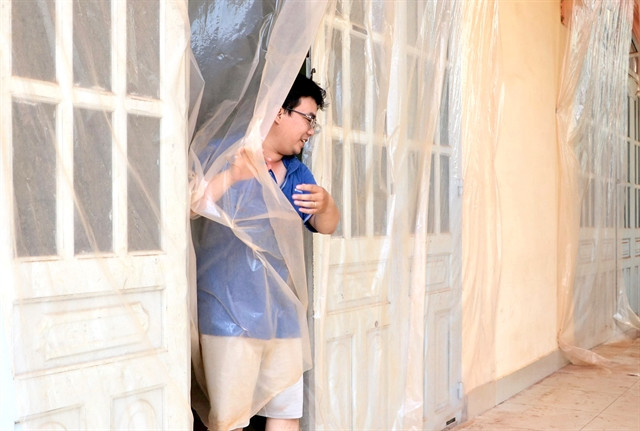 Residents living around Long Thành Airport's construction site must use plastic curtains to avoid dust. —VNA/VNS Photo Công Phong
The Ministry of Natural Resources and Environment (MONRE) imposed the fine.
Lê Vũ Tuấn Anh, MONRE's chief inspector, said ACV has improperly or incompletely implemented regulations mentioned in the environmental impact assessment report.
ACV has neither arranged temporary reservoirs to store rainwater nor built a system of rainwater drainage ditches during the construction process, nor has it built reinforced embankment and sedimentation ponds.
It does not regularly spray water around the construction site, increasing dust in the surrounding environment.
ACV has been punished for causing air pollution with dust levels exceeding five to ten times the standard level.
According to the MONRE, as Long Thành Airport is a national key project and it is necessary to speed up the progress, the construction suspension will be applied.
Construction suspension will not reduce dust pollution but also increase the pollution risk from the 2,500ha levelled ground area.
The MONRE inspectors asked ACV to reduce dust with suggested solutions like watering, especially during peak hours when it is dry, hot, and windy; reducing construction intensity at peak hours; growing grass; completing the installation of reservoirs.
Soil-transporting vehicles must run on fixed routes that have been watered.
ACV must report the dust reduction plan to the Department of Natural Resources and Environment of Đồng Nai Province before April 30 and make periodic environmental reports until the site is handed over to construction contractors.
Strong winds and whirlwinds were recently reported at Long Thành Airport.
On Monday afternoon, a strong whirlwind blew a large amount of dust from the construction site to the neighbouring areas in eight minutes.
Đỗ Tất Bình, head of Long Thành Airport's Management Board, said the dust comes from the ground levelling. Contractors have taken measures to limit the dust, but wind, a natural phenomenon, is unpredictable and unpreventable.
At this time of the season change, there will likely be many strong winds and storms in the afternoon that will sweep the dust away from the airport, affecting people's lives.
"We hope to receive sympathy from the community," he said.
According to a representative of the construction units, over the past month, the contractors have mobilised 60 tank trucks and increased the road cleaning time. Construction is limited at night and during peak hours of the sun.
Long Thành Airport, located in Bình Sơn Commune, Long Thành District, Đồng Nai Province, covers an area of 5,000ha.
Ground levelling is under construction, with 63 per cent of the surface completed. — VNS