Administrative procedures enrage Vietnamese patients
VietNamNet Bridge – "Why didn't they spare me this troublesome paperwork? I know I don't have much time left," 51-year-old throat cancer patient Nguyen Thi Nhung said regarding the procedures she had to complete in order
VietNamNet Bridge – "Why didn't they spare me this troublesome paperwork? I know I don't have much time left," 51-year-old throat cancer patient Nguyen Thi Nhung said regarding the procedures she had to complete in order to renew her health insurance for the new year.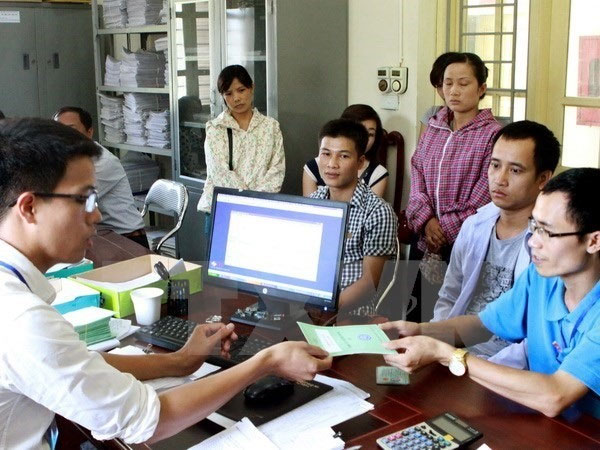 Social security official gives out social insurance books to citizens. — VNA/VNS Photo
Nhung came from northern Ha Nam Province and is being treated at K2, the second centre of the Viet Nam National Cancer Hospital (K Hospital) located in the capital's Thanh Trì District.
Every year for the last 4 years, as the year comes to an end, Nhung has had to withdraw her health insurance card from K2 and redo several procedures so that she could continue using her health insurance at the centre over the coming year.
"I even had to pay to be transferred to the central K Hospital," she said. "If I didn't pay, I would be kept at the local hospital because they said my illness could be cured there."
Nhung has last-stage throat cancer that has spread to her bones. She came to the centre every 20 days for treatment, twice per day. Four years of treatment has cost her some VND300 million (US$13,200).
The situation is not new to patients at K2, most of whom have been identified as having late-stage cancer.
At the end of every year when their health insurance is about to expire, like Nhung, patients that are being treated at central hospitals have to withdraw their health insurance cards, return to their hometowns, and redo all admission and hospital transferring procedures at local hospitals if they want next year's medical expenses covered by health insurance.
Sixty-year-old Pham Thu Thuy in the capital's Hoang Mai District has bone cancer and has been receiving treatment at K2 for more than 2 years.
"It was easy to ask to be transferred from my district hospital to the regional Ha Dong General Hospital," Thuy said. "But I had to pay a commission fee to be transferred from that regional hospital to the central K Hospital."
"I agreed to pay because having a 'straight' transferring record will help cover 80 per cent of my medical expenses. Otherwise only 30 per cent will be covered," she said.
The patients' desire to be treated at central hospitals is understandable. The experience that sixty-year-old colon cancer patient Pham Thi Binh from the central Nghe An Province had at her local hospital was not a pleasant one.
According to Binh, she was diagnosed as having stomach pain from appendicitis by the Nghe An Friendship Polyclinic Hospital; they even performed surgeries on her, but the illness persisted.
Only when her personal connection asked for consideration from the hospital's leaders did she get transferred to the central Bach Mai Hospital in Ha Noi, where she was diagnosed with cancer.
She was terrified on knowing she had to go back to the local hospital and complete the procedures to renew her health insurance, she said.
Improvement for the people
Viet Nam Social Security (VSI) recently issued official dispatch No. 5243 which clarifies the processes of renewal and extension of health insurance for this year.
According to the dispatch, for poor and nearly-poor people, people of ethnic minorities living in extremely difficult regions and people living in commune and district islands, local authorities will send a list of people requiring health insurance cards to VSI after it has been reported to the Government.
Health insurance cards will be made immediately and sent to the people once the Prime Minister approved the list.
If the list has not been completed by the end of 2016, provincial social security will report to provincial People's Committees for further directions.
In this case, late health insurance participants can still enjoy their benefits from January 1, 2017.
Health insurance covered 81.7 per cent of the nation's population by the end of last year, exceeding the target set by the Prime Minister by 2.7 per cent, said Nguyen Minh Thao, general director of VSI yesterday.
The number of participants in health insurance reached 75.9 million, compulsory social insurance was 12.9 million, 11.1 million in unemployment insurance, and 203,000 in voluntary social insurance, he said yesterday at a public administration reform and task allocation for this year.
The number of citizens participating in social insurance, health insurance and unemployment insurance was 76.1 million, with an increase of 5.9 million people compared to 2015, he added.
The social security sector was estimated to have paid health insurance for 144 million people, totaling VND69.4 billion (US$3,1 million), exceeding the year's health insurance fund by VND5.1 billion ($224), according to VSI reports.
Forty-five provinces overspent their health insurance funds, top among them were An Giang, Binh Dinh, Ca Mau, Da Nang, Nghe An, Quang Nam, Quang Ninh, Thai Binh and Thanh Hoa provinces.
The VSI will continue implementing social insurance and health insurance policies for the benefit of all, as well as improving the management process.
The social security sector will continue carrying out public administrative reforms with a focus on improving public services as well as applying technology in management activities, digitalising the sector's activities and developing a modern, professional, and effective social security system.
VNS