Agro-tourism makes Lam Dong province special

In November alone, Da Lat resort city in the Central Highlands province of Lam Dong, welcomed half a million tourists, raising total tourist arrivals for the year to 6.2 million.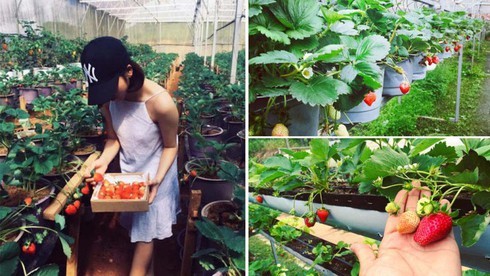 Visitors are attracted to strawberry farms in Da Lat city. (Photo: dalattravel.vn)
Agro-tourism, which involves any agriculture-based operation or activity that attracts visitors, is a new product that has emerged to boost local tourism growth. Da Lat's municipal leaders have encouraged farmers and businesses to invest in agro-tourism.
Nguyen Thi Lan Huong, a tourist from Binh Thuan province, joined her friends on an agro-tourism trip to Da Lat. She found it really interesting to pick and taste fruits and vegetables at a farm in Ward 7. Doing farm work is memorable, according to Huong.
"I like this place, with its beautiful natural scenery and fresh fruits and vegetables. I enjoyed picking fruits and vegetables myself and tasting them on the spot," Huong said.
Tran Dang from Binh Duong province has visited Da Lat four times and been to all the major attractions, including Prenn waterfall, Lament lake, the Valley of Love, and the Da Lat flower garden. Dang said agro-tourism provided him a fresh experience as he tried farm work and listened to farmers talk about planting, tending, and harvesting clean agricultural products.
"It's great to visit Da Lat farms, which are full of colorful juicy fruits. They have wonderful views and friendly farmers who show us how they grow their farm produce," Dang said.
Vuong Dinh Thi, owner of a strawberry farm in Ward 8, said local farmers used to receive visitors sporadically, so farms used to fall short of the necessary infrastructure, and the quantity and quality of fruits and vegetables was inconsistent. Since local authorities devised a plan to encourage and support agro-tourism, farmers have developed more professional services and are earning higher incomes.
Thi said, "Our agro-tourism is growing. We are receiving a greater number of visitors who love picking strawberries and tomatoes or cutting broccoli and spinach. We plan to develop agro-tourism in combination with high-tech agriculture to make our services more appealing to visitors."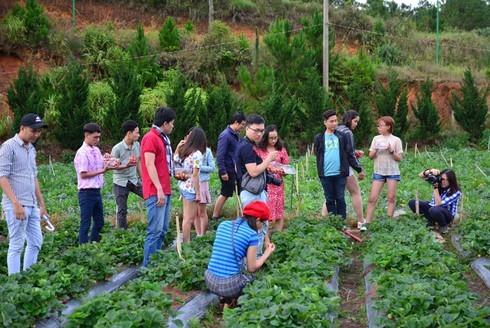 Tourists visit farms and pick vegetables in Da Lat city. (Photo: vietnamnet.vn)
According to Nguyen Thi Bich Ngoc, Deputy Director of the Lam Dong provincial Department of Culture, Sports, and Tourism, famers and businesses are being encouraged to invest in high-quality agro-tourism products.
She said: "We have seen a steady increase in visitors signing up for agriculture tours. Some farms earn more from hosting tourists than from selling their farm produce. Lam Dong province is promoting agro-tourism while helping service providers improve their implementation of recognized agro-tourism models."
There are now approximately 30 certified agro-tourism destinations in Da Lat and another ten farms are currently being upgraded to provide similar services. VOV5
 Spotted throughout Da Lat, pink grass hills serve to attract a large number of tourists to the city due to their vibrant colour and the breathtaking scenery they create.

Around eight kilometers from the heart of Dalat City in Lam Dong Province, Linh Phuoc Pagoda was built in 1949.