AI successfully applied in automotive industry in Vietnam
Artificial Intelligence (AI) has been widely implemented in various fields, including the automotive industry.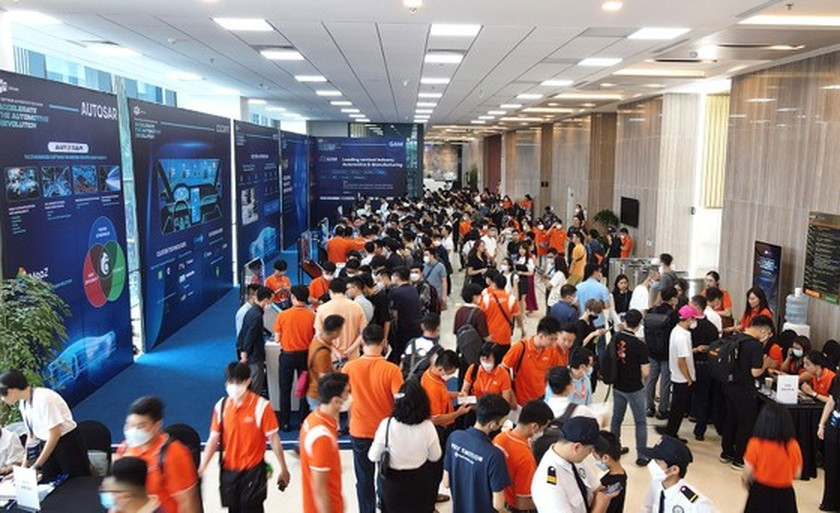 Many technology lovers participate in the automotive technology day, recently held by FPT Software. (Photo: SGGP)
Many made-in-Vietnam applications of AI have been successfully installed in automobiles, leaving such a positive impression to the global community.
Vin AI Artificial Intelligence Application and Research JSC. (member of Vingroup) has just announced its two AI-related products: Driver Monitoring System – DMS and Advanced Surround View Monitoring – ASVM.
DMS uses high-quality cameras installed inside a car and AI technology to analyze the behaviors of the driver, aiming at minimizing accidents caused by inattentiveness. In the future DMS will have the ability to use face recognition to identify the existing of children and pets in a car or to monitor the health status of drivers, especially whether they drink alcohol or not.
ASVM offers a 360-degree view (top-down, rear, side of wheel) and 3D view to support drivers moving through busy or narrow streets as well as parking. The software collects high-resolution images from 3 fisheye cameras installed around a car plus advanced algorithms for image combination.
VNG Corp. announced that till the end of this August, 100,000 cars in Vietnam installed Kiki – an AI assistant developed by Zalo – for one year. This reveals a huge demand from Vietnamese drivers to use entertainment gadgets and perform common tasks (finding direction, listening to music, obtaining news) via voice commands.
Kiki provides a hand-free experience, which is exceptionally suitable for automobile drivers as they feel safer satisfying their own needs. Kiki is a proof of the aspirations and qualifications of Vietnamese engineers as opposed to foreign AI assistants like Alexa from Amazon, Siri from Apple, or Google Assistant from Google.
Taking part in developing AI-related software for the automotive industry, FPT Software has quickly developed their consultation capacity, practical solutions, and useful services for digital transformation based on core advanced technologies such as AI, big data, cloud computing, hyper-automation, blockchain. Their applications have been selected by various international automotive producers. Particularly, Ai-related FTapLai has been used widely among Vietnamese training centers for automobile driving.
Deputy General Director of FPT Software Tran Dang Hoa commented that technologies have played a key role in the automotive industry. FPT Software has continuously researched and developed new solutions, especially those applying AI technology, to offer the best experiences to its customers as well as giving a chance for Vietnamese engineers to challenge themselves.
Dr. Bui Hai Hung from VinAI shared that his organization pursue a long-term vision as to AI implementation to become one of the pioneers on AI in the world. VinAI is now concentrating on Smart Mobility and Smart Edge to create in-car supportive features (360-degree Jelly view, enhanced image quality under low-light conditions, automatic image correction, smart interior lighting, object detection, parking guidance, and narrow-street driving assistance) in order to increase safety for driving.
"Around 1.3 million people in the world are killed by traffic accidents each year (WHO's report) due to various reasons like blind spots around the vehicle, driver's inattentiveness or drowsiness. That's why VinAI wants to develop Smart Mobility to eliminate potential blind spots for a safer drive", said Dr. Bui Hai Hung.
Source: SGGP