Along with air pollution, Hanoi's demand for purifiers on the rise

Many people in Hanoi are buying air purifiers to cope with rising air pollution.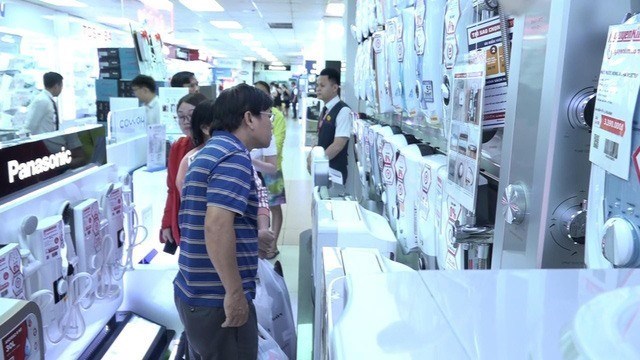 Many people buy air purifiers
After the air quality index in Hanoi and HCM City were revealed, many people have flocked to buy expensive masks to deal with fine dust pollution.
The mask cost from VND55,000 (USD2) to over VND1m each. It is advertised that they can prevent up to 95% of the fine dust.
Besides the masks, many people are also flocking to buy air purifiers for their homes. The air purifiers often cost from VND3m (USD130) to VND20m and come from various brands such as Daikin, Panasonic, Sharp and LifePro.
The purifiers of Coway cost from VND7m to VND14m, Electrolux purifiers cost from VND3.2m to VND10m and Sharp purifiers cost from VND3.6 to VND12m.
Some purifier even has aromatherapy essential oil spray and mosquito killer functions.
Tran Minh Thanh, a salesman at Nguyen Kim Market in Hanoi said, "In recent weeks, I receive queries from 20 customers who have expressed interest in air purifiers. I've sold seven to eight purifiers a day on occasion."
Nguyen Thu Hien in Hoan Kiem District said she had just had a baby and became worried after her child coughed and had a runny nose.
She is afraid that her child might have been affected by the air pollution so she started researching about air purifiers.
"I have done my research and went to several supermarkets to check the prices," she said.
Tran Hong Con from the Vietnam University of Science said customers should only buy air purifier if really necessary.
Detailed research must be done to avoid fake and low-quality products. Air conditioners should be cleaned regularly and homes kept clean with trees to maintain fresh air in the house.

PM Nguyen Xuan Phuc has ordered the Ministry of Natural Resources and Environment and the governments of Hanoi and HCMC to promptly adopt effective solutions to address the worsening air pollution, the local media reported.  

People in Hanoi are buying expensive masks to protect themselves from serious air pollution.