Ambassador Marc Knapper: Vietnam - US relations at strategic level
"I think our relationship with Vietnam is fundamentally strategic in nature...", US Ambassador to Vietnam Marc Knapper said in an online exchange with VietNamNet readers.
In July 2013, President Truong Tan Sang visited the US at the invitation of President Barack Obama, during which the two sides established a comprehensive partnership.
In July 2015, Party General Secretary Nguyen Phu Trong paid an official visit to the US on the occasion of the 20th anniversary of the normalization of relations. After the meeting between Mr. Trong and US President Obama, the two sides adopted the Vietnam-US Joint Vision Statement.
In the near future, there will be important milestones in the bilateral relationship between Vietnam and the US such as the 10th anniversary of the comprehensive partnership (2023), the 30th anniversary of normalization of economic relations (2024) and the 30th anniversary of normalization of diplomatic relations (2025).
What motivated the two countries to make important strides in cooperation in the past, and what motivates this relationship now?
What achievements have the two countries obtained since establishing the "Comprehensive Partnership" in 2013?
The US-ASEAN relationship has been upgraded to a Comprehensive Strategic Partnership. What are the prospects and opportunities to raise the level of relations between Vietnam and the US?
US Ambassador to Vietnam Marc Knapper has answered questions submitted by VietNamNet readers.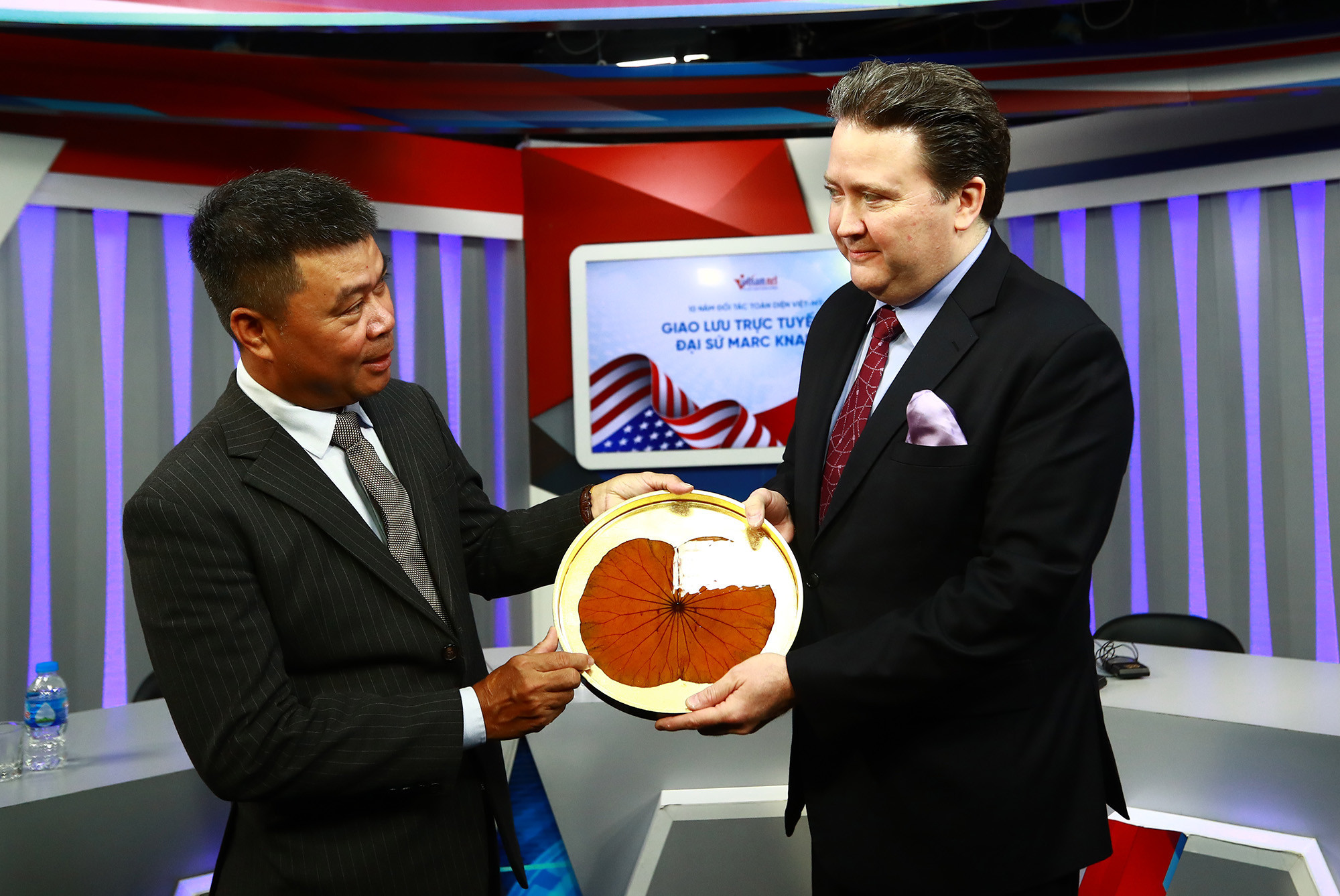 Reader Nguyen Van Phu: There will be important milestones in the Vietnam-US relationship, such as the 10th anniversary of the comprehensive partnership (2023), the 30th anniversary of normalization of economic relations (2024) and 30th anniversary of normalization of diplomatic relations (2025). What were the important motivations for the two countries to achieve important steps in the cooperation relationship in the past and to continue to promote this relationship in the current period?
US Ambassador to Vietnam Marc Knapper: It's a great pleasure to be here. Thank you for the invitation and thank you for the great question!
Just for a bit of context: I first came to Vietnam in 2004 and served here for about three years and at that time our relationship was pretty modest. We had a modest trade relationship, we had a nascent educational relationship, and we had a health cooperation relationship that was just getting off the ground.
Now fast forward to 2022, we're on the eve of our 10th anniversary of our partnership and we have a trade relationship that's US$113 billion. That's more than 200 times greater than what we had 15 years ago.
In other areas we have very beneficial and cooperative relations across the full spectrum of issues, whether it's trade and investment, but defense and security, climate, energy, education, health, culture, people's ties, virtually any area you can think of.
I think the US and Vietnam are working very closely together today. And I think what's driven that growth over the last 10 years and what will continue to drive that growth is our shared realization that the US and Vietnam are good for each other and our cooperation benefits peoples of both countries.
Our policy towards Vietnam is very clear: we want a Vietnam that is strong and independent, we want to have a relationship in which we respect each other's political systems, a relationship in which respect each other's sovereignty, territorial integrity and independence. It's the shared interest and values that have created a relationship we have today and will continue to be the foundation for that relationship going forward.
Reader Thanh Nga: What has changed in US foreign policy towards the Asia-Pacific region compared to the time when President Joe Biden took office?
US Ambassador to Vietnam Marc Knapper: The US policy towards the Indo-Pacific and Vietnam has actually been very consistent over the last several presidential administrations. From President Obama's administration - to the administration of president Trump - to the current Biden administration, we've seen a consistent focus on the Indo-Pacific and a consistent realization that America's future prosperity and security are indelibly tied with the Indo-Pacific.
That being said, the Biden administration, more clearly than ever, has articulated our policy towards the Indo-Pacific as being absolutely critical to the future of the US. Our Indo-Pacific strategy and the recently released national security strategy have made clear that the US is very focused on the Indo-Pacific and that our priority is for a prosperous, secure, stable, free, and open Indo-Pacific.
That's how we approach the region and certainly that's how we approach Vietnam. We - those of us who work in the Indo-Pacific - benefit from the fact that the US's approach to this region is bipartisan. Whether it's Republican administration, Democratic administration, it's clear that both parties share the understanding of the importance of the Indo-Pacific to the United states.
Reader Hung Pham: Could you talk more about the achievements that the two countries have achieved since establishing the "Comprehensive Partnership" relationship in 2013?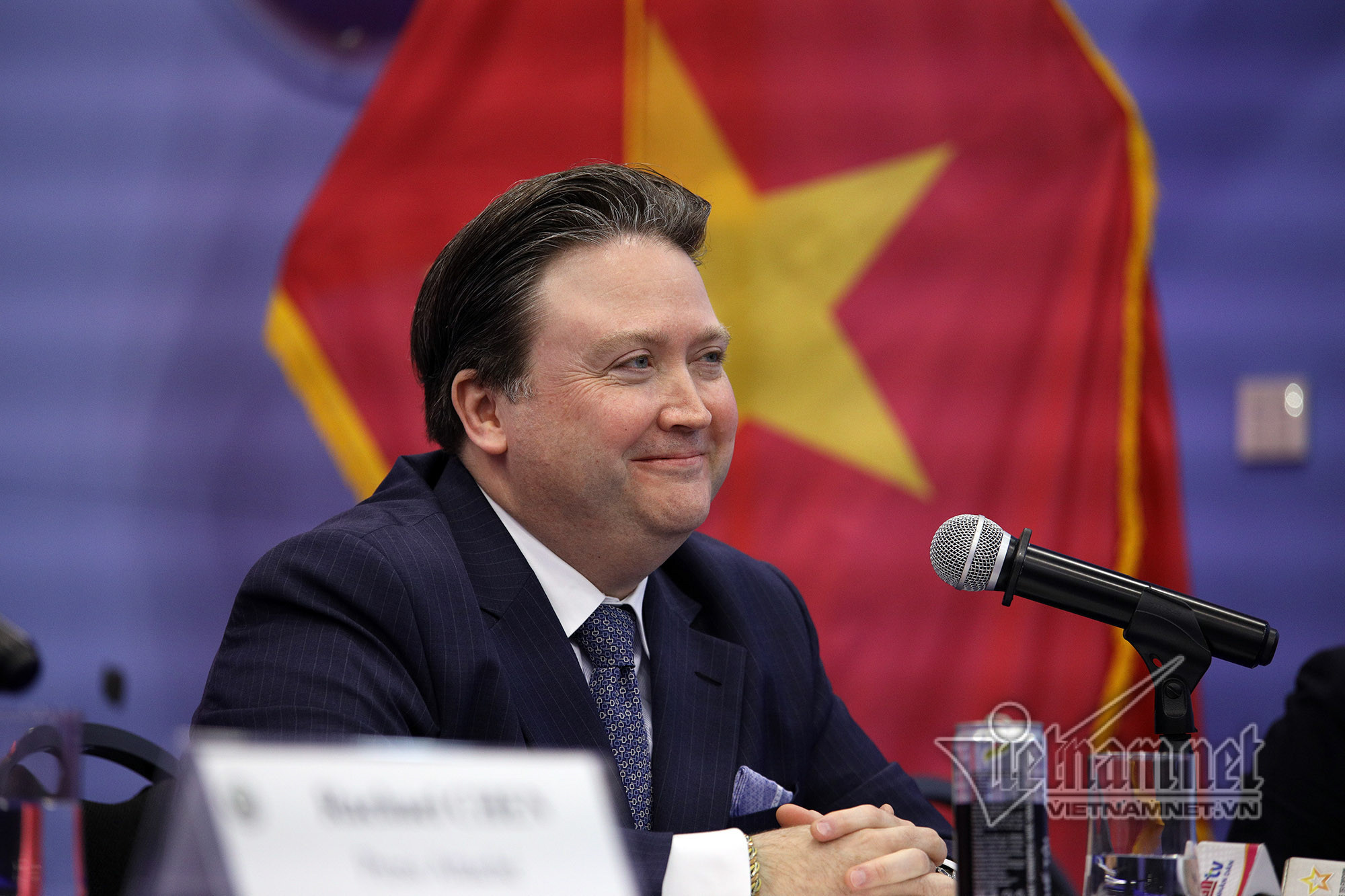 US Ambassador to Vietnam Marc Knapper: I think it's practically endless. But I would name at least 3 or 4.
For example, the growth of our trade relationship. As I said, we're at $113 billion which is a remarkable achievement. We want to see it continue to grow. We've seen a great deal of US investment in Vietnam, and we're starting to see Vietnamese investment in the US are creating great jobs and great opportunities for Americans. I think that's one significant accomplishment over the last 10 years.
Another accomplishment is the growth of our health cooperation relationship which started back in 2005 with the PEPFAR program helping save lives for those afflicted with HIV. That cooperation has grown to include our cooperation during COVID-19, in which Vietnam provided the US with PPE and masks, and at the same time, we provided Vietnam with 40 million plus doses of the vaccine. This is great, it's what friends do for each other, and I think that's another big accomplishment over the last ten years.
And finally, another significant accomplishment has been our ongoing cooperation in addressing the legacies of the war between us. That includes dealing with unexploded ordinance and landmines, assisting people with disabilities, the search for missing Americans and Vietnamese, and cleaning up Agent Orange hotspots. Over the last ten years we were able to clean up Da Nang air base, 40 hectares of new land for the airport and for development there. And we continue to work on cleaning up Bien Hoa air base - an ongoing project which we are committed to complete, hopefully within the next 10 years.
Reader Nguyen Van Cuong: How has the US implemented its plan to help Vietnam's transition to an economy using renewable energy such as wind power and solar power instead of coal-fired power?
US Ambassador to Vietnam Marc Knapper: Great and very very timely question. Last year at COP26, Prime Minister Pham Minh Chinh made a very bold commitment that Vietnam would be net zero by 2050, and that's something we fully support and welcome.
We're currently working very closely with the government of Vietnam to identify areas in which we can assist, whether it's climate finance, provision of cutting edge technologies in the renewable energy field, providing human resource and technical expertise to assist in this transition. These are three areas in which we are currently working very closely together.
John Kerry - who I think everybody knows very well - came here twice since I've been here and he's had very intimate and important conversations with Vietnam's leadership about how we can help, because we are fully committed to assisting Vietnam with this important transition.
Reader Duy Anh: At the recent 10th annual US-ASEAN Summit in Cambodia, President Biden and ASEAN leaders elevated the US-ASEAN relationship to a Comprehensive Strategic Partnership. Could you share with us more about this event?
US Ambassador to Vietnam Marc Knapper: We very much welcome the leadership of ASEAN agreeing to upgrade this relationship with us.
I think it's a reflection of the great work that the US and ASEAN are already doing. It's a reflection of US policy towards ASEAN, which is focusing on Ocean's centrality - in other words, the importance of ASEAN within our Indo-Pacific strategy and we're very grateful for Vietnam's leadership and support for this upgrade in our relationship with ASEAN.
And I think it's going to open a lot of doors in the future for our relationship with ASEAN whether it's cooperation in the South China Sea (Vietnam calls the East Sea), cooperation in the Mekong River area, whether it's cooperation in areas like education, energy, climate change mitigation. This is a very exciting development about which we're very happy.
Reader Tran Tuan Anh: Education cooperation is one of the strategic priorities that the Vietnamese and US governments attach great importance to. Vietnam is ranked 5th worldwide in the number of students studying in the US. In the coming period, what will the US do to continue to promote the bilateral relationship in the field of education?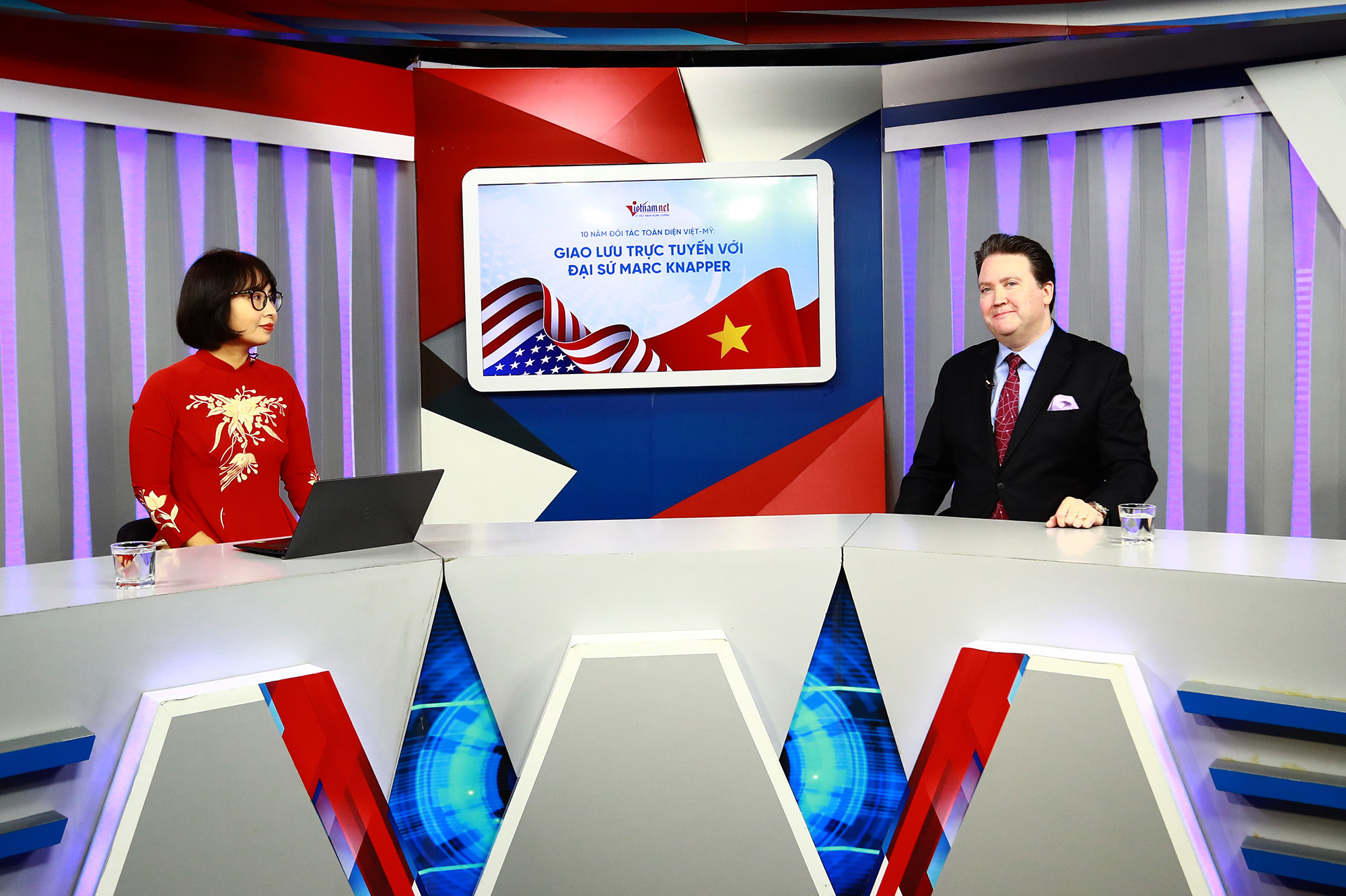 US Ambassador to Vietnam Marc Knapper: Education cooperation predates even the normalization of relations between our two countries.
In fact, just the other day we celebrated the 30th anniversary of the Fulbright program with Vietnam. In these last 30 years we've seen so much growth in our two countries' education cooperation whether it's the establishment of the Fulbright University down in Ho Chi Minh city; young American people are coming here to Vietnam to teach. We've got a number of teachers throughout the country teaching at Vietnamese schools, the establishment of the Peace Corps program here in Vietnam. We've got nine volunteers getting ready to teach at schools in the Hanoi area and we're very excited about this as well.
And of course we're very proud of the fact that we have about 30,000 young Vietnamese people studying in the US, and that recently Vietnam became the number 5 sending country of students to the US. We always look for ways to encourage Vietnamese people to study in the US, but the one area which I think is lacking, frankly, is I would love to see more young American people here in Vietnam studying, so that's something we need to work on.
Reader Thanh Binh: Vietnam-US relations are on a positive track of development, for the benefit of the two peoples, contributing to peace, stability, cooperation, development and prosperity in the region and the world. How do you assess the prospects and opportunities to elevate the relationship between Vietnam and the US?
US Ambassador to Vietnam Marc Knapper: I appreciate that perspective and completely agree with the reader's assessment of our relationship that it does contribute to prosperity, peace, and stability, not just in the region but around the world.
As we look to 2023, we are commemorating the 10-year anniversary of our comprehensive partnership and throughout the year we're going to be looking for exciting ways to commemorate this. At the same time, we're excited about the possibility of upgrading our relationship from a comprehensive to a strategic partnership next year.
I think that upgrade is a reflection of where we already are. I think our relationship with Vietnam is fundamentally strategic in nature, whether we're talking about cooperation in the South China Sea (East Sea) and the Mekong, whether we're talking about cooperation regarding energy and climate, whether we're talking about cooperation to combat pandemic diseases. All of these are essentially strategic in nature, require a shared sense of purpose and a shared sense of values, and this is what we have with Vietnam right now.
Based on the strategic interest and trust that we already share, we believe an upgrade will help open even more doors to even greater cooperation between our two countries, so this is something we continue to work on and we're very excited and hopeful for that prospect.
Reader Doan Hung: Will US President Biden visit Vietnam in the future?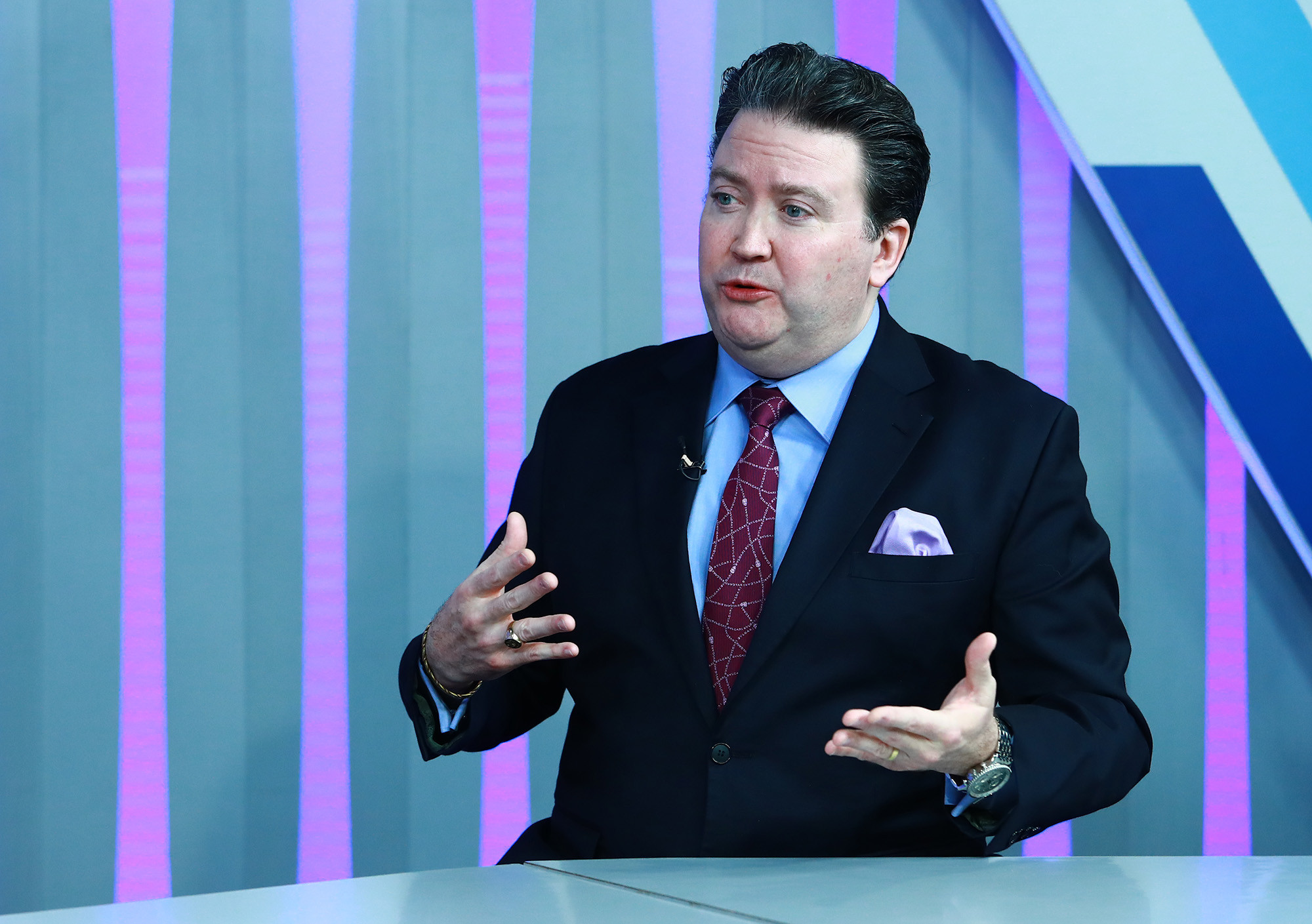 Nothing to announce today, but we certainly hope that the opportunity arises at some point when he can visit.
Reader Quang Sang: Along with good political relations, Vietnam-US economic-trade cooperation is considered the most successful field of cooperation, and has been the focus and driving force for development of the relationship between the two countries. In the coming time, how will the two sides actively cooperate to comprehensively address common concerns in order to maintain stable trade relations towards a harmonious, sustainable, complementary and mutually beneficial trade balance?
US Ambassador to Vietnam Marc Knapper: We're always looking for ways to ensure that the trade relationship contributes to a stable and prosperous overall relationship between our two countries. And that includes working with the Vietnamese government to ensure that American companies and investors here are treated fairly and given a level playing field in which they have access to Vietnamese consumers and to work here in the Vietnamese market.
In other words, we want to make sure that American manufacturers and exporters have the same kind of access and treatment that Vietnamese exporters and investors have in the US. One way we're going to further deepen our engagement - not just with Vietnam but the region as a whole - is through the Indo-Pacific economic framework launched in May, which Vietnam was a founding member and has signed on to the four pillars, including digital economy, sustainable infrastructure, labor, and other areas.
We're very pleased that Vietnam is part of this effort. Discussions are ongoing about these four different pillars, but we're very happy and I think this is a reflection of the Biden administration's commitment to economic engagement here in the Indo-Pacific, and with countries like Vietnam.
Reader Hoa Binh: Vietnam-US defense-security cooperation was established after the two countries' diplomatic normalization in 1995 and has made positive progress. What are the specific results of the bilateral cooperation in this field? In the near future, what aspect will the two countries' defense-security cooperation focus on?
US Ambassador to Vietnam Marc Knapper: There are many things to discuss but I'll name just a couple. One involves the humanitarian demining that our two countries participate in in central Vietnam and areas that are most affected. We've had a very effective and productive relationship in this area and helped to clean up the remnants of the war.
Another is our cooperation with Vietnam's peacekeeping efforts. I think it's great that Vietnam is now a leader on the world stage, sending peacekeeping missions to Africa, and we work very closely on this together because I think it's a wonderful expression of Vietnam's commitment to peace and security, not just regionally but globally.
I'd mentioned our cooperation in the South China Sea (East Sea) in terms of maritime security and maritime domain awareness. We share with Vietnam concerns about any attempt by another country to unilaterally change the status quo in the region, and we share a desire to protect international law, and respect international practices, to keep the South China Sea (East Sea) free and open.
To that end, we are working very closely with Vietnam to make sure the Vietnam Coast Guard has the capabilities it needs to defend its maritime space and its natural resources, to be able to do things like counter piracy, law enforcement at sea. This is another really significant area of growth and it will continue to grow into the future.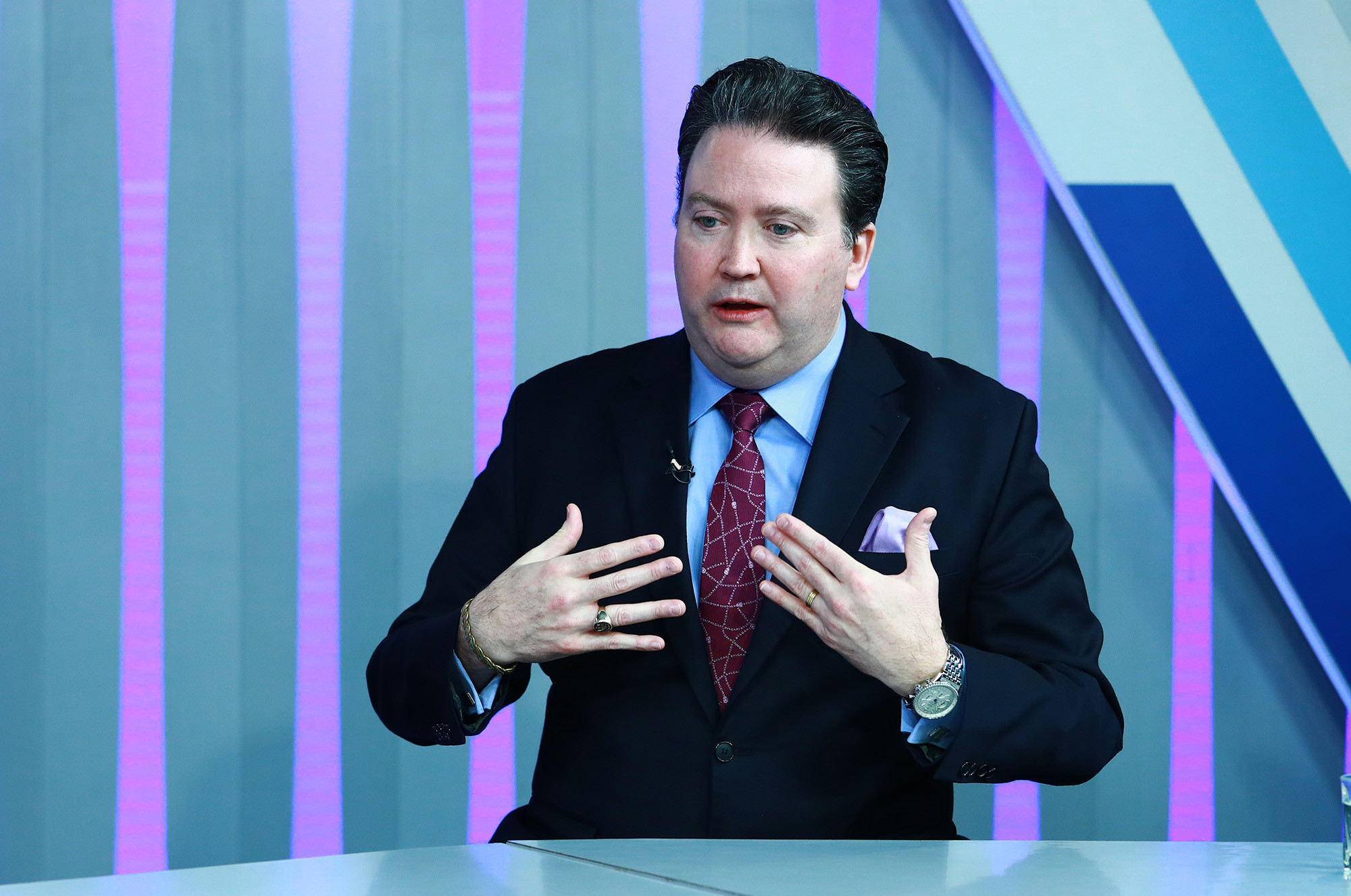 Reader Thanh Tuan: Can you share with us about your impression of Vietnam after nearly one year as the US Ambassador to Vietnam?
US Ambassador to Vietnam Marc Knapper: It's been a remarkable year! It's gone by so quickly. Coming back after 15 years, it's been very emotional for me and my family to see how much things have changed, not just in Hanoi but nationwide. One thing that has not changed is the warmth and hospitality of the Vietnamese people. Every day brings a new adventure, something joyous, and I continue to enjoy being here. Four generations of my family have lived in Vietnam, so I feel a particular sense of closeness and responsibility to this country and to this relationship.
Reader Minh Tran: How many times have you celebrated the Tet holiday in Vietnam (Lunar New Year)? Do you plan to celebrate this Tet here?
US Ambassador to Vietnam Marc Knapper: I've celebrated four, if you count my previous time here. And I'm looking forward to being here to celebrate my 5th. I will be in Hanoi in January.
VietNamNet