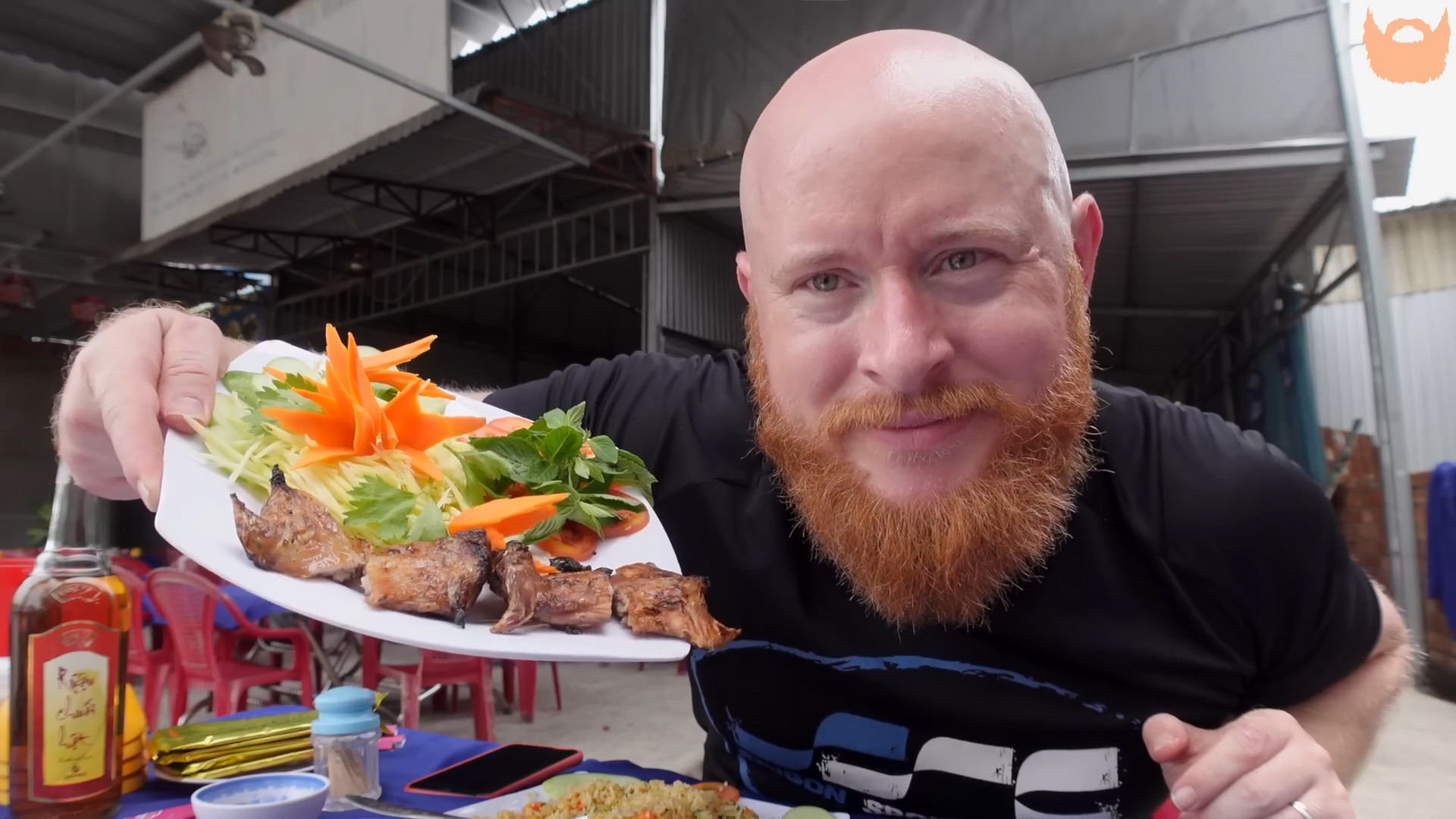 "Very wonderful. Very delicious. You won't be able to tell the difference between chicken and minced meat. There's nothing to criticize about the dish. If you visit Mekong Delta, don't forget to try field mice. You won't regret it," Hurley, an expat in Vietnam from Florida in the US.
In Vietnam, Hurley, 35, is well known as 'Phuc Map'. He has a YouTube channel which shares posts about food, tourism, and his experiences in Vietnam, with 500,000 followers.
Phuc Map said he had a stable job in the US with good income. However, he lost interest in the job in 2014 and started a trip to Asia to seek opportunities to teach English to Asian people.
After visiting Thailand, Malaysia, Cambodia and Indonesia, the man decided to stay in Vietnam.
"Food is one of the reasons why I have a passion for Vietnam," he said, adding that over the last eight years, he has eaten a Vietnamese dish every day.
During his stay in Vietnam, Phuc Map has been to many cities and provinces such as Hanoi, Phu Quoc (Kien Giang), Ben Tre, Vung Tau, Hoi An (Quang Nam), Da Nang, Da Lat (Lam Dong). He has enjoyed traditional local dishes including pho, bun cha (kebab rice noodles), banh khot, my Quang (Quang noodles), ga nuong com lam, goi cuon (raw fish and vegetables), and even dishes that some people may not like such as durian and mam tom (shrimp paste) and trung vit lon (hatched eggs). And most recently, he surprised people when eating grilled field mice.
Phuc Map said he once tried mice meat in 2017 when attending a TV program in Vietnam. At that time, he felt uncomfortable, but he did not have the heart to refuse the dish. After trying, he found it very good and said it was like chicken or quail.
After the program, Phuc Map many times thought of seeking to purchase mice to taste it once again.
"In HCM City, many restaurants advertise to sell field mice, but I dare not go there, because I am afraid that they sell brown rats instead of field mice," he said.
He decided to come to Cao Lanh, the homeland of the famous field mice meat. The shop where Phuc Map came offered a menu with diverse dishes with very reasonable prices, from VND30,000 to VND 60,000 per serving.
Phuc Map ordered two grilled mice. The mice were served with sweet and sour grated salad. He also drank a sip of banana wine.
Linh Trang