An island of orchids
Hoa Lan (Orchid) Island, off the coast of Nha Trang City, Khanh Hoa Province, has emerged as an enchanting destination where many exciting discoveries await visitors.
On a one-day trip, tourists may visit the Orchid Cave, among the best the island has to offer, walk on paths lined with flowers and listen to sound of trickling streams, among others.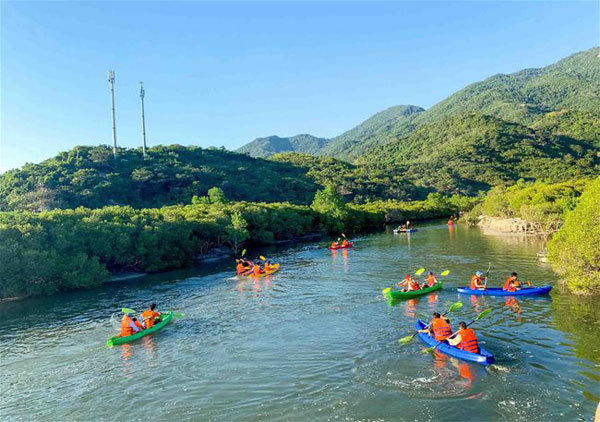 The six-kilometer stream on Orchid Island – SGT Photo: Khue Viet Truong
Catching a speedboat at Luong Son Port is a wise way to travel to the island, about 18 kilometers from Nha Trang City. The boat trip lasts for around 15 minutes.
The island has been full of many species of wild orchids for ages. According to islanders, some of them are rare ones that are pandemic to their habitat. It comes as no surprise that island is called "Orchid."
Orchid Island has a big natural lake whose water is used for plants. The big lake also keeps the weather on the island cool all the time. A must-see place is the six-kilometer spring formed by many smaller brooks. The stream is lined with numerous orchid flowers. On this island, natural orchids and orchid flower pots hanging on trees along the paths can be seen everywhere. 
Not only do orchid flowers embellish the local scenery, but other flowers in full bloom also make the island look more beautiful all year round. Yellow, white and purple cosmos flowers cover a hill nearby. Meanwhile, colorful chrysanthemum flowers brought from Da Lat City are planted along the paths. Rapeseed flower gardens make the surrounding space more romantic. In addition, organic vegetable gardens on the island are used as ingredients for some dishes which serve tourists.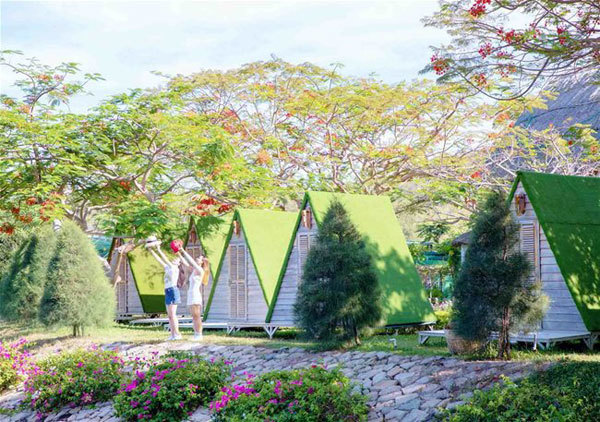 Tourists can stay overnight in these bungalows.
Visitors should stay overnight on the island to greet dawn the next morning. At sunrise, they can see dew drops on orchid flowers and enjoy the peaceful tranquility while walking on a gravel path.
Adventurous tourists may challenge themselves by conquering the peak of Hon Heo Mountain, which is about 700 meters above sea level, and climbing 453 stone steps to the Phong Lan (Orchid) Cave where colorful orchid flowers expose their full beauty.
A tourist poses for a photo with colorful orchid flowers on the background.
A butterfly garden covering 1,200 square meters on the island is yet another place to visit. Thousands of kaleidoscopes of butterflies are raised there. The garden which is covered by net to protect the butterflies is decorated with flowers to provide "food" for this insect. There are big trees on which these butterflies can lay eggs, too.
SGT

Da Lat, known as the city of flowers, is set to become a fresh flower export hub in Southeast Asia. 

Flower shops nationwide have been importing orchids featuring colourful designs, including orchid pots costing several thousands of dollars, as a means of serving consumers for the upcoming Lunar New Year or Tet.