April 30–May 1 holidays: air tickets selling out, more trips offered
Airlines are offering more flights on the national holidays marking the Reunification and International Labor Day, but air tickets for some routes are running out because of high demand.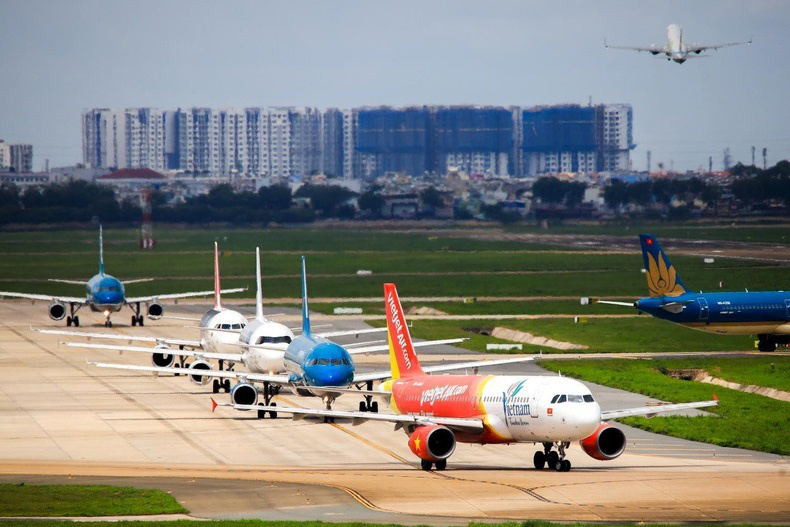 Vietnam Airlines Group, including VNA, Pacific Airlines and VASCO, have announced the availability of 500,000 more seats, or nearly 2,600 domestic flights, for the rush days (April 28–May 3).
VNA has opened six new air routes, namely Da Nang – Vinh; Phu Quoc – Can Tho, Nha Trang, Buon Ma Thuot, Hue and Thanh Hoa. Also, it has resumed the Da Nang – Thanh Hoa and Can Tho – Buon Ma Thuot routes, from April 24.
Bamboo Airways in late March and early April planned to increase the transport output by 12-15 percent on backbone routes and tourism routes during the holidays.
Despite the higher number of flights, no more air tickets are available for some routes, while airfares are high because of high demand.
Passengers booking tickets on April 18 have to pay nearly VND8 million to fly one way from Hanoi to Phu Quoc on April 29 and return on May 3 with VNA.
If they booked tickets half a month ago, they would have paid half of the airfare.
Meanwhile, Bamboo Airways' return ticket for Hanoi – Phu Quoc is VND7.3 million, while Vietjet's is VND7 million. If flying from Hanoi to Quy Nhon with Vietnam Airlines, one would have to pay VND4.7-5.4 million for return economy-class ticket. If they choose Vietjet or Bamboo Airways, they have to pay VND4 million.
Meanwhile, if they book tickets half a month in advance, they could save nearly VND1 million.
The Vietnam Railway Corporation has also offered tens of trains more to satisfy the increasing travel demand during holidays. According to the Hanoi Railway Transport JSC, the additional trains are mostly on April 29, May 2-3, from Hanoi to Thanh Hoa, Vinh, Dong Hoi and vice versa.
In addition to the three daily pairs of Thong Nhat (North-South) trains, there will be two more TH1 and TH2 trains to run on Hanoi-Thanh Hoa route. In addition to the frequent NA1/NA2 pairs of trains on Hanoi-Vinh route, there will be four more trains with departure in Hanoi and four with departure in Vinh.
On Hanoi-Dong Hoi and Hanoi-Da Nang routes, there will be two more trains departing in Hanoi and two departing in Dong Hoi and Da Nang.
In the south, there will be nearly 30 more trains on routes from HCM City to Phan Thiet, Nha Trang, Quy Nhon, Quang Ngai and Da Nang on April 28 – May 3.
Of these, tickets have run out for Saigon – Phan Thiet, Saigon – Nha Trang and Saigon – Quy Nhon routes. 
Vu Diep

The Hochiminh Stock Exchange (HoSE) has decided to put the HVN stock of Vietnam Airlines on the warning list from April 15 as its 2020 after-tax profit was reported at negative VND10.9 trillion.

Travel agencies in the Central region are creating new tourism products in preparation for the upcoming holidays on April 30 and May 1.