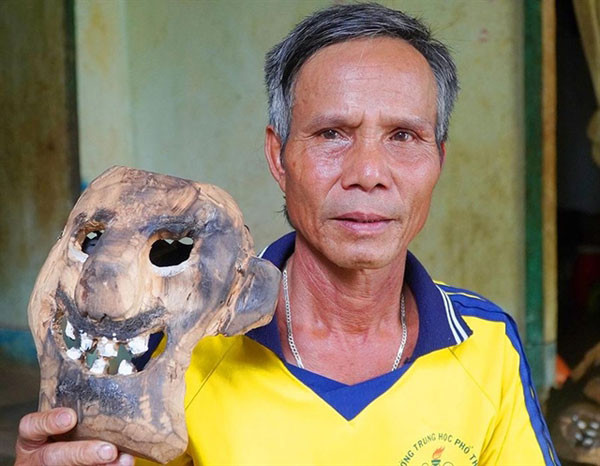 Traditional wooden masks are indispensable in every festival or ritual ceremony for the ethnic minorities in the Central Highlands. The roughly carved masks create instant strong impressions due to the emotions they express.
Over the years, the craft of carving ritual wooden masks has gradually been lost. A Yứk from Ia Chim Commune in Kon Tum City is among the few men in the land still pursuing the ancient craft of his ancestors.
Endowed with skilful hands, the 57-year-old has created many wooden statuettes, puppets and bizarre human masks. He cannot even count how many works he has made in his lifetime.
"I was attracted by many beautiful statuettes and masks while attending a festival at Chư Păh District in Gia Lai Province over 20 years ago. Coming back home, I embarked on creating the first works. Carving a mask requires much thinking and effort to give it a soul," A Yứk said.
Villagers cannot thoroughly enjoy the festivals without wooden masks.
"The festival performers might still feel awkward when they do not wear masks. But when they put them on, they could wholeheartedly dance as if they are incarnating as another person," he said.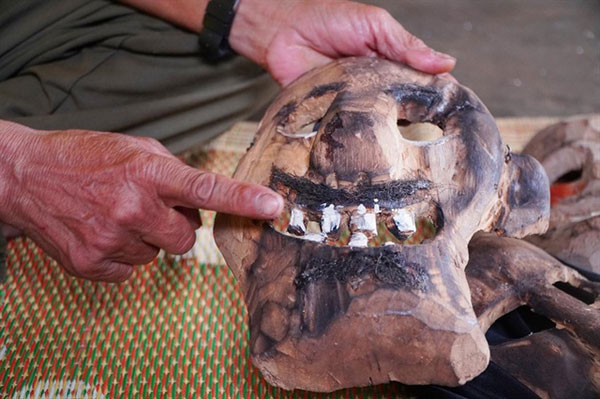 A Yứk depicts various emotions on his masks, from happiness, sadness, and misery to excitement. He makes masks for both young and old, boys and girls. The women are normally covered with black clothes to represent their hair, and the men have beards and large faces. They look strange and even humorous, but some have creepy looks that give people goosebumps.
"If the masks have a smooth and clean look, they are not considered beautiful anymore. Beautiful masks, to ethnic perceptions, must have ugly and weird faces to bring a joyful atmosphere to a festival," he said.
His tools to create the statuettes and the masks are simple, including axes, machetes, chisels and knives.
"Artisans in many other places might have more modern tools, but to me, these are enough," he added.
The first and foremost factor for a beautiful mask is the selection of wood, which must be light and have no cracks, so he often chooses wood from mimosa or blackboard trees.
The most difficult part is to carve the face of the character on a block of wood, according to the artisan. Shaping the teeth is particularly difficult, requiring much skill and care.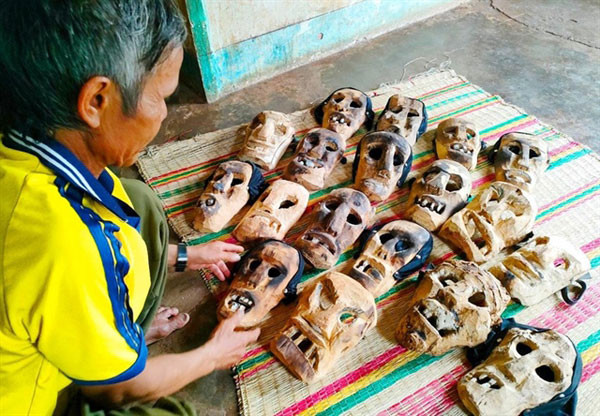 A Yứk can carve three masks a day on average. After shaping, the final step is to heat the masks with fire to create a strange, eye-catching look.
As there are so few craftsmen of ritual wooden carving in the Central Highlands, A Yứk has recently been invited to Hanoi to make a statuette for an art troupe. He has also been invited to many other neighbouring provinces such as Dak Lak, Dak Nong or Lam Dong to make wooden works of art, which provides him with a decent income.
During days staying at home and taking a break from the farmwork, he carves masks for orders or to sell to tourists at VND90,000 (US$3.8) each.
His biggest concern at the moment is the potential loss of his ancestor's craft. His six children are busy with their own business, while young villagers are not interested in the craft that demands such meticulousness and skill.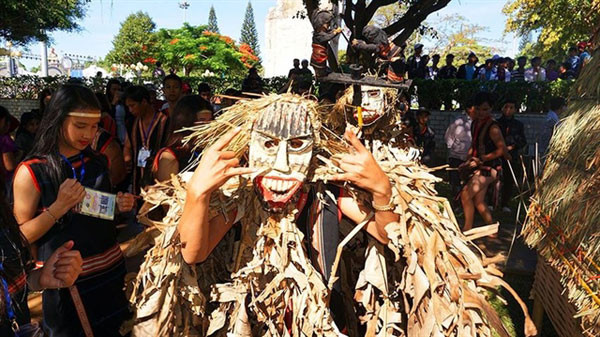 "A Yứk is famous for crafting, and most local festivals ask for his participation. Thanks to him, the younger generation can learn about the unique traditional masks," said Uong Thi Trang, vice chairwoman of the Ia Chim Commune People's Committee.
"Concerned that the craft will gradually fade away, the local authority has proposed the commune open classes to pass the skills down to young villagers."
According to Nguyen Thi Kim Van, former director of Gia Lai Provincial Museum, the wooden masks are mostly worn during Pơ Thi or Bỏ Mả (grave-leaving) Ritual. Masked people represent people in the afterlife, welcoming new members to another world.
"Currently, masks are often worn in festivals or holidays in the Central Highlands, but mainly for performance purposes. They reenact some of the major scenes from the original festivals of the past. The use of masks makes the festive atmosphere more exciting," she said.
Source: Vietnam News